Homemade flavored whipped cream is the simplest, most natural, and best way to enhance desserts and drinks.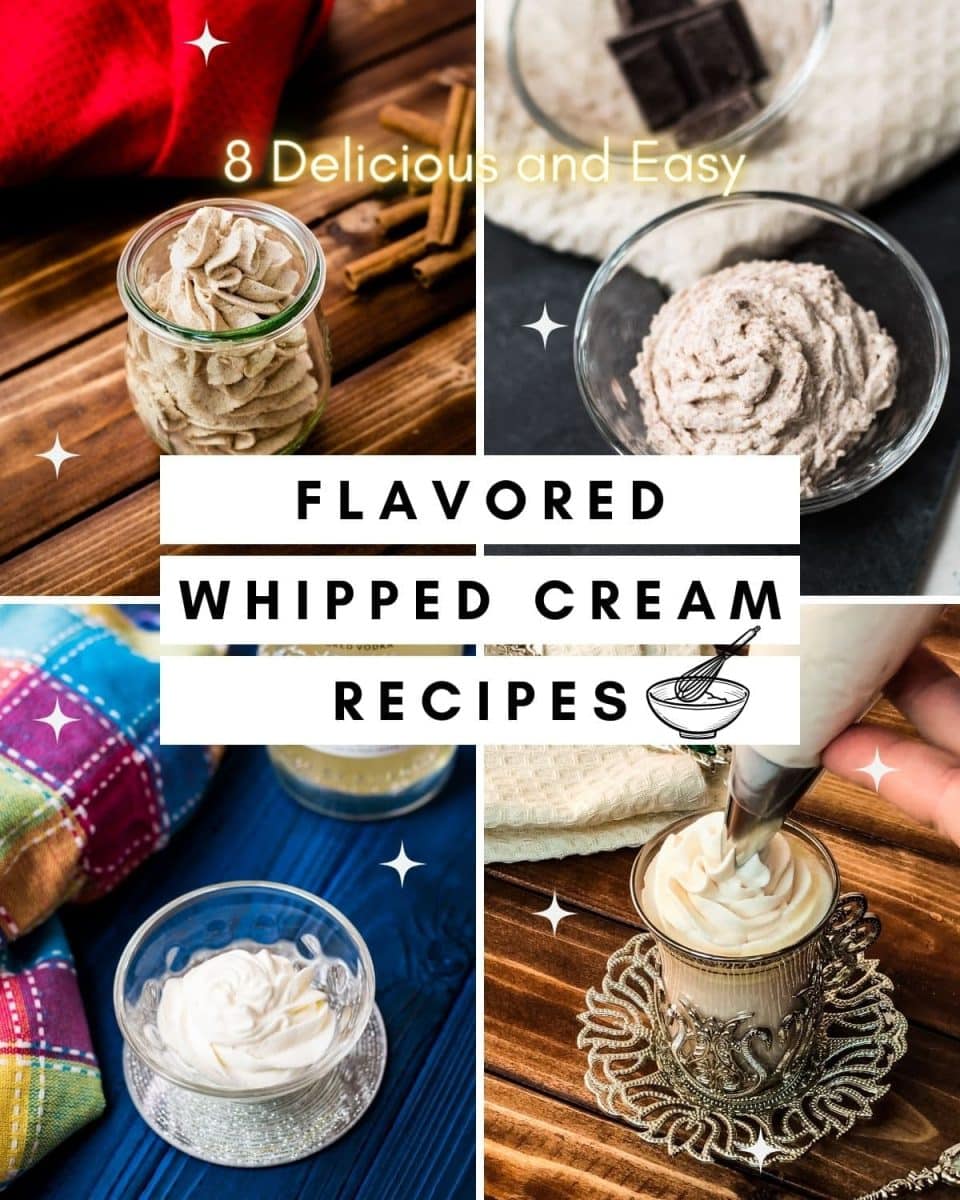 The flavored whipped cream enhances and intensifies the taste of any food you serve.
I especially like to use flavored whipped cream with hot drinks like coffee and hot chocolate - but it also works great as a topping for an ice cream sundae and cakes.
Jump to:
🤨 What to flavor the whipped cream with?
You can flavor whipped cream in many ways, like syrup, alcohol, juice, grated nuts, grated chocolate, and spices.
Flavoring with syrup
We prefer using homemade syrup because you know exactly what is in it.
For the sake of simplicity, you can, of course, also use a purchased syrup. Different nut syrup variants and fruity versions like strawberry or orange syrup are suitable here.
Flavoring with alcohol
Whether clear alcohol such as vodka or rum or cream liqueurs such as eggnog or Bailey's Irish cream. Here you can go wild with flavors and variations.
Flavoring with grated nuts or chocolate
Especially the cream with grated chocolate has done it to my family. Grated chocolate provides the best flavor and perfect texture compared to unsweetened cocoa powder or chocolate sauce!
The advantage of grated nuts like hazelnuts, almonds, or coconut, as opposed to syrup, are the little pieces that give the whipped cream a texture you wouldn't get otherwise.
The little bits of nuts invite you to nibble on them, which takes this kind of flavored whipped cream to a new level.
Flavoring with juice
Yes, you can even use juices to flavor whipped cream. Try using orange juice or mango juice! Really delicious!
Flavoring with spices
Spices are the best-known variant to refine whipped cream. Typically, they get sprinkled over whipped cream.
Pretty dull right? 🤣
But whipping the spices with the whipped cream intensifies the spice aroma, as the heavy cream acts as a flavor enhancer. Thanks to the variety of herbs, you can totally get wild here!
⛺️ The basis for flavored whipped cream
To give the whipped cream a somewhat firmer texture in advance, the basic recipe for flavored whipped cream combines the heavy whipping cream with powdered sugar until soft peaks form.
After adding the "flavor" you are going to whip the three ingredients together until stiff peaks form.
Sometimes syrup, alcohol, nuts, etc., are added afterward or directly before whipping.
🍽 Equipment for making Flavored Whipped Cream
A tall mixing bowl for mixing
Electric mixer or stand mixer with a whisk attachment
Piping bag with a star-shaped tip for decorating your desserts or drinks
Airtight container - for storing leftovers
🌡 Storage
Store the flavored whipped cream in the refrigerator for up to three days. Make sure you place it in a tightly sealed container so it doesn't take on an odor from the fridge.
💕 Food Pairings for Flavored Whipped Cream
Chocolate cake
Apple pie
Cakes in general
Coffee Drinks
Milk Ice Cream
🙋🏻 FAQ
How to stabilize flavored whipped cream?
The easiest way to stabilize whipped cream is to use powdered sugar or cornstarch when whipping it up.
Furthermore, make sure that the whipping cream is cold.
Use only cold heavy cream when piping to ensure the cream gets an excellent shape.
Do you need to refrigerate whipped cream?
Yes, whipped cream needs to be stored in a cool place; otherwise, it will quickly lose its texture. Flavored whipped cream should be used for decoration as soon as possible, as it quickly loses its beautiful texture at room temperature.
As you can see, there are a lot of variations of flavored whipped cream.
The nice thing is you have a wide variety of ways to pair flavors and stay versatile, and it doesn't get boring at dinner!
If you make this recipe, let me know how you liked it by ★★★★★ star rating it and leaving a comment below. This would be awesome! You can also sign up for our Newsletter or follow me on Pinterest or Instagram and share your creation with me. Just tag me @combinegoodflavors and hashtag #combinegoodflavors, so I don't miss it.
🍨 Flavored Whipped Cream Recipes
Strawberry flavored whipped cream, with an intense strawberry flavor, is an exquisite treat for enhancing cakes, drinks, ice cream, and desserts. It can be prepared in minutes and has a fabulous texture.
Get The Recipe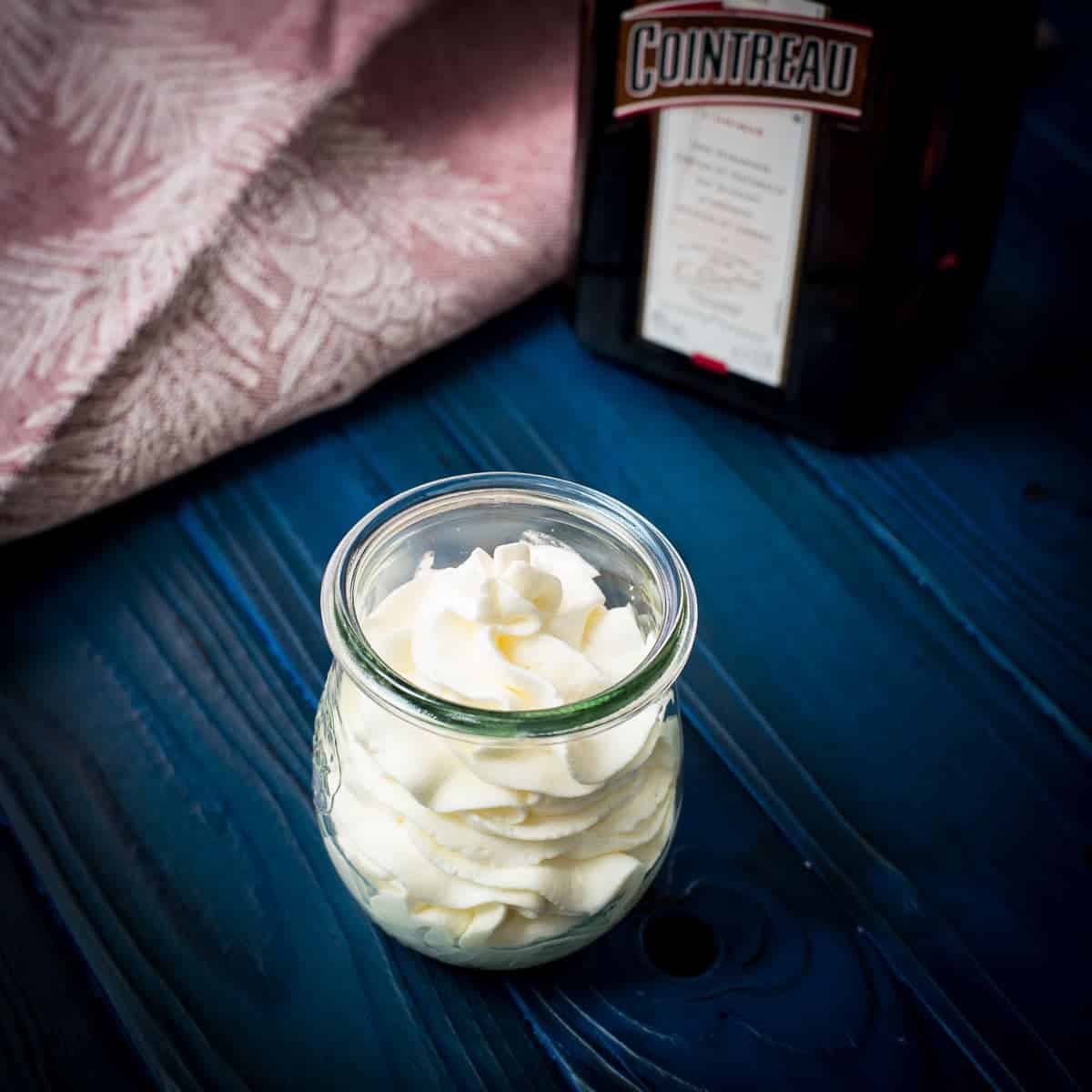 Sweeten up any dessert with our homemade orange-flavored whipped cream. Simply mix Cointreau, heavy cream, and powdered sugar to recreate restaurant-style flavor at home!
Get The Recipe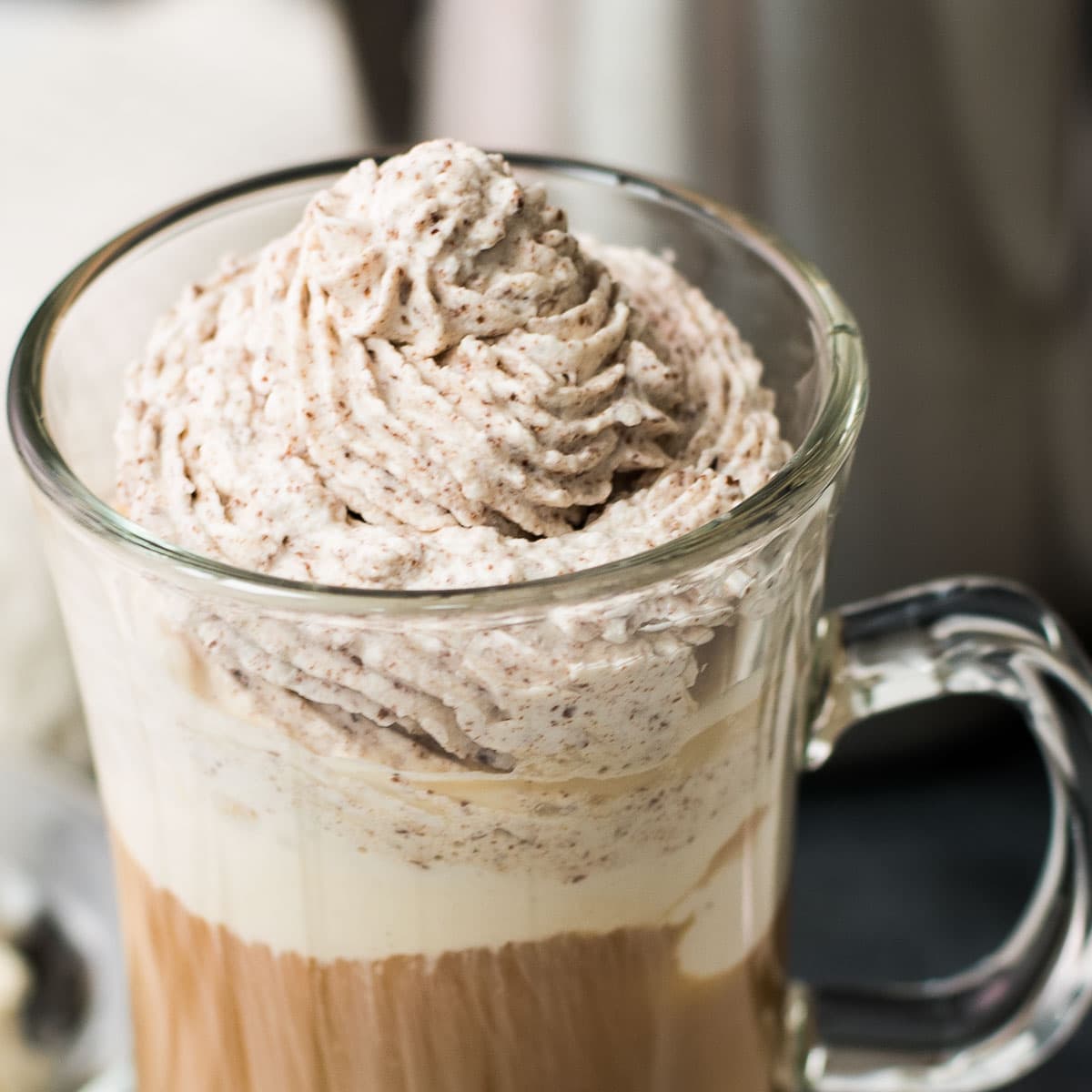 Delight your family with a homemade chocolate flavored whipped cream! Our simple and easy recipe requires only four ingredients: heavy whipping cream, sugar, grated dark chocolate, and love!
Get The Recipe
Spice up your whipped cream game with this delicious cinnamon whipped cream recipe. With just three ingredients, you can create a delectable topping that everyone will love.
Get The Recipe
Upgrade your desserts' with this easy-to-follow recipe for coconut flavored whipped cream, made with heavy cream, shredded coconuts and powdered sugar.
Get The Recipe
Add a unique twist to your desserts with almond whipped cream. Made with just three ingredients - grated almonds, heavy whipping cream, and sugar - it's easy to make and full of flavor.
Get The Recipe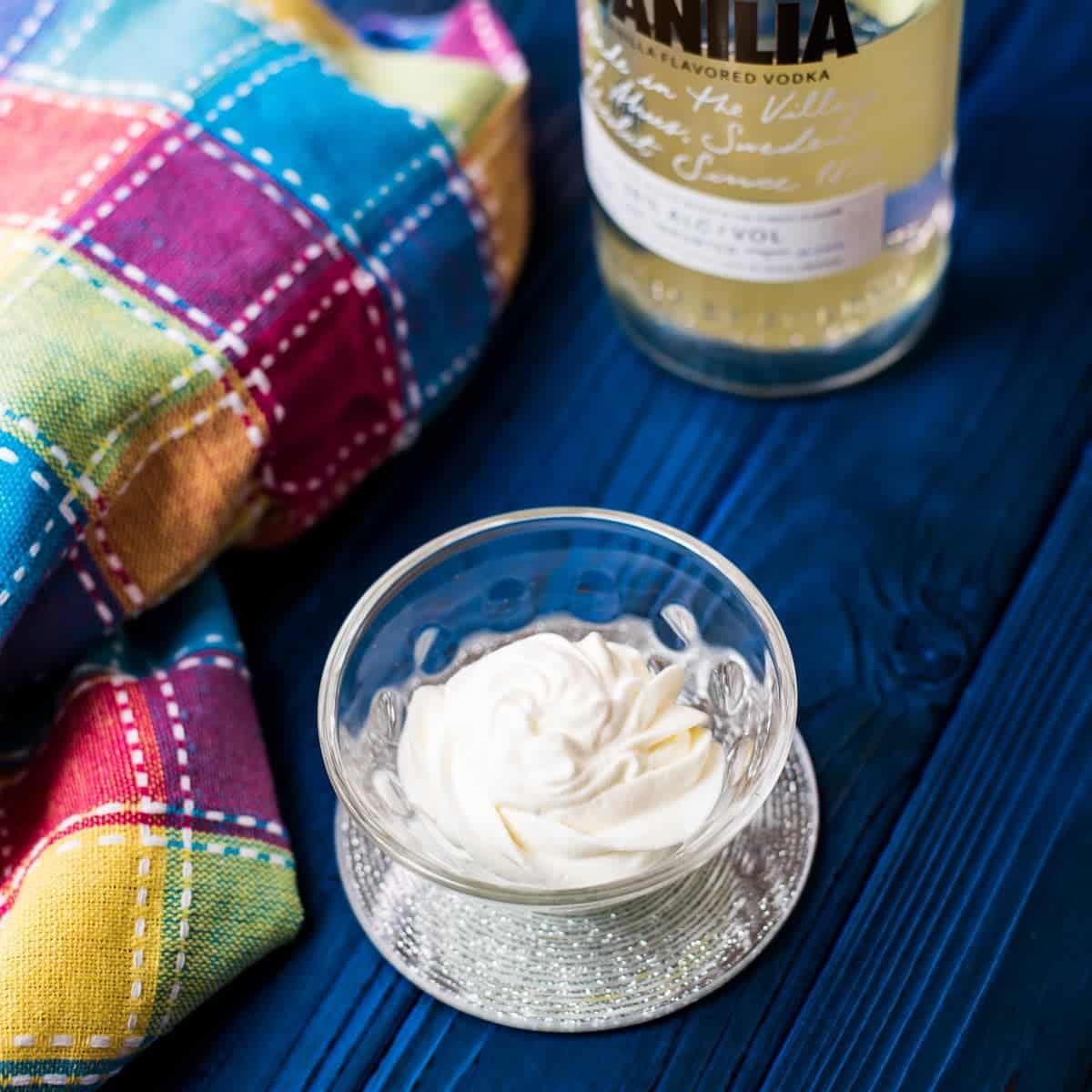 Impress your guests with this simple yet delicious vanilla vodka flavored whipped cream. Made with only three ingredients - vanilla vodka, confectioners' sugar, and heavy cream - it's the perfect addition to any dessert.
Get The Recipe
This alcohol-infused Baileys Irish Cream whipped cream will take your desserts to the next level. With three ingredients only (heavy cream, powdered sugar, and Irish cream)! Perfect for a special occasion or just for in between.
Get The Recipe
🩷 More Recipes You'll Love
⛑️ Food Safety
Cook to a minimum temperature of 165 °F (74 °C)
Do not use the same utensils on cooked food, that previously touched raw meat
Wash hands after touching raw meat
Don't leave food sitting out at room temperature for extended periods
Never leave cooking food unattended
Use oils with high smoking point to avoid harmful compounds
Always have good ventilation when using a gas stove
For further information, check Safe Food Handling - FDA.