There's something timeless and classic about enjoying a strawberry milkshake on a hot summer's day. With just 4 simple ingredients, this strawberry milkshake is super quick and simple to whip together.
If you already have some of my strawberry simple syrup on hand, this is a great recipe to break out to make sure none of it goes to waste!
One of my favorite parts about this easy strawberry milkshake recipe, though, is the way this sweet and refreshing drink tastes a little bit sweeter with each sip. It's the perfect sweet treat to celebrate the return of warmer days!
Other Strawberry Recipes you'll love:
Jump to:
🥘 Ingredients
Regular Milk - or a non-dairy milk alternative if you fancy.
Vanilla Ice Cream - Homemade or store-bought. Thanks to the vanilla ice cream, you won't need any heavy cream or vanilla extract at all! Or some kool aid ice cream to color things up!
Strawberries - Use fresh strawberries during strawberry season. You can make this delicious milkshake any time of year by substituting fresh fruit for frozen fruit when it's cold outside!
Strawberry Simple Syrup - Homemade or Store bought
See the recipe card for quantities.
🔪 Instructions
To get started, the first thing you'll need to do is wash your strawberries thoroughly and remove all the greens. Technically, they are edible, but not taking the time to remove them will ruin the taste, color, and texture of your milkshake, so definitely don't skip out on this step! Disregard this step if you'll be using frozen strawberries, though.
Once you've done that, throw your juicy strawberries into the blender jar, accompanied by your milk and strawberry syrup. Blend thoroughly.
The next step is to grab yourself two scoops of vanilla ice cream! If you feel up to making your own ice cream at home, I have a great vanilla ice recipe for you to try, but if you want to save yourself a little time, go ahead and grab some from the grocery store. Add those two scoops of vanilla ice cream to a serving glass and pour the strawberry mixture over your vanilla ice cream.
In all, this recipe won't take you longer than 10 minutes! Once it's ready, you can kick up your feet and get ready to enjoy your creamy strawberry milkshake with a spoon or a straw!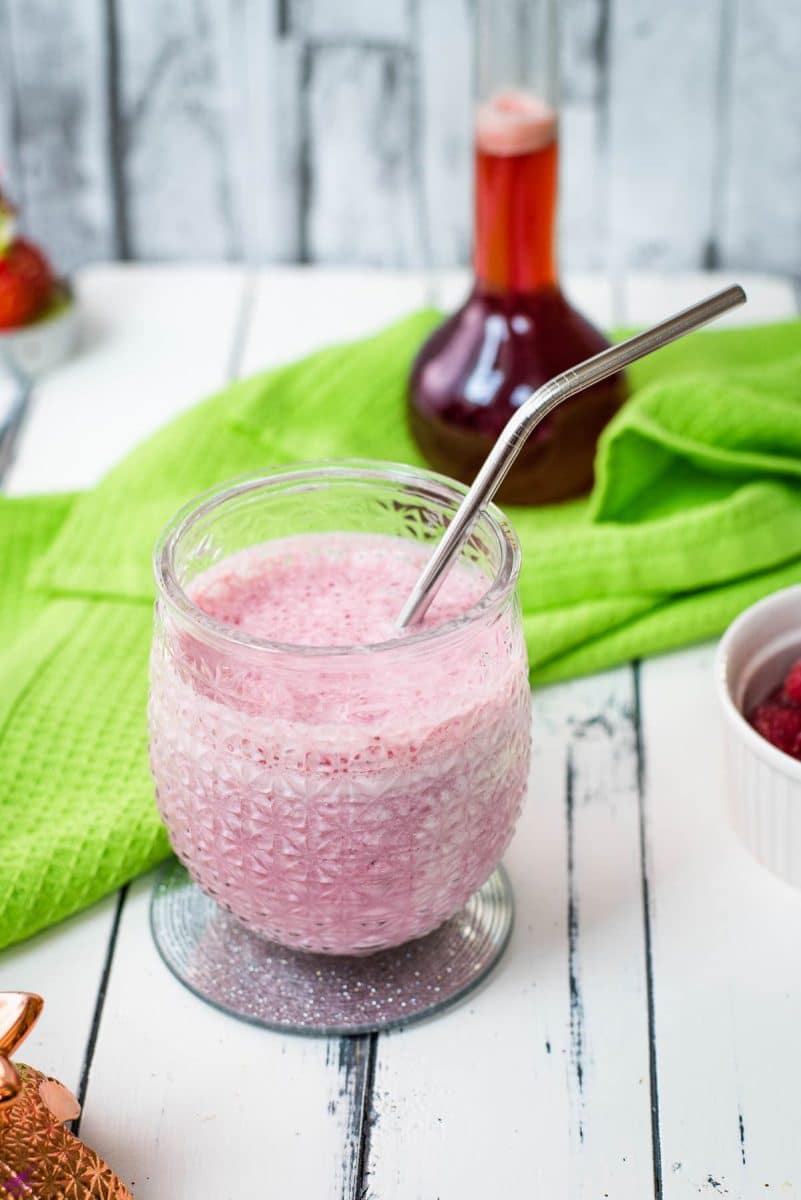 🍯 Substitutions
If you don't have any strawberry simple syrup at home, you can also use strawberry ice cream instead of vanilla ice cream for an even stronger strawberry flavor.
To still get a bit of the sweetness you're missing out on without the syrup, try adding a touch of honey or maple syrup! Or combine maple syrup and vanilla extract, like in this blueberry milkshake recipe!
If you don't have whole milk at home, it can easily be substituted with a low-fat milk or vegan alternative, such as coconut milk, almond milk, cashew milk, soy milk, or oat milk.
🥛 Variation
Try out our famous recipe for strawberry milk without ice cream.
Do you want to make this milkshake vegan? Nothing is easier than that! Replace the whole milk and vanilla ice cream simply with a vegan alternative, and you're ready to go!
🍽 Equipment
Measuring Tools
Blender
Tall Glasses for serving
🌡 Storage & Top Tips
The strawberry milk mixture you'll be pouring over your vanilla ice cream is only sweetened by our homemade strawberry simple syrup, so the base of this drink is a bit sweet and very refreshing.
By pouring it over the vanilla ice cream and not mixing it in, the drink is slowly refined and sweetened by the vanilla ice cream. The result is that this delicious milkshake tastes slightly different with every sip and has its sweet peak at the end.
As a rule of thumb, I usually try to never have any leftovers when I'm whipping up a milkshake because it just doesn't taste the same when you take it out of the fridge later.
If you must, however, you can keep it in the fridge for up to three days.
🙋🏻 FAQ
What is a milkshake with ice cream called?
All milkshakes are made with milk, ice cream, and some kind of flavoring, but if you're from New England, you might know this tasty beverage as a Frappé.
What is the ratio of milk to ice cream in a milkshake?
For this strawberry milkshake recipe, you'll use 1 ⅛ cups of whole milk for 2 scoops of ice cream — roughly equal to one cup.
Is a milkshake just ice cream and milk?
Milkshakes usually include just ice cream, milk, and some kind of flavoring.
Do you put milk or ice cream first for a milkshake?
Since we don't put the ice cream in the blender in our recipe, but in the drinking glass, the question doesn't arise. This approach gives you an absolutely unique taste experience when drinking!
What is the best ice cream for milkshakes?
I'm a little biased, but personally, I think the best ice cream to use for milkshakes is my homemade vanilla ice cream recipe! It might sound like a lot of extra work, but there's something about knowing you made something from scratch that always makes it taste that much sweeter!
More Recipes for You to Try
If you make this recipe, let me know how you liked it by ★★★★★ star rating it and leaving a comment below. This would be awesome! You can also sign up for our Newsletter or follow me on Pinterest or Instagram and share your creation with me. Just tag me @combinegoodflavors and hashtag #combinegoodflavors, so I don't miss it.
📖 Recipe
Delicious homemade Strawberry Milkshake Recipe
This milkshake with just a handful of ingredients is just perfect during the summer months. No extra sugar or heavy whipping cream is required! Just fresh strawberries, milk, ice cream, and homemade strawberry syrup.
Equipment
Measuring Tools

Blender

Tall Glasses for serving
Instructions
First, wash the

¼ cup Strawberries

thoroughly and remove the greens.

Place

¼ cup Strawberries

in the blender jug with

1 ⅛ cups Milk

and

¼ cup Strawberries

and blend thoroughly.

1 ⅛ cups Milk,

2 tablespoon Strawberry Simple Syrup,

¼ cup Strawberries

Place

2 scoops Vanilla Ice Cream

in a serving glass and pour the strawberry mixture over it.

2 scoops Vanilla Ice Cream

Serve with a spoon and straw.
Never miss a recipe!
Sign up and let me spoil you weekly with a delicious homemade recipe!
Nutrition values are estimates only, using online calculators. Please verify using your own data.
Serving:
1
Serving
|
Calories:
490
kcal
|
Carbohydrates:
58
g
|
Protein:
14
g
|
Fat:
24
g
|
Saturated Fat:
14
g
|
Polyunsaturated Fat:
1
g
|
Monounsaturated Fat:
6
g
|
Cholesterol:
91
mg
|
Sodium:
211
mg
|
Potassium:
741
mg
|
Fiber:
2
g
|
Sugar:
53
g
|
Vitamin A:
1006
IU
|
Vitamin C:
26
mg
|
Calcium:
514
mg
|
Iron:
0.3
mg
⛑️ Food Safety
Cook to a minimum temperature of 165 °F (74 °C)
Do not use the same utensils on cooked food, that previously touched raw meat
Wash hands after touching raw meat
Don't leave food sitting out at room temperature for extended periods
Never leave cooking food unattended
Use oils with high smoking point to avoid harmful compounds
Always have good ventilation when using a gas stove
For further information, check Safe Food Handling - FDA.