If you prefer lemons to limes, get ready to fall in love with this gin and tonic recipe! It's wonderfully sweet and crisp, making it the perfect pairing for a warm summer evening.
While the gin and tonic with lime is admittedly iconic for a good reason, there's a special place in my heart for gin and tonic with lemon. It was actually the very first cocktail I learned to craft in bartending school, and I've come to deeply appreciate it's the simplicity and versatility of this cocktail.
As someone who loves to shower my friends and family with hospitality, I love that this cocktail recipe has much room for customization to fit my guests' needs or even the occasion's theme. There are many different options for gin and tonic out there and countless combinations.
Plus, they're also super quick and easy to whip together, allowing me to spend less time behind the bar and more time enjoying the company of my loved ones!
Jump to:
🥘 Ingredients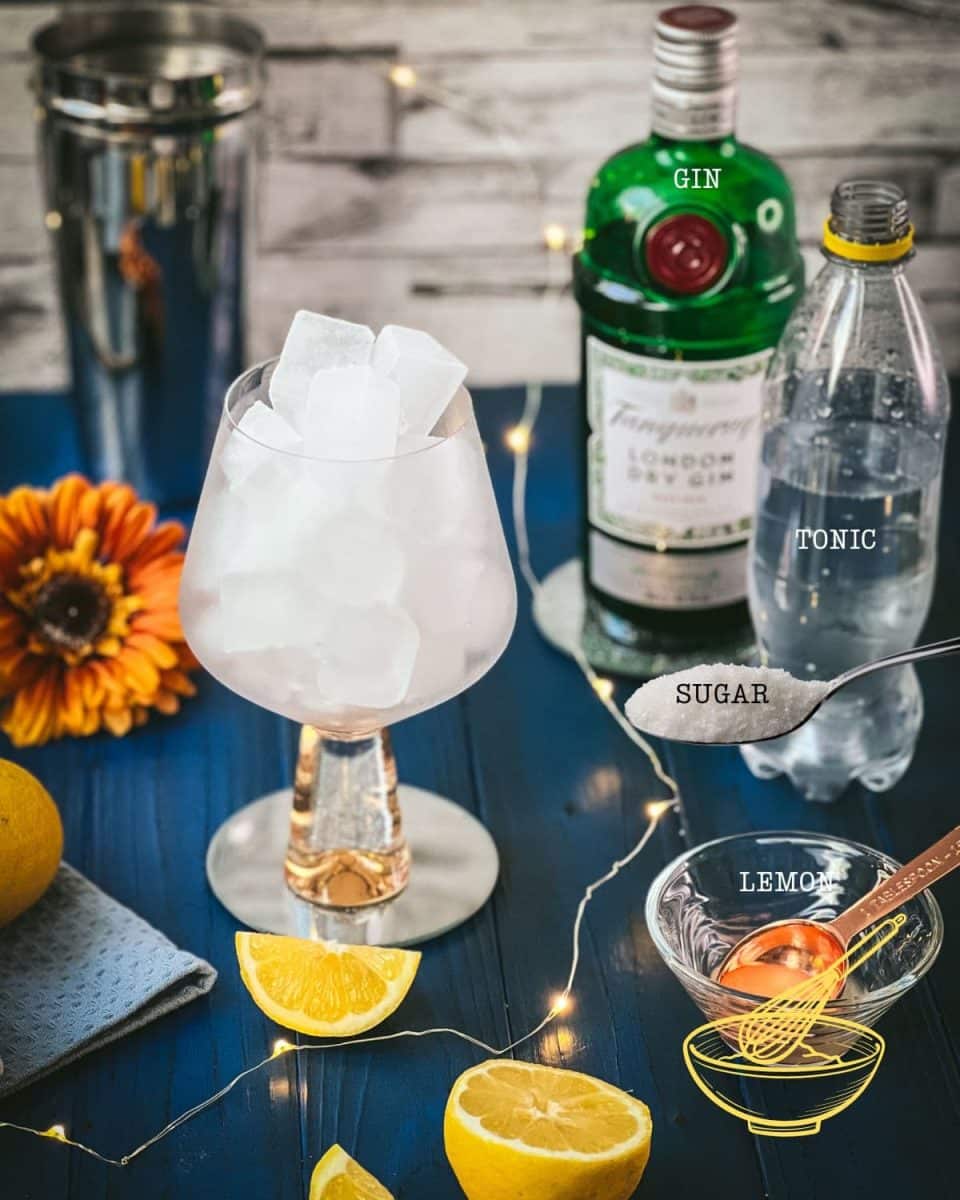 Ice Cubes – Filled to the brim of your glass
Lemon Juice
Granulated Sugar
Tonic
Lemon and Drinking Straw for Garnish
See the recipe card for quantities.
🍹 Step-by-Step
🔪 Instructions
As far as cocktails go, this one's pretty simple and easy to whip together!
Squeeze half of your lemon. You'll be adding in 1 tablespoon of lemon juice, 1 teaspoon granulated sugar, 1 ½ oz gin, and some ice into a cocktail shaker.
Go ahead and close your shaker and be sure to mix well. Personally, I like to do this while singing the chorus of "Conga" by Gloria Estaban and the Miami Sound Machine. The rhythm and timing work out really nicely!
Fill your high ball or balloon glass to the brim with ice.
Once everything's been mixed well, pour the mix over your ice-filled highball or balloon glass. If you happen to be using a Boston shaker, strain the mix through a julep strainer.
You'll fill the remaining space in your glass with tonic. A typical highball glass holds 1 cup to 1 ½ cups, so there'll definitely be room left over for the tonic after you pour.
Finally, all that's left to do is garnish with a lemon wedge and a fun, reusable drinking straw!
🍋 Variations
If you're looking for a little more sweetness to cut down the tartness of the fresh lemon, I recommend adding an extra dash of granulated sugar to your cocktail.
The classic gin and tonic has endless varieties because of the available gin and tonic varieties. (For in-depth reading, check out our Gin&Tonic Guide!)
🍽 Equipment
🌡 Storage
For many reasons, this cocktail should be enjoyed right away. One of the biggest reasons is that tonic water will eventually go flat – ruining the fresh, crisp taste that gin and tonics are so famously known for.
💭 Top tip
When preparing your gin and tonic cocktails, it's important that you hold your highball glasses from the bottom and avoid touching the rim. By doing this, you help keep your chilled glass nice and cool – which makes the cocktail taste that much better!
Are you already wondering, "How do I chill a cocktail glass properly?" The most efficient way to get a perfectly chilled glass is to put them in the freezer beforehand. I usually like to give it at least a half hour, but if you're like me and plan to have friends and family over for backyard grilling and dinner parties this summer, you could also throw your glasses in the night before.
If you don't have that kind of freezer space or that kind of time between refills for your guests, another method you could adopt is fulling each cocktail glass with ice cubes while you prepare the cucumber slices and fresh lime wedges. Once it comes time to start lining your glasses with cucumber slices again, you can dump out the ice and start pouring the cocktail.
To protect our environment, one final tip is that I highly encourage you to avoid using disposable straws whenever possible, opt to use either metal or paper straws, or simply forgo them altogether.
🙋🏻 FAQ
Is lemon better than lime for gin and tonic?
That really all comes down to personal preference! Personally, I prefer a lemon gin and tonic to a gin and tonic with lime, but there are plenty of people out there who'd find that statement sacrilegious! If you're unsure which you like better, craft both at home and have a tasting party!
Why do you put lime in gin and tonic?
The iconic addition of lime was first added to quinine (a prophylactic against malaria) in the 19th Century to help make the drink more palatable. Somewhere along the way, they started adding gin to the mix, and the cocktail has since become wildly popular!
If you want to know more about the fascinating history behind gin and tonic, check out our in-depth gin and tonic guide!
What is quinine tonic and gin?
Quinine is prophylactic against malaria that was mixed into a carbonated beverage. In fact, all tonics have some quinine in them. The lime was first added to tonic to help make the bitter taste a little more palatable.
How do you drink a gin and tonic?
Ideally, with a twist! I love this lemon gin and tonic recipe, but this cucumber gin and tonic recipe is also pretty darn tasty!
OTHER RECIPES FOR YOU TO TRY
If you make this recipe, let me know how you liked it by ★★★★★ star rating it and leaving a comment below. This would be awesome! You can also sign up for our Newsletter or follow me on Pinterest or Instagram and share your creation with me. Just tag me @combinegoodflavors and hashtag #combinegoodflavors, so I don't miss it.
📖 Recipe
Refreshing Lemon Gin and Tonic
Looking to add a burst of citrus to your gin and tonic? Try this recipe that combines the classic flavors of gin and tonic with the refreshing taste of lemon.
Equipment
Highball Glass

or balloon glass
Ingredients
Cubed Ice

1 ½

oz

Your favorite gin

1

tablespoon

Lemon juice

1

teaspoon

Granulated sugar

1

cup

Tonic

to fill up the glass

Lemon wedge and drinking straw for garnish
Instructions
Squeeze half a lemon and add

1 tablespoon Lemon juice

,

1 teaspoon Granulated sugar

, and

1 ½ oz Your favorite gin

to your shaker filled with ice cubes.

1 ½ oz Your favorite gin,

1 tablespoon Lemon juice,

1 teaspoon Granulated sugar

Close the shaker and shake well.

Fill the glass with

Cubed Ice

Then pour the mix directly into the cocktail glass filled with ice cubes. If using a Boston shaker, strain the mix through a julep strainer.

Fill up with

1 cup Tonic

(one high ball glass holds 240 ml (1 cup) to 350 ml(1 ½ cups)).

Lemon wedge and drinking straw for garnish

Lemon wedge and drinking straw for garnish
Never miss a recipe!
Sign up and let me spoil you weekly with a delicious homemade recipe!
Nutrition values are estimates only, using online calculators. Please verify using your own data.
Serving:
1
Serving
|
Calories:
214
kcal
|
Carbohydrates:
30
g
|
Protein:
0.3
g
|
Fat:
0.1
g
|
Saturated Fat:
0.01
g
|
Sodium:
24
mg
|
Potassium:
19
mg
|
Fiber:
0.1
g
|
Sugar:
28
g
|
Vitamin A:
1
IU
|
Vitamin C:
6
mg
|
Calcium:
6
mg
|
Iron:
0.1
mg
⛑️ Food Safety
Cook to a minimum temperature of 165 °F (74 °C)
Do not use the same utensils on cooked food, that previously touched raw meat
Wash hands after touching raw meat
Don't leave food sitting out at room temperature for extended periods
Never leave cooking food unattended
Use oils with high smoking point to avoid harmful compounds
Always have good ventilation when using a gas stove