There's nothing quite like the refreshing, crisp gin and tonic on a hot summer's day. This beloved cocktail remains a popular choice around the world, and if you've never had the pleasure of sipping this versatile and perfectly balanced beverage, this guide will tell you everything you need to know!
Whether you're someone who's been knocking back gin and tonics for years or you've only recently discovered the craze, there's probably plenty of things you still don't know about this incredibly delicious and historic beverage!
Jump to:
A Brief History of Gin & Tonic
Before it was ever used in a cocktail, gin was used for medical purposes. In fact, while we might think of this spirit as being quintessentially British, we wouldn't have gin and tonic as we know it today if it weren't for 13th Century Dutch monks! In 1269, Dutch monks began distilling a drink made from juniper, known as jenever, which was said to cure the plague.
It wasn't until the 17th Century, during the fight for Dutch independence, though, that the spirit began to grow in popularity. A shot of "Dutch Courage" was taken by soldiers before going into battle. The British, who were fighting alongside the Dutch, quickly acquired a taste for this "Dutch Courage" and brought it back home.
Thanks to gin being easy to distill and cheaper than beer, the spirit became widely popular in Britain – especially in London. The London Gin Craze – lasting almost a 100 years – was blamed for murder, mayhem, and all kinds of societal problems.
During the 18th Century, it was again used for medicinal purposes to help prevent scurvy among sailors during long sea voyages. In order to prevent sailors from becoming deficient in vitamin C, they began mixing lime with gin – later giving way to the popular Gimlet cocktail.
It was during this same time period that tonic water was added to the mix. Its origins can be traced back to South America, where the bark of the cinchona tree was used to treat malaria. The powder from the bark, known as quinine, would be mixed with water and sugar to help make it more palatable. It wasn't until the invention of carbonated water, though, that it made the leap to everyday drink.
The iconic duo of gin & tonic was first paired together in by British soldiers stationed in India, for a little added kick, and the rest has become history!
Variations on the classic cocktail would lated become widely popularized in the United States during the Prohibition Era. "Bathtub Gin" was easy enough to distill, but it wasn't the highest quality, so to help disguise that, it was often mixed with citrus flavors like lime, orange, and lemon.
Different Types of Gin
In the simplest of terms, all gins are flavored with juniper berries and other botanicals, but did you know there's actually four main different kinds of gin? When most people think of the spirit, they're usually thinking of London Dry — by far the most popular type of gin — but there's also Old Tom, Plymouth, and Contemporary/New Western/New American. These four main types of gin differ in taste, production, and price point, so if you want to figure out which one you should get, keep reading!
London Dry
If you're already familiar with popular brands of gin like Bombay Saphire, Tanqueray, and Beefeater, then you're already familiar with London Dry Gins. Of course, these gins don't necessarily need to be made in London, but they are all distilled the same way without additives of any kind.
Consumption of gin grew rapidly in Great Britan during the 18th Centry — a period known as the "Gin Craze" — but deaths from poorly distilled gins were also on the rise. It wasn't until the 19th Century that a group of London distillers came together and agreed to strengthen distilling methods.
London Dry gins are known for having a clean, crisp, pine-forward taste, with heavy notes of juniper.
This iconic blue bottle is instantly recognizable in any home bar or restaurant. Bombay Sapphire is best known for it's sweet-taste flavor profile and smooth, crisp taste.
Another popular brand or London Dry gin, Tanqueray is best known for its distinctive juniper-forward flavor and hints of lemon zest. If you opt for this brand of gin, I recommend adding in a little twist of lemon to help bring out those delicious flavors.
While gins don't need to be made in London to be considered London Dry, Beefeater is still distilled in Kennington, and the recipe hasn't changed all that much in the past 200 years. It's known for its clean, crisp taste, with heavy juniper and citrus notes.
Old Tom
In 18th Century England, Old Tom was all the rage, but it's popularity has weighed considerable over the past 200 years. In the advent of craft cocktails, though, Old Tom gin has seen a bit of a resurgence.
Interestingly, no one really knows for sure where the name came from, or how exactly Old Tom should be made. Some distillers age it, others don't – some add in sugar, while others forgo any additional sugars. Today, it comes in all different flavor and colors, and it's best known for being slightly sweeter than London Dry.
While Old Tom gins are known for being sweeter than London Dry gins, top notes in Hayman's are peppery, but have strong notes of juniper and citrus – lending itself to a well-balanced, smooth finish.
Hammer & Son Old English Gin
If you're looking for something that's both sharp and sweet, Hammer & Son Old English Gin is a great option! It's juniper forward with strong citrus notes.
Typically $40 USD // €37 EUR
Plymouth
This style of gin is also a brand, which has been made in the same distillery in Plymouth for 230 years! Black Friar Distillery is known for crafting gins that are a bit more earthy and piney in taste.
If you enjoy earthy notes, you'll love Plymouth Gin. It's also a bit piney and touch zesty, with notes of juniper and cardamom and other botanicals that make up Plymouth Gins unique recipe.
Contemporary/New Western/New American
If you're looking for a bit of a twist on the classic, London Dry gins, you should try some Contemporary/New Western/New American gins like Aviation, Bluecoat, and St. George. These gins tend to focus more on floral and citrus flavors, treating them with the same importance as the quintessential juniper flavor in all gins.
Bluecoat American Dry Gin
Right off the bat, you'll be able to appreciate this gin's sweet aromatics, and soft, earthy juniper notes. It's smooth and complex, with a bright finish.
Typically $25 USD // €23 EUR
While you might already be familiar with this option thanks to Ryan Reynolds, you should absolutely check it out for yourself since Aviation Gin is made from a delicious infusion of cardamom, coriander, French lavender, anise seed, sarsaparilla, juniper, and two kinds of orange peel.
This gin is a delicious balance of tangy citrus, bright hops, fresh herbs, and exotic spices. It's often described as complex and bright, and having classic touches of your standard, run-of-the-mill gins, and yet still managing to be unique.
Different Types of Tonic
If you're looking for an affable option when it comes to tonic waters, Schweppes is your best pick. Founded in 1783, it's known as the world's first soft drink! It's full of history, and for a price that won't break the bank!
Typically $1.50 USD // €1.30 EUR per Liter
If you want something that's great all on its own, I'd recommend grabbing some Canada Dry. It's delicious, and anyone with an upset stomach can tell you that it'll help you feel more settled.
Typically $2.50 USD // €2.30 EUR per Liter
For those of you who are feeling a little fancier, might I suggest Top Note Classic Tonic Water? This craft option is fairly new, and made from all-natural bitters of quinine, with top notes of lime zest.
Typically $30 USD // €27 EUR for a 16-Pack
Fever-Tree Refreshingly Light Premium Indian Tonic Water is also a bit more expensive compared to Canada Dry and Schweppes, but it's still a trendy option among gin and tonic drinkers. It's delicious and of course, light and refreshing!
Typically $34 USD // €31 EUR for a 24-Pack
Best Pairing
One of the best things about gin and tonic is they're incredibly versatile and easy to pair with so many different things! If you're looking for a great pairing inside your glass, there're so many different ways you can add a little twist on the classic cocktail.
Popular variations include garnishing with lime wedge, lemon peels, or orange peels – along with their respective freshly squeezed juices. It's not unheard of to see other options like cherry tonic, grapefruit tonic, or even watermelon tonic!
If you're playing host and looking for something to cook up serve alongside a gin and tonic for your guests, you'll have lots of options.
Cheeses and berries are both fantastic pairing options. If you're going to serve your guests a gin and tonic upon arrival, a fun charcuterie board would be absolutely perfect!
If you're planning to serve after-dinner-drinks, though, chocolates and fudge are also a nice compliment to the bitter notes and botanical flavors of the classic gin and tonic.
If you're someone who likes to serve up something a big more unexpected, though, I recommend trying a paté! Interestingly, most patés are seasoned with juniper – the primary ingredient at play in gin!
Gin and Tonic Ratio
For the perfect ratio of gin to tonic, you'll want to fill your glass with ice cubes and pour in 1 ½ oz // 4cl // 40 ml gin. After you've added in your spirits, you can fill the rest of the glass with tonic water – but make sure you're using a high ball glass so the ratio of gin to tonic doesn't get out of whack!
Best Glass for Gin and Tonic - Highball
The high ball glass is the vessel of choice for many cocktails, but it's partially great for gin and tonics because a tall, thin glass will actually help preserve the bubbles in your carbonated drinks for a bit longer!
🥘 Ingredients and Garnish for a Tanqueray Gin and Tonic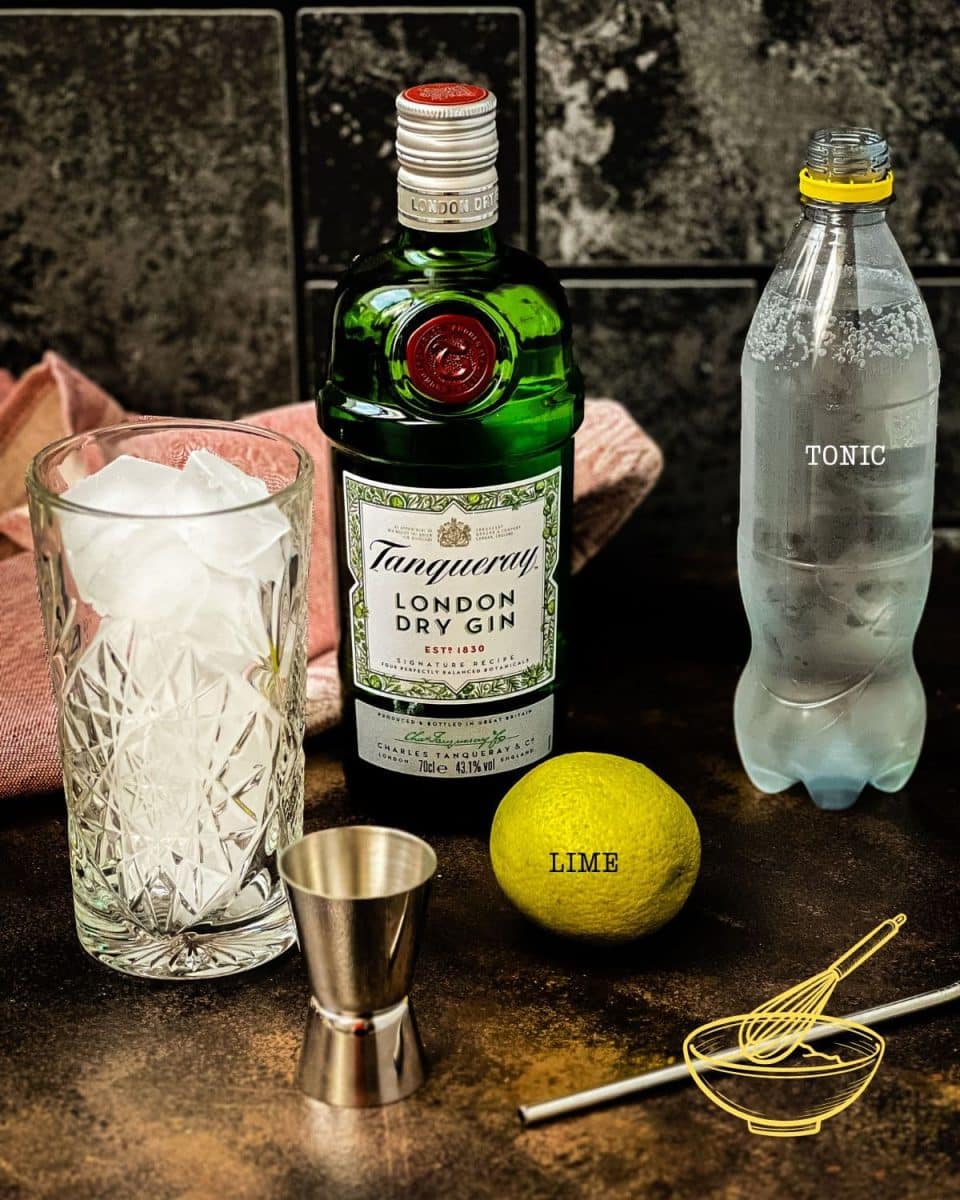 Ice Cubes - to fill up the highball glass
Tanqueray Gin - 1 ½ oz // 4cl // 40ml
Tonic - To fill up the glass
See the recipe card for quantities.
🔪 How to make a Tanqueray gin and tonic
I recommend starting off with a chilled highball glass and filling it to the brim with ice cubes. Next, pour in 1 ½ oz // 4cl // 40 ml of your Tanqueray Gin, and fill the rest of the glass with tonic water.
A typical highball glass will usually hold anywhere from 240 to 350 ml.
🍽 Equipment
Highball glass
Drinking straw
💭 Top tip
When preparing your gin and tonic cocktails at home, it's essential that you hold your highball glasses from the bottom and avoid touching the rim. Doing this, you help keep your chilled glass nice and cool – which makes the cocktail taste that much better!
And are you already wondering, "How do I chill a cocktail glass properly?" The most efficient way to get a perfectly chilled glass is to put them in the freezer beforehand. I usually like to give it at least a half hour, but if you're like me and plan to have friends and family over for backyard grilling and dinner parties this summer, you could also throw your glasses in the night before.
If you don't have that kind of freezer space or that kind of time between refills for your guests, another method you could adopt is fulling each cocktail glass with ice cubes while you prepare the cucumber slices and fresh lime wedges. Once it comes time to start lining your glasses with cucumber slices again, you can dump out the ice and start pouring the cocktail.
In an attempt to protect our environment, one final tip is that I highly encourage you to avoid using disposable straws whenever possible. If you can, opt to use either metal or paper straws or forgo them altogether.
🙋🏻 FAQ
What is the ratio of gin to tonic?
Typically, the standard ratio is 2 oz of gin to 4 oz of tonic, but that ratio can be played with a little bit. Personally, I think this recipe makes a perfectly refreshing cocktail with just the right kick, but feel free to experiment and see what tastes best to you!
Is gin the healthiest alcohol?
When compared to other spirits, gin typically includes less sugars and fewer calories. Not to mention, its origins are rooted in medicinal purposes.
Do you pour gin or tonic first?
You should pour your gin in first, and fill the rest of the glass with your tonic.
What is a good mix with gin?
One of the best things you can mix with gin is tonic water! This iconic duo is refreshing all on it's own, but popular and tasty combinations include cucumber gin and tonic with garnishes of cucumber slices, gin and tonic with lime, and gin and tonic with lemon, often served with a lemon peel.
OTHER RECIPES FOR YOU TO TRY
How to Make a Refreshing Strawberry Spritz Cocktail
How to Make a Snowball Cocktail
Lovely Lavender Spritz Cocktail
If you make this recipe, let me know how you liked it by ★★★★★ star rating it and leaving a comment below. This would be awesome! You can also sign up for our Newsletter or follow me on Pinterest or Instagram and share your creation with me. Just tag me @combinegoodflavors and hashtag #combinegoodflavors, so I don't miss it.
📖 Recipe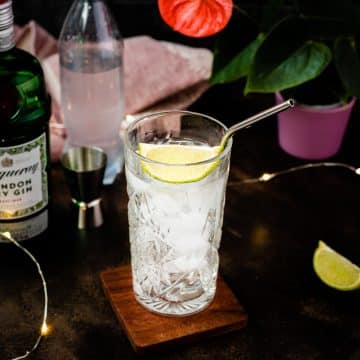 Tanqueray Gin and Tonic
Looking for a cool and classy drink? Try this classic gin and tonic recipe using Tanqueray Gin. It's a timeless favorite. Cheers!
Ingredients
Cubed Ice

1 ½

oz

Tanqueray Gin

Tonic

to fill up the glass

1

cup

Lime and drinking straw

for garnish
Instructions
Fill the glass with

Cubed Ice

.

Next add

1 ½ oz Tanqueray Gin

.

Fill up with

Tonic

(one high ball glass holds 240 (1 cup) to 350 ml (1 ½ cups))

Garnish with a

1 cup Lime and drinking straw

.

1 cup Lime and drinking straw
Notes
Hold the glass by the bottom so you don't touch the rim. This also keeps the glass cooler.
The glass should be filled to the rim with ice to best chill the drink and minimize dilution.
In an attempt to protect our environment, we avoid using disposable straws whenever possible, using either metal or paper straws, or simply leaving them out if we can.
Garnishes should be placed next to the straw so that as much flavor as possible arrives while drinking.
Never miss a recipe!
Sign up and let me spoil you weekly with a delicious homemade recipe!
Nutrition values are estimates only, using online calculators. Please verify using your own data.
Serving:
1
Serving
|
Calories:
169
kcal
|
Carbohydrates:
25
g
|
Protein:
2
g
|
Fat:
0.5
g
|
Saturated Fat:
0.1
g
|
Polyunsaturated Fat:
0.1
g
|
Monounsaturated Fat:
0.04
g
|
Sodium:
5
mg
|
Potassium:
242
mg
|
Fiber:
7
g
|
Sugar:
4
g
|
Vitamin A:
118
IU
|
Vitamin C:
69
mg
|
Calcium:
78
mg
|
Iron:
1
mg
⛑️ Food Safety
Cook to a minimum temperature of 165 °F (74 °C)
Do not use the same utensils on cooked food, that previously touched raw meat
Wash hands after touching raw meat
Don't leave food sitting out at room temperature for extended periods
Never leave cooking food unattended
Use oils with high smoking point to avoid harmful compounds
Always have good ventilation when using a gas stove