This article is also available in Deutsch.
So today, it is my pleasure to introduce to you something absolutely fabulous: the festive Snowball Cocktail with homemade eggnog and refreshing Bitter Lemon!
You'll love this delicious cocktail with eggnog (or egg liqueur/advocaat)! The use of bitter lemon makes it a unique variation and will just be the right thing for you!
This festive drink not only looks adorable, but it also tastes heavenly! Yum! On top, you can prepare it in just a few minutes and don't even need a cocktail shaker! Simply marvelous!
I'm always at the forefront of incorporating my homemade egg liqueur into baked goods, chocolates, and drinks.
Jump to:
🥘 Ingredients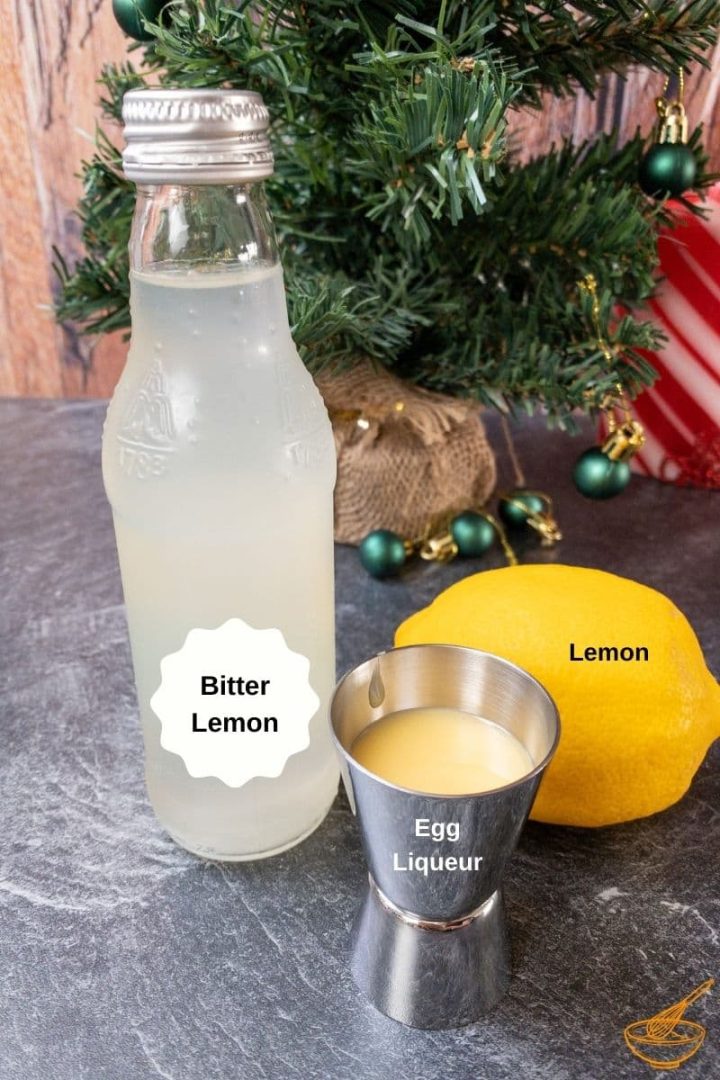 Eggnog or homemade Egg Liqueur, Advocaat - I prefer using my homemade Egg Liqueur. Still, you can easily switch it with Eggnog or a store bought Advocaat.
Cold Bitter Lemon - or the sparkling lemonade you love the most. In this particular recipe, I wanted to combine the tart taste of the bitter lemon with the sweet taste of my homemade egg liqueur. The bitter lemon must be ice-cold.
Lemon - the additional freshly squeezed lemon juice gives this cocktail the extra kick!
Additionally - Freshly squeezed lemon juice and brown cane sugar for the rim).
🔪 Instructions
Then let's start preparing this delicious wintery drink! As we said earlier, the preparation is done in a jiffy.
First, cut a fresh lemon in half and squeeze one half with a lemon squeezer. Strain the resulting juice through a fine strainer into a large mixing glass. Then add the egg liqueur and the freshly squeezed lemon juice to a tall mixing glass and mix well.
Then squeeze the second half of the lemon. Prepare two small plates and strain the juice (of the second half of the lemon) into one of the plates. Add the brown cane sugar to the second plate. Take just enough of the sugar to cover the bottom.
Now take your cocktail glass and create the beautiful sugar rim. Turn the glass upside down and dip the rim of the glass into the freshly squeezed lemon juice. Immediately after, gently twist the glass through the brown cane sugar to create a gorgeous rim.
Turn your cocktail glass upside down again and pour in the already prepared lemon juice-egg liqueur mixture. Now get your ice-cold Bitter Lemon from the fridge.
The bitter lemon must be ice-cold. Otherwise, the cocktail will not taste good. While it would be possible to use ice cubes to chill it, I would advise against it.
The ice cubes dilute the cocktail, and I find that this dilution detracts from the significant flavor of this festive beverage.
Finally, top the glass up with the ice-cold bitter lemon.
Voilà!
Your amazing Snowball Cocktail is ready to be served! Enjoy! 💚
🍽 Equipment
Tall glass
Cocktail glass
Cocktail stirrer or spoon
Two small plates (to easily create the rim)
🤨 What's a traditional snowball cocktail?
A Snowball is a mixture of Advocaat and a carbonated lemonade in approximately equal parts. It may have other ingredients, to taste.
It typically contains a squeeze of fresh lime juice, which is shaken with the advocaat before pouring into a glass and topping up with lemonade.
In the United Kingdom, it is often sold in both pubs and supermarkets in small bottles of approximately 113 millilitres (4.0 imp fl oz; 3.8 US fl oz) or 180 millilitres (6.3 imp fl oz; 6.1 US fl oz) (known in the pub trade as "splits") and is usually drunk as a "winter warmer".
Source: Wikipedia
🥗 Side dishes
This drink works perfectly on its own, as well as a welcome beverage with small savory appetizers. But of course, it also makes a great addition to cookies or a delightful dessert. In summary: the snowball cocktail is always welcome! 😊
📚 Further reading
Appetizers to go with this cocktail - check out these recipe collections:
Desserts and cookies that pair well with this Snowball Cocktail
🙋🏻 FAQ
What's the story behind the Snowball Cocktail?
The Snowball cocktail was invented in the 1940s but didn't become popular until the 1970s, where it was stripped of all sophistication by those who used only Advocaat and lemonade, missing out the ingredients they supposed to be superfluous producing the sickly cocktail we all know today.
Source: britishfoodhistory.com
What are the ingredients, and how can I make my own advocaat?
For my homemade advocaat I am using: whipped cream, full cream milk, powdered sugar, egg yolk, vanilla sugar, alcohol (white rum 40 percent alcohol or Vodka 40 percent alcohol), and a dash of cognac. Simply mixing all the ingredients together. 🙂 You can find the detailed instructions in the following post: How to make a delicious homemade advocaat egg liqueur.
Can I use something else to rim the cocktail glass?
Instead of freshly squeezed lemon juice, you can use simple syrup or maple syrup. As a substitute for the raw cane sugar you can use any other kind of sugar, cookie crumbs, but also (and this tastes especially good) grated coconut. Just try what tastes best to you.
How should you store Advocaat?
If you have any Advocaat left over after making your snowball cocktails, you should store the bottle in the fridge. Unfortunately, it doesn't keep as well as a lot of other alcoholic drinks – you can't stick it in the back of the drinks cabinet and expect it to be as good as the day you opened it.
Once you've opened it, you should finish the bottle within 6 months – but that shouldn't be too hard!
Source: easycheesyvegetarian.com
📖 Recipe
Snowball Cocktail with Bitter Lemon
This festive alcoholic cocktail is made with three ingredients only and takes just a few minutes to make! The combination of egg liqueur, bitter lemon, and fresh lemon juice tastes heavenly!
Equipment
Tall glass

Cocktail Glass

2 small Plates
Ingredients
2

cl

Eggnog

or Egg Liqueur / Advocaat

300

ml

Bitter Lemon

Quantity depends on the size of the cocktail glass

½

Lemon

organic
Instructions
Rim the Cocktail Glass
Get two small plates ready.

Squeeze the other half of the lemon and strain its juice into the small plate.

Add the brown cane sugar to the second plate (just enough to cover the bottom).

Turn the glass upside down and dip the rim of the glass into the freshly squeezed lemon juice.

Gently twist the glass through the brown cane sugar to create that gorgeous rim.
Cocktail
Cut a fresh lemon in half and squeeze one half with a lemon squeezer.

Strain the juice into a tall mixing glass.

Add the egg liqueur and mix them well.

Pour the lemon-juice-egg-liqueur-mixture into a rimmed cocktail glass.

Top the cocktail glass up with the ice-cold bitter lemon.
Please note that all my recipes are developed and tested in metric grams. I recommend using digital scales for more accurate results. I provided a conversion to US customary in the recipe, but please note that I haven't tested it using this method.
Never miss a recipe!
Sign up and let me spoil you weekly with a delicious homemade recipe!
Nutrition values are estimates only, using online calculators. Please verify using your own data.
Serving:
1
Glass
|
Calories:
156
kcal
|
Carbohydrates:
41
g
|
Protein:
2
g
|
Fat:
1
g
|
Saturated Fat:
1
g
|
Polyunsaturated Fat:
1
g
|
Monounsaturated Fat:
1
g
|
Cholesterol:
1
mg
|
Sodium:
33
mg
|
Potassium:
155
mg
|
Fiber:
3
g
|
Sugar:
33
g
|
Vitamin A:
28
IU
|
Vitamin C:
57
mg
|
Calcium:
37
mg
|
Iron:
1
mg
⛑️ Food Safety
Cook to a minimum temperature of 165 °F (74 °C)
Do not use the same utensils on cooked food, that previously touched raw meat
Wash hands after touching raw meat
Don't leave food sitting out at room temperature for extended periods
Never leave cooking food unattended
Use oils with high smoking point to avoid harmful compounds
Always have good ventilation when using a gas stove