This article is also available in Deutsch.
A cake of the very most delicate kind! A mixture of potato flour and wheat flour, plus a good portion of eggnog! It's best to use your homemade eggnog! Thanks to the addition of oil, this cake does not require any butter! Simply delicious!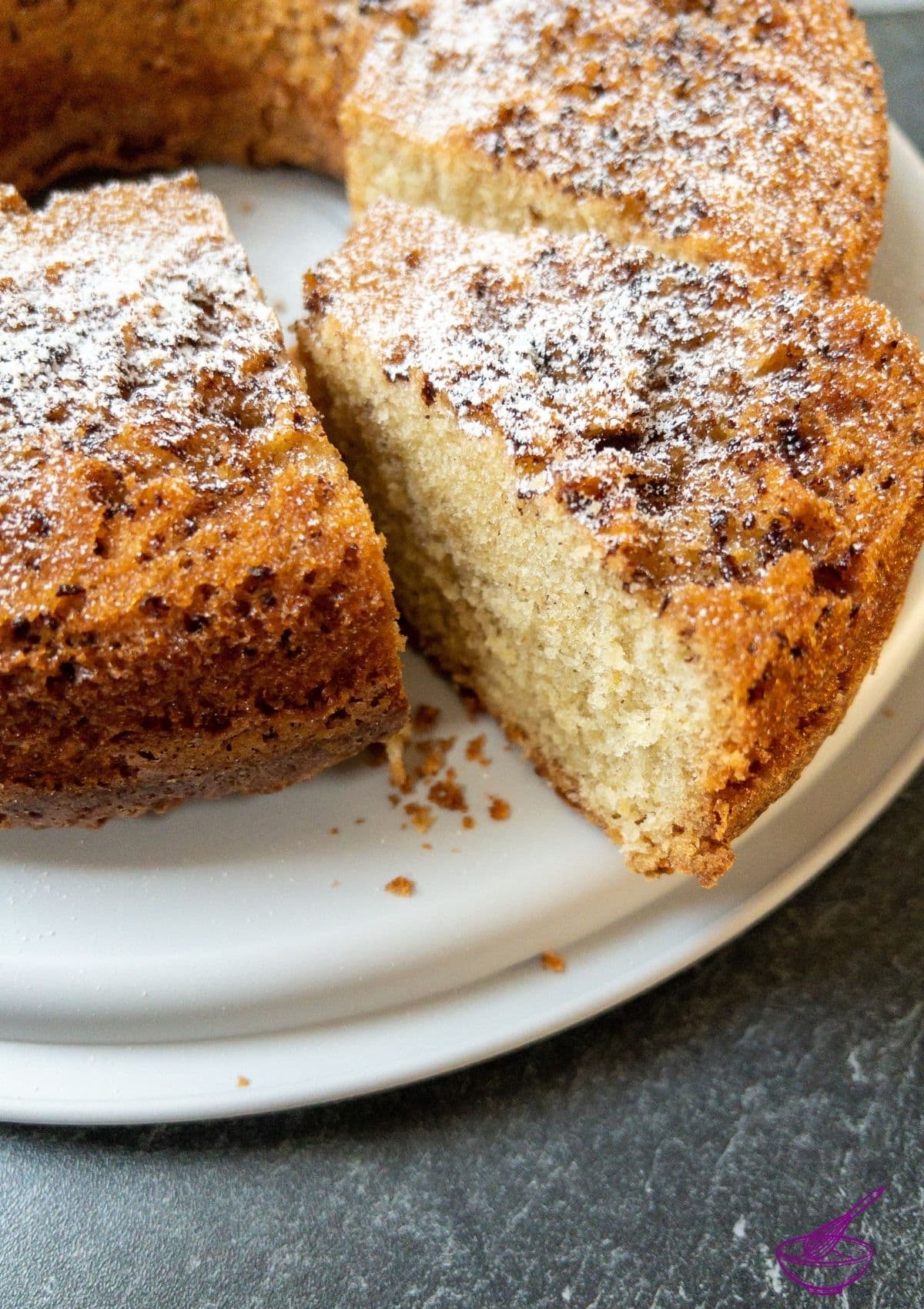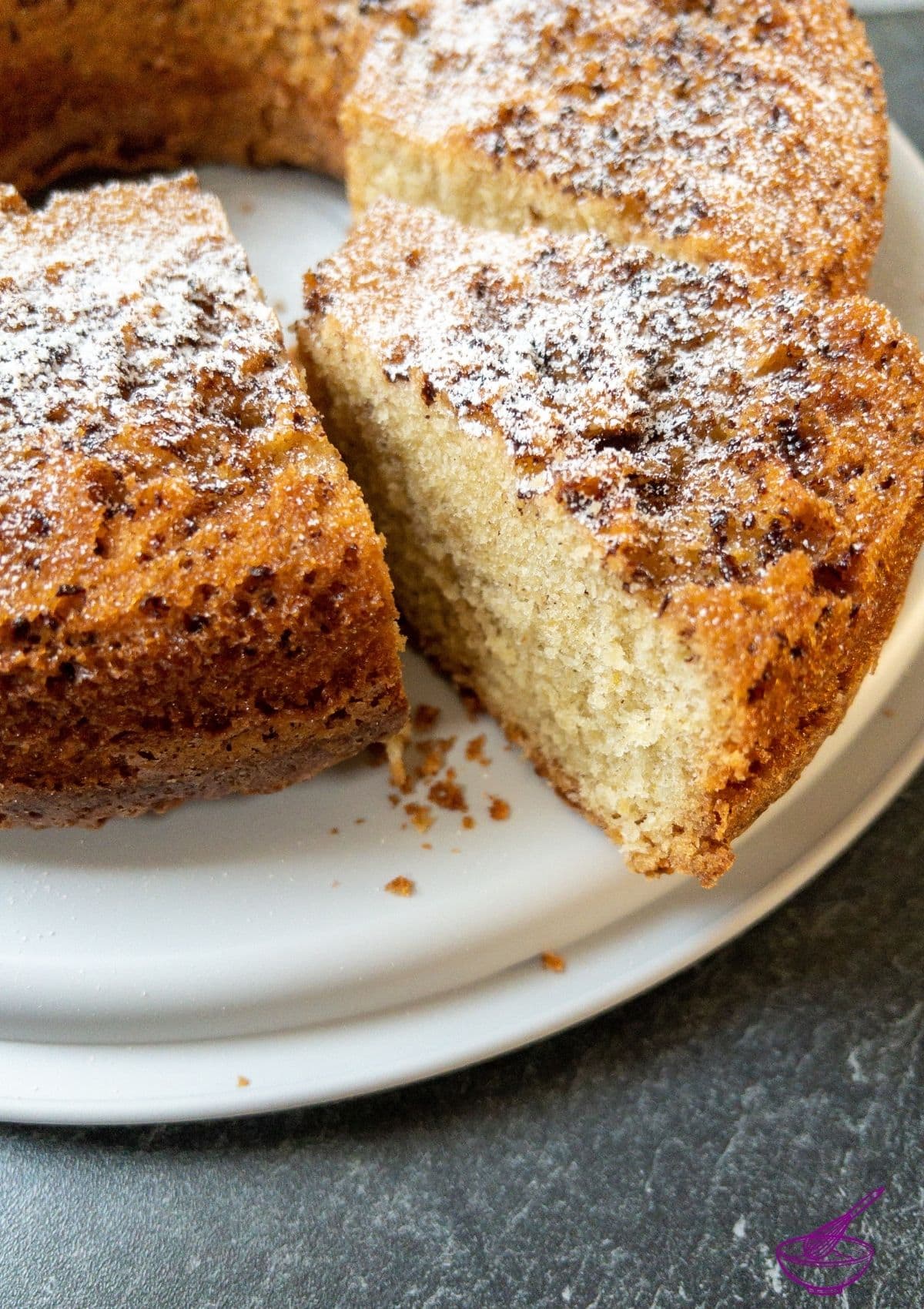 This eggnog cake has an exceptionally fluffy and light texture. And it was eaten up by friends and family faster than any cake before! 😲
If you can't get enough of eggnog, I recommend drinking an eggnog coffee along with it! Or you can get inspired by my eggnog recipes.
But as gorgeous as it turned out, I have a confession to make. I made a pretty stupid mistake while baking. It did not affect the result in the end, but I have to make you aware of it!
I had chocolate chips leftover, which I wanted to incorporate into this cake. When the dough was ready, I didn't pay attention to the consistency of the dough and just mixed in the chocolate chips. They simply sank to the bottom of the mixing bowl.
Now it was too late. 😲
The dough has such a fluid consistency that it is absolutely not suitable for adding chocolate chips. They are too heavy, and the dough can't hold them. Since there was nothing I could do about it, I continued as usual.
At the end of the baking time, the chocolate chips had sunk and stuck to the bottom of the cake.
But fortunately, that wasn't a problem for the cake itself. It gave it a unique pattern. You don't need it for this beautiful cake! Just so you don't waste your chocolate, it's best to leave it out altogether.
Jump to:
🥘 Ingredients
Eggs
Powdered sugar
Vanilla sugar
Oil
All Purpose flour
Potato flour
Butter or baking spray to grease the pan
Powdered sugar for the final dusting
See the recipe card for quantities.
🔪 Instructions
This wonderful cake is one of the few ones where you mix all the ingredients quickly and easily together and then bake it in the oven. Very simple, very fast.
So let's get right to it!
Preheat your oven to 160 °C // 320 °F top/bottom heat.
Prepare a mixing bowl in advance and mix the two types of flour an baking powder together. You will need it later and have it at hand.
In the next step, grab a mixing bowl or the mixing bowl of your kitchen machine.
Sift the powdered sugar into it through a close-meshed sieve. Then add the vanilla sugar and the eggs and beat them until creamy.
Continue by adding the oil and the eggnog. Then add the flour-baking-powder-mixture you prepared at the beginning.
Remember, the dough will not set! It has a liquid consistency!
Before you pour the dough into the springform pan, grease it with butter or baking spray so that nothing sticks. Now pour your dough into the pre-greased baking pan!
Now all you have to do is bake the eggnog cake. Bake on the middle shelf for 80-90 minutes at 160 °C // 320 °F.
Towards the end of the baking time, test whether the cake is well done with a wooden stick. If no dough sticks, it is ready!
Take the cake out of the oven and let it cool on a cooling rack. Then turn it out of the baking pan and dust with powdered sugar.
The cake does not need any special extras for serving. The powdered sugar is enough. But if you don't want to miss it, you can add a spoonful of whipped cream to the serving plate.
Now it is ready to be devoured! Enjoy it!
More delicious cake recipes for you to try
📖 Variations
Instead of eggnog, you can use any other type of cream liqueur in this recipe—for example, Baileys or chocolate liqueur.
🌡️ Storage
The eggnog cake will keep for about five days under a cake cover.
You can freeze it as well. In this case, please wrap in cling film after it has cooled completely.
💭 Top tip
The whipping works better with a hand mixer than with a food processor!
Potato Starch Vs Potato Flour: What Is The Difference?
What Is Potato Starch?
Potato is a great source of essential nutrients like carbohydrates. Like most other carb-filled food items, this one also holds a significant amount of starch. All this starch comes from its tuberous roots whose cells contain lots of leucoplasts. By extracting this component from the potatoes, we get potato starch.
More delicious cake recipes for you to try
If you make this recipe, let me know how you liked it by ★★★★★ star rating it and leaving a comment below. This would be awesome! You can also sign up for our Newsletter or follow me on Pinterest or Instagram and share your creation with me. Just tag me @combinegoodflavors and hashtag #combinegoodflavors, so I don't miss it.
📖 Recipe
⛑️ Food Safety
Cook to a minimum temperature of 165 °F (74 °C)
Do not use the same utensils on cooked food, that previously touched raw meat
Wash hands after touching raw meat
Don't leave food sitting out at room temperature for extended periods
Never leave cooking food unattended
Use oils with high smoking point to avoid harmful compounds
Always have good ventilation when using a gas stove