It's hard to not be weight down by the stress of our day-to-day lives, and when I'm feeling extra overwhelmed, there's something so soothing about a lavender infused drink.
These delicious lavender daiquiri cocktails seem to strike the perfect balance between fun and relaxed – making them the perfect go-to drink for unwinding after a long day, or entertaining close friends and family!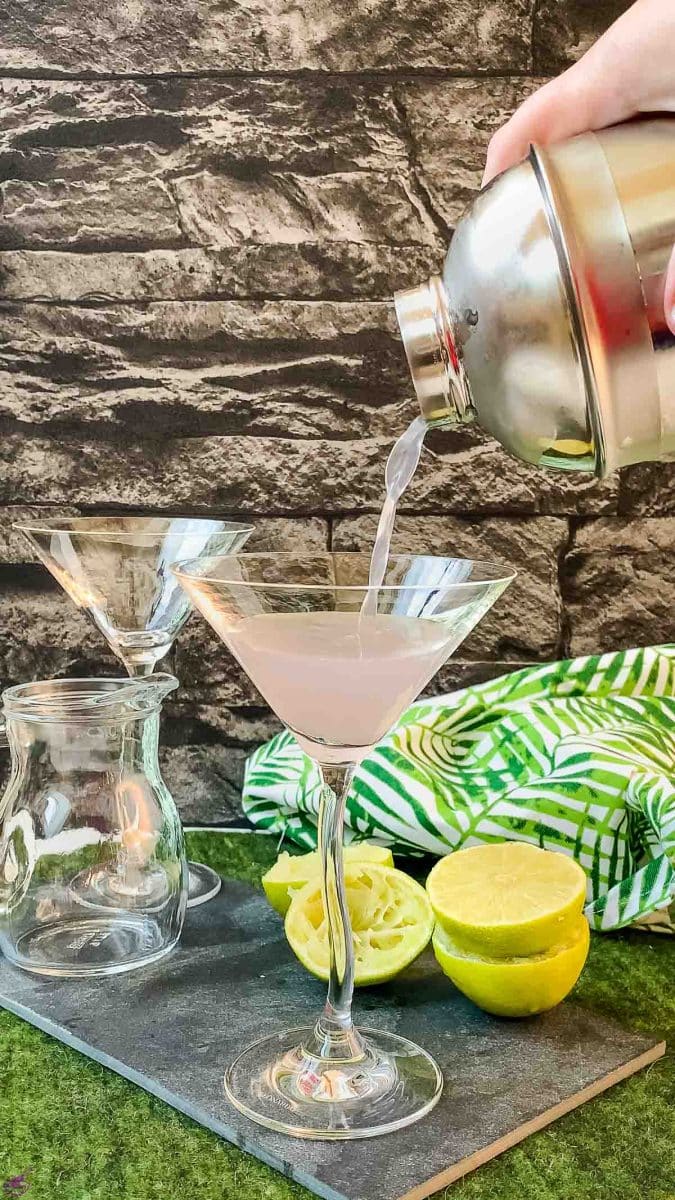 This recipe is super simple and quick, and is sure to be a big hit with all your guests! At first sip, it's sweet, but then immediately accompanied by a slightly bitter taste. The finishing notes of the cocktail are sour, leaving you with a satisfyingly refreshing taste.
It's the perfect drink for Spring and Summer, but it's so delicious, you'll want to enjoy this recipe all year long!
Jump to:
🥘 Ingredients
White Rum
Fresh Lime Juice
Super Fine Sugar
Ice Cubes
Limes for Garnish
See the recipe card for quantities.
🔪 Instructions
First things first, you'll want to squeeze all the juice from half a lime. In order to avoid getting pulp in your daiquiri, sieve the lime juice through a narrow meshed sieve. The juice can go directly into a cocktail shaker.
Next, add in your rum, lavender syrup and super fine sugar into the cocktail shaker. Be sure to stir well, and make sure all of the sugar dissolves properly.
Add some ice cubes – about a handful – before closing up your shaker and giving it a good shake. When in doubt, strive to shake your cocktail from somewhere in the ballpark of 10-15 seconds.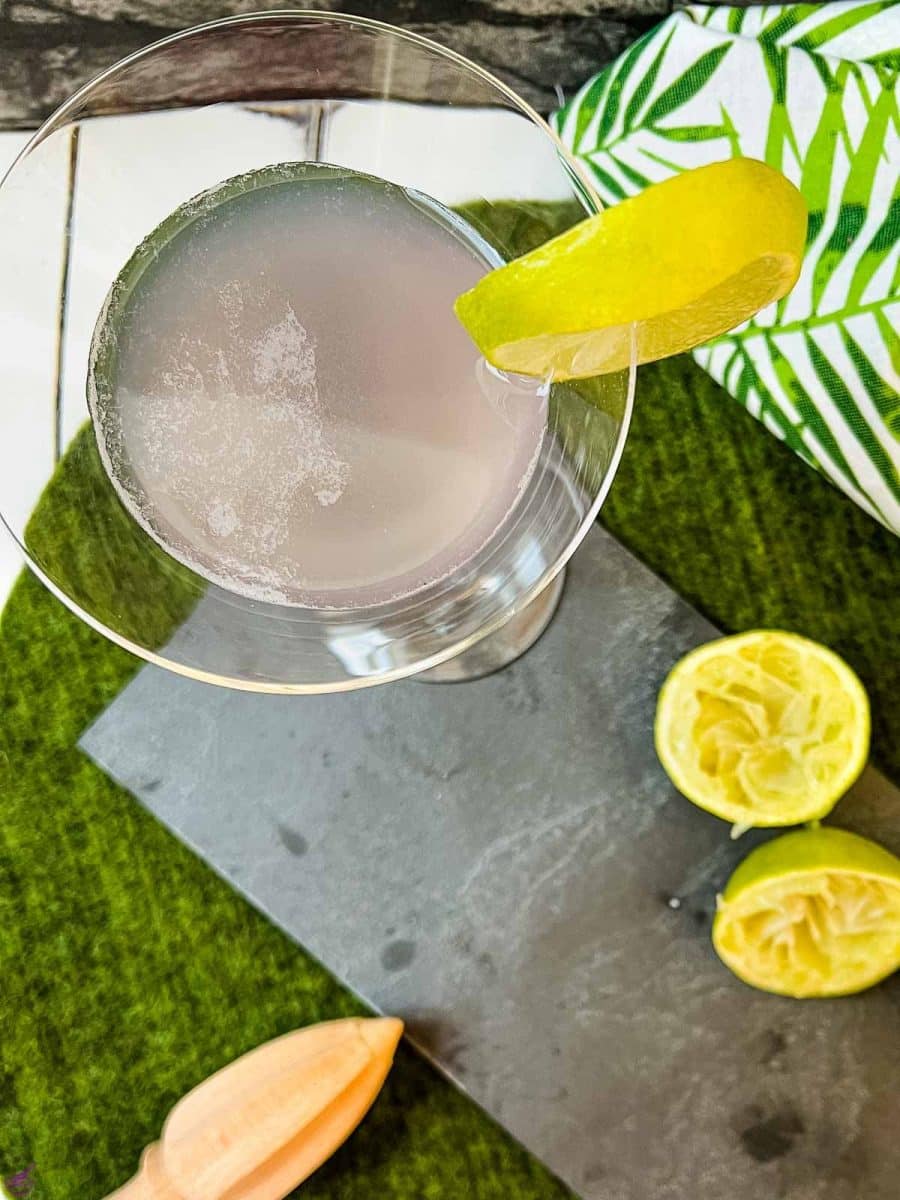 After you've given your cocktail a good shake, go ahead and strain the mixture into a chilled cocktail glass – if you have one on hand. The cocktail glass, or a coupe glass, is the ideal glassware for this drink, but feel free to improvise if those aren't staples in your home bar yet!
To finish things off, cut a slice of lime and garnish the rim of your glass! Your Lavender Daiquiri will look picture perfect, and taste absolutely delicious!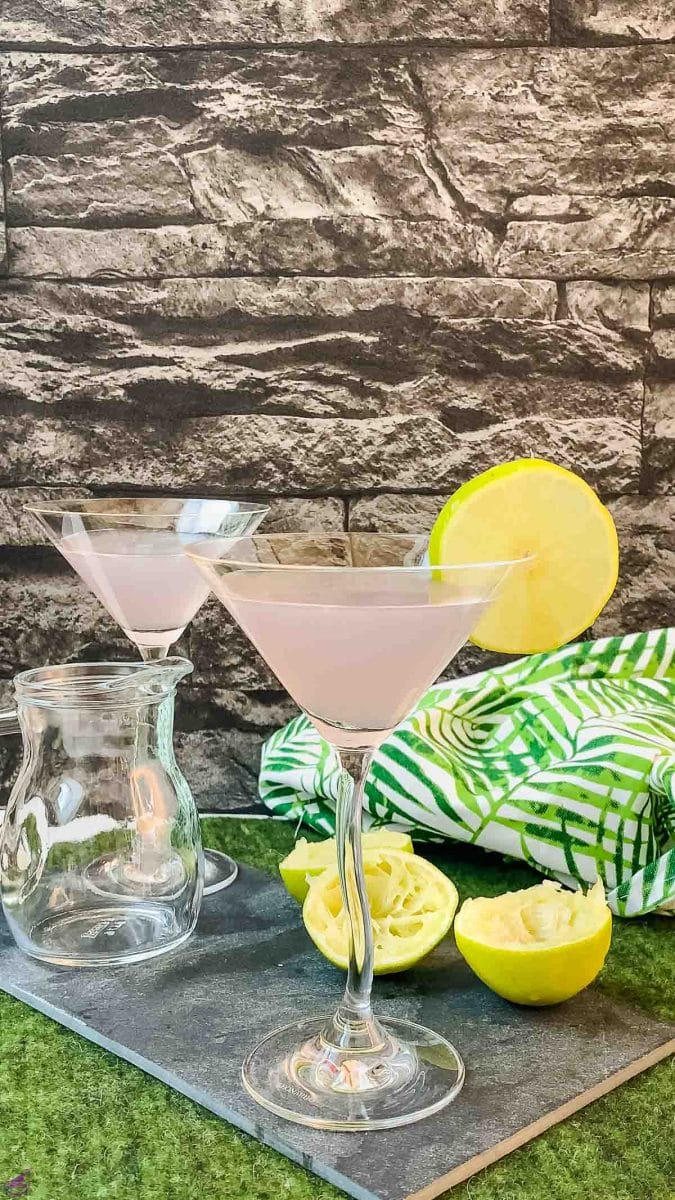 🫐 Variations
There's lots of possible variations you can make for this cocktail! If lavender isn't your speed, feel free to substitute in another syrup of choice. A classic daiquiri cocktail calls for simple syrup, but there's so many other flavors you could incorporate!
Personally, I really enjoy Blueberry Daiquiris. The recipe is a little more involved if you're attempting to make it at home from scratch, but it's hard to beat a simple syrup that's made with fresh blueberries!
🍽 Equipment
Cocktail Shaker
Lemon Squeezer
Strainer
Cocktail Glass
🌡 Storage
By some chance you have any leftovers, your Lavender Daiquiri Cocktails do have a little bit of a shelf life – thanks to the alcohol, lime, and sugar! If you're storing it in the fridge (preferably in an air-tight seal of some kind), you can continue enjoying this cocktail for up to a week. If you store it in the freezer, it has an even longer shelf life! In the freezer, you can store frozen daiquiris for up to a month!
I'm willing to bet that your leftovers won't last nearly that long, though, if you even have leftovers to begin with!
💭 Top tips
When it comes to cocktail preparation, there's one question that I frequently get from my readers; How do I properly chill my cocktail glass?
Thankfully, the answer is nice and simple! The most efficient way to perfectly chill your cocktail glasses is to put them in the freezer beforehand! I recommend placing your glassware in the freezer for about half an hour before pouring your cocktails.
If that seems like a little too much forethought for you, there's other options available to you, though! Another method is to chill the cocktail glass with ice cubes. For this one, you'll want to fill a cocktail glass to the brim with crushed ice before going about the process of actually mixing your cocktail. After everything's properly strained, mixed, and shaken, you can go ahead and remove the ice from the glass. Make sure you remove the ice before you pour your chilled drink, though, so you don't end up with a watered down cocktail!
Fancy Lavender? Then try out our delicious Lavender Spritz accompanied by some lovely Lavender Cookies!
🙋🏻 FAQ
Is lavender safe for cocktails?
If you're only familiar with seeing lavender as an ingredient facial products or soaps, don't worry, lavender is perfectly safe to use in drinks! It helps add a unique, floral note to cocktails, and works nicely with a variety of different spirits and liquors.
Can I drink lavender from my garden?
Yes, you can enjoy fresh grown lavender from your own back yard. In order to make lavender syrup, all you'll need to do is bring some water, some sugar, and fresh lavender blossoms to a boil. If you don't have any lavender growing in your garden, or this just seem like too many extra steps to take for you, go ahead and purchase some syrup from the supermarket!
What does lavender taste like?
Lavender has lovely floral notes, but also has hints of both rosemary and mint – both of which are closely related to lavender!
What other flowers are safe for cocktails?
In addition to lavender, you can also add a little whimsy and delicious floral flavors to your cocktails with rose, honey suckle, marigolds, and cherry blossoms – just to name a few! These edible flowers will make your drinks taste amazing AND look amazing when you post them on Instagram!
Other Recipes You'll Love
Lavender Spritz with Prosecco (coming soon)
Lavender Sugar (coming soon)
Lavender Gin and Tonic (coming soon)
Lavender Lemon Muffins (coming soon)
Lavender Cookies (coming soon)
Lavender Liqueur (coming soon)
If you make this recipe, let me know how you liked it by ★★★★★ star rating it and leaving a comment below. This would be awesome! You can also sign up for our Newsletter or follow me on Pinterest or Instagram and share your creation with me. Just tag me @combinegoodflavors and hashtag #combinegoodflavors, so I don't miss it.
📖 Recipe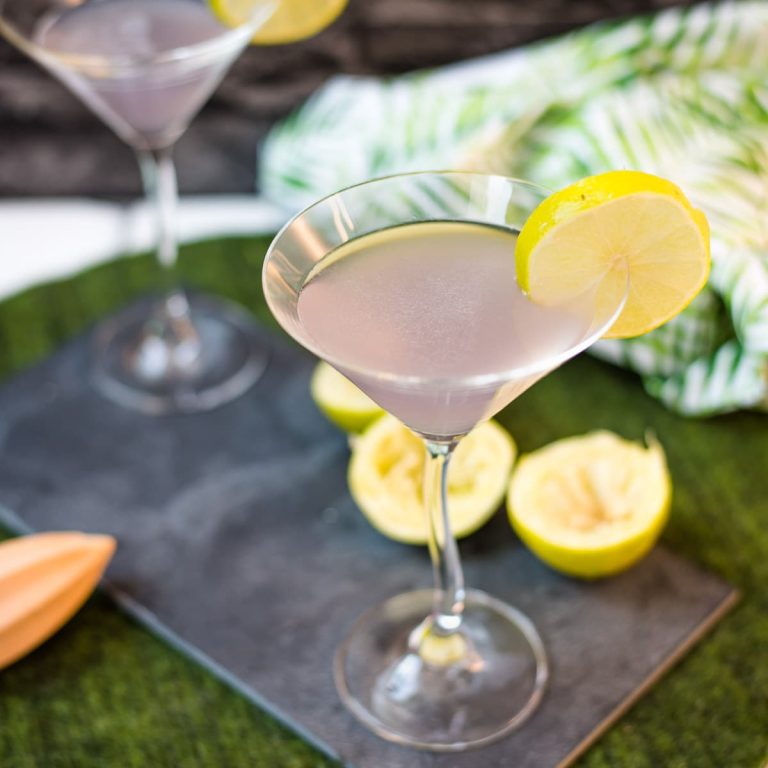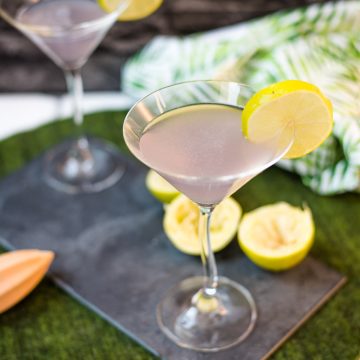 Lavender Daiquiri
Shake up your usual cocktail routine and spice it up with a lavender daiquiri! Check out this simple recipe that you'll want to make all summer long.
Ingredients
¼

cup

White Rum

8

teaspoon

Lavender Syrup

½

Lime

2

teaspoon

Super fine Sugar

Ice cubes

A slice of lime for decoration
Instructions
Sieve the lime juice through a narrow meshed sieve into a cocktail shaker.

Next, add the rum, lavender syrup and sugar.

¼ cup White Rum,

8 teaspoon Lavender Syrup,

2 teaspoon Super fine Sugar

Stir well to dissolve the sugar.

Add ice cubes (a hand full), close the shaker and shake well.

Strain the mixture into a (preferred) chilled cocktail glass.

To finish, cut a slice of lime and decorate the glass with it.

A slice of lime for decoration
Never miss a recipe!
Sign up and let me spoil you weekly with a delicious homemade recipe!
Nutrition values are estimates only, using online calculators. Please verify using your own data.
Serving:
1
Serving
|
Calories:
154
kcal
|
Carbohydrates:
22
g
|
Protein:
0.1
g
|
Fat:
0.1
g
|
Saturated Fat:
0.01
g
|
Polyunsaturated Fat:
0.01
g
|
Monounsaturated Fat:
0.01
g
|
Sodium:
7
mg
|
Potassium:
24
mg
|
Fiber:
0.5
g
|
Sugar:
15
g
|
Vitamin A:
8
IU
|
Vitamin C:
5
mg
|
Calcium:
7
mg
|
Iron:
0.1
mg
⛑️ Food Safety
Cook to a minimum temperature of 165 °F (74 °C)
Do not use the same utensils on cooked food, that previously touched raw meat
Wash hands after touching raw meat
Don't leave food sitting out at room temperature for extended periods
Never leave cooking food unattended
Use oils with high smoking point to avoid harmful compounds
Always have good ventilation when using a gas stove
For further information, check Safe Food Handling - FDA.