There's nothing quite like a refreshing cucumber gin and tonic on a hot summer evening! If you want to live the good life this summer without paying those sky-high happy hour prices, check out this fantastic recipe!
The classic gin and tonic is hard to beat, but if you're looking for a nice finishing touch, some freshly sliced cucumber and lime give this cocktail a unique Mediterranean vibe.
This is my go-to summertime cocktail recipe – especially when I'm hosting my friends and family for a barbecue!
They're deliciously refreshing, visually appealing, and a stunning contrast to those wonderfully smokey entries coming off the grill. Plus, even all on its own, you'll be blown away by how amazing this cocktail comes out.
It's truly the perfect summertime cocktail, and the restaurant-quality taste and presentation have always been greatly appreciated by my guests!
Jump to:
🥘 Ingredients
Cubed Ice – Filled to the brim of your glass
Tonic
Cucumber - Ideally, mini cucumbers. cut thinly lengthwise
Lemon and Drinking Straw for Garnish
See the recipe card for quantities.
🍹 Step-by-Step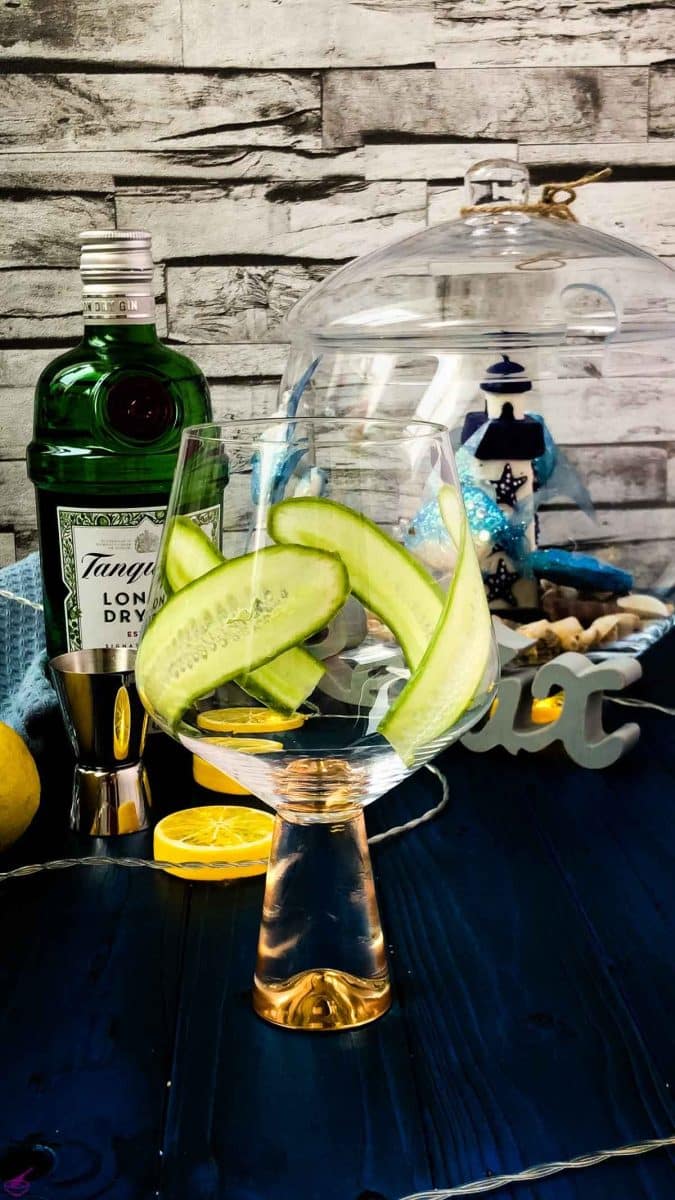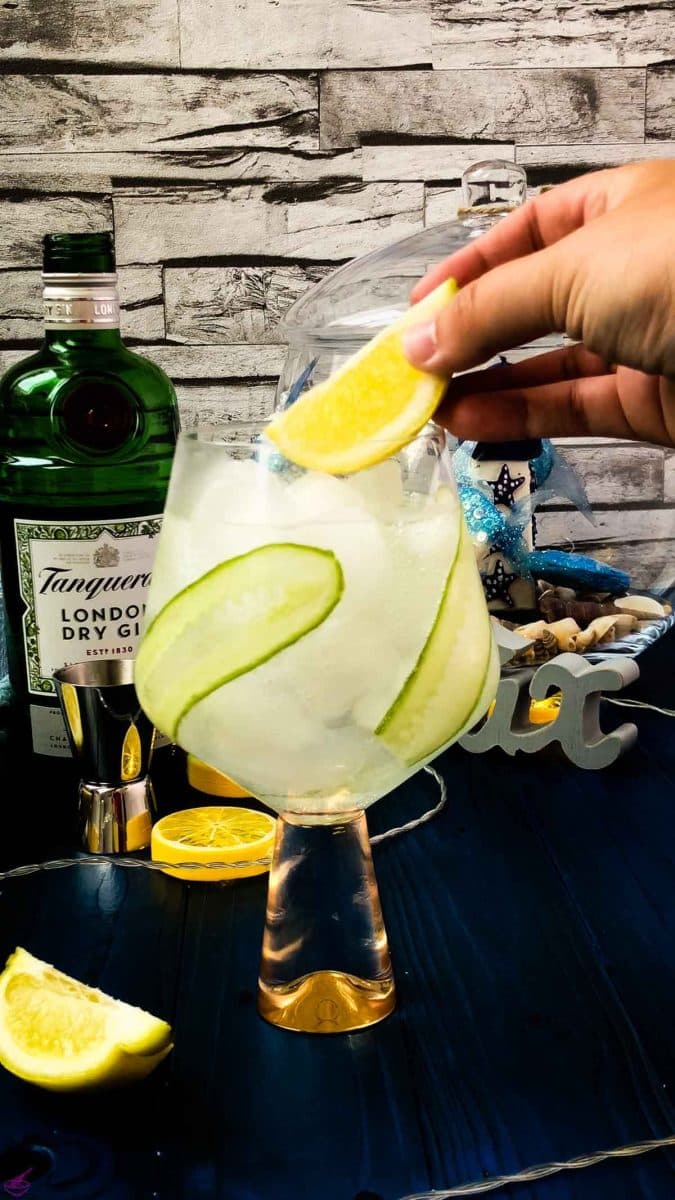 🔪 Instructions
This particular cocktail has a bit of flair and some accouterments – mainly the thinly sliced cucumber that will adorn the inside of your glass. It's visually stunning to look at and gives us that delicious flavor, which is why your first step should be to cut your mini cucumbers lengthwise. To achieve this, I recommend using a mandolin food slicer.
Once you've got you tin slices, you can begin lining the inside of your Highball or Balloon glasses. Two or three slices of cucumber for each chilled glass should be enough, but feel to add a few extra slices if you really enjoy a strong cumber flavor.
Next, fill your chilled glass with ice and pour in 1 ½ oz // 4cl // 40 ml Gin. Once you've added your Gin, the rest of your glass can be filled with tonic.
Once you've added your tonic, the only thing left to do is garnish with a lime wedge and a fun drinking straw!
🥒 Variations
I recommend using Hendrick's Gin, which already has a slight cucumber flavor for a more intense cucumber flavor.
Classic gin and tonic have endless varieties because of the available gin and tonic varieties. Check out our in-depth Gin and Tonic Guide!
🍽 Equipment
🌡 Storage
For many reasons, this cocktail should be enjoyed right away. One of the biggest reasons is that tonic water will eventually go flat – ruining the fresh, crisp taste that gin and tonics are so famously known for.
💭 Top tip
When preparing your gin and tonic cocktails at home, it's important that you hold your highball glasses from the bottom and avoid touching the rim. Doing this, you help keep your chilled glass nice and cool, making the cocktail taste that much better!
Are you already wondering, "How do I chill a cocktail glass properly?" The most efficient way to get a perfectly chilled glass is to put them in the freezer beforehand. I usually like to give it at least a half hour, but if you're like me and plan to have friends and family over for backyard grilling and dinner parties this summer, you could also throw your glasses in the night before.
If you don't have that kind of freezer space or that kind of time between refills for your guests, another method you could adopt is filling each cocktail glass with ice cubes while you prepare the cucumber slices and fresh lime wedges. Once it comes time to start lining your glasses with cucumber slices again, you can dump out the ice and start pouring the cocktail.
In an attempt to protect our environment, one final tip is that I highly encourage you to avoid using disposable straws whenever possible. If you can, opt to use either metal or paper straws, or forgo them altogether.
🙋🏻 FAQ
Why put cucumber in gin and tonic?
The classic gin and tonic is already known for its crisp and fresh taste, but the addition of fresh cucumber helps bring this cocktail to the next level. The flavors are nice compliments to one another.
What gin goes with cucumber tonic water?
There are so many different variations you could take on the classic gin and tonic – between all the different types of gin and all the different types of tonic, the possibilities are endless. If you're looking for a great recommendation, though, Hendrick's Gin works excellent in this cucumber cocktail. The gin already has a slight cucumber flavor, giving you an even more intense flavor.
What types of gin have cucumber?
Hendrick's Gin, made in Scotland from eleven fine botanicals, is infused with cucumber essence.
OTHER RECIPES FOR YOU TO TRY
If you make this recipe, let me know how you liked it by ★★★★★ star rating it and leaving a comment below. This would be awesome! You can also sign up for our Newsletter or follow me on Pinterest or Instagram and share your creation with me. Just tag me @combinegoodflavors and hashtag #combinegoodflavors, so I don't miss it.
📖 Recipe
Mediterranean Cucumber Gin and Tonic
Upgrade your gin and tonic with the refreshing taste of cucumber. This recipe adds a burst of flavor to a classic cocktail. Enjoy!
Ingredients
Cubed Ice

to fill up the glass

1 ½

oz

Gin

of your liking

Tonic

to fill up the glass

Cucumber

Lemon and drinking straw

for garnish
Instructions
Cut

Cucumber

lengthwise (very thin) and place them on the inside of the glass

Fill the chilled glass with

Cubed Ice

.

Fill up with

Tonic

(one high ball glass holds 240 (1 cup) to 350 ml (1 ½ cups)).

Garnish with a

Lemon and drinking straw

.
Notes
Hold the glass by the bottom so you don't touch the rim. This also keeps the glass cooler.
The glass should be filled to the rim with ice to best chill the drink and minimize dilution.
In an attempt to protect our environment, we avoid using disposable straws whenever possible, using either metal or paper straws, or simply leaving them out if we can.
Never miss a recipe!
Sign up and let me spoil you weekly with a delicious homemade recipe!
Nutrition values are estimates only, using online calculators. Please verify using your own data.
Serving:
1
Serving
|
Calories:
98
kcal
|
Sodium:
0.4
mg
|
Potassium:
1
mg
|
Iron:
0.02
mg
⛑️ Food Safety
Cook to a minimum temperature of 165 °F (74 °C)
Do not use the same utensils on cooked food, that previously touched raw meat
Wash hands after touching raw meat
Don't leave food sitting out at room temperature for extended periods
Never leave cooking food unattended
Use oils with high smoking point to avoid harmful compounds
Always have good ventilation when using a gas stove