While the gin & tonic is iconic, vodka will always be my drink of choice! In fact, this vanilla vodka tonic recipe is pretty darn delicious and could rival just about any cocktail!
I'm a huge fan of vanilla vodka, so I love taking every chance I get to incorporate it into my cocktail recipes. The fantastic hint of vanilla you'll find in this refreshingly light cocktail screams summertime!
You'll love how quick and easy this cocktail is to whip together – as long you're not making your own vanilla-infused vodka at home!
It's a great cocktail to serve to friends and family, but it's also a great go-to recipe for sitting out on the patio on hot summer evenings. Plus, given how easily you can vary the different vodka flavors with this recipe, it's a huge crowd-pleaser!
Jump to:
🥘 Ingredients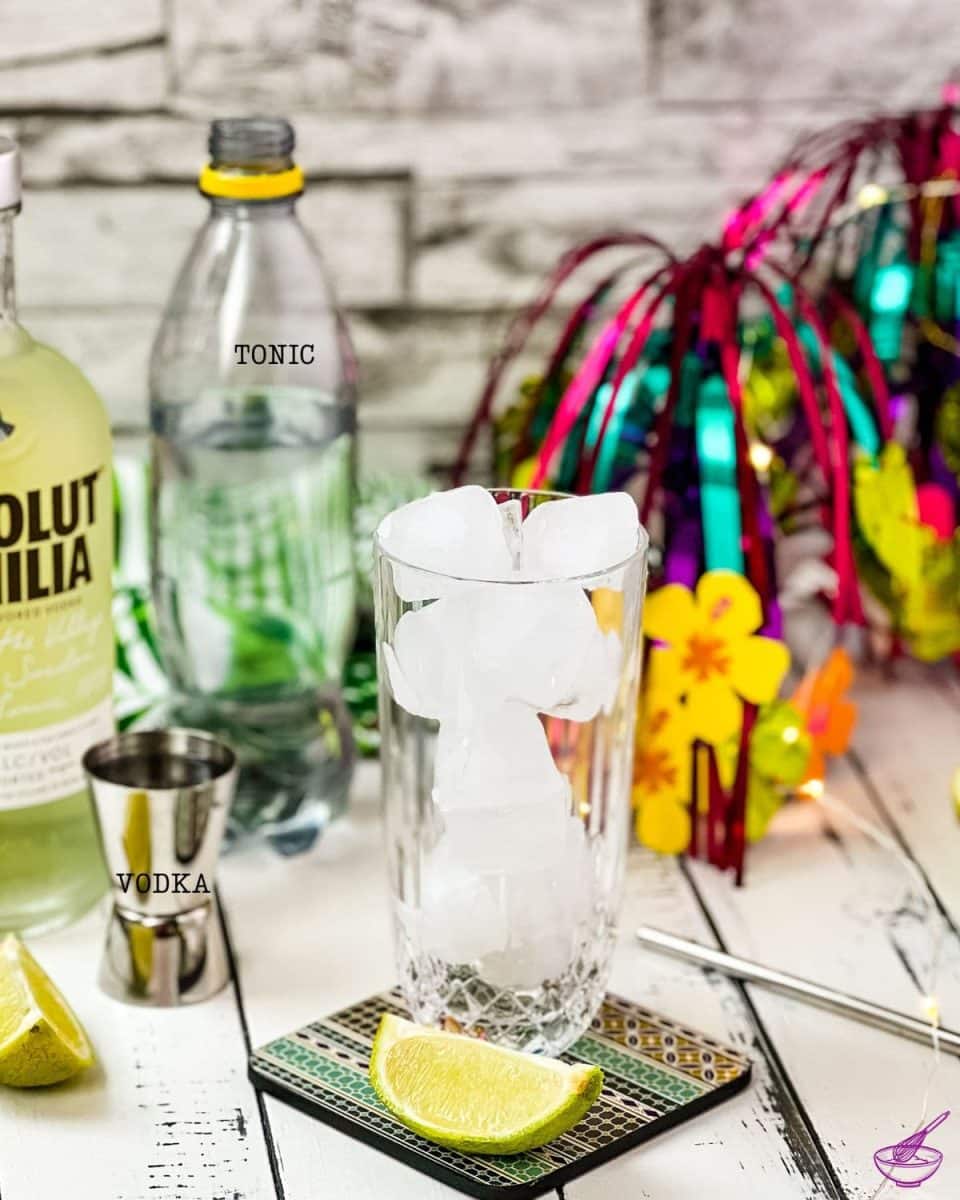 See the recipe card for quantities.
🔪 Instructions
To Assemble your Cocktail
When making a vodka tonic, you'll first fill a highball glass to the brim with ice. Next, pour in 11/2 oz // 4cl // 40 ml of vodka. I love vanilla vodka but feel to reach for your favorite brand.
After you pour in your vodka, fill the rest of your high-ball glass with tonic water.
If you're drinking something other than vanilla vodka, garnish it with some lime and a cute reusable straw. The vanilla and lime flavors are too much or a clash for me, so I usually opt for a cherry garnish instead.
To Make Your Own Vanilla Vodka at Home
If you want to be fancy and make your own vanilla vodka at home, you'll need to plan ahead for this recipe, but the delicious results are well worth the wait! And the extra added effort of having to sterilize your liqueur bottles.
Put the liqueur bottles, including the lid, into the pot to be sterilized. Fill the pot with enough water to cover the bottles. Boil for 30 minutes until bubbling. Please take out the bottles and lids individually and place them on paper towels to let them dry.
After you've prepared your bottles, add a vanilla bean to the bottle. You can add the whole bean or cut it into parts.
Once you've added in the real vanilla beans (whole or sliced), you can then fill the bottle with pure vodka and close it tightly.
You'll want to store the bottle in a cool, dark place – like under the sink or in an upper cabinet of your kitchen that doesn't get much use – but not in the refrigerator! It will need to sit for 10-14 days. Apart from needing to swirl the bottle every third day, which helps infuse the entire bottle with that delicious natural flavoring, this recipe isn't too labor-intensive. Let the vodka sit for the full two weeks for the best results. The longer the vanilla pod remains in the vodka, the more intense the subsequent aroma.
After you've let your homemade vanilla vodka sit for 10-14 days, it's finally ready to enjoy! All you need to do is remove the vanilla pod. The easiest way to do this is to pour it through a sieve into a new container!
And voilà! Your homemade vanilla-infused vodka is ready!
The longer the vanilla pod remains in the vodka, the more intense the subsequent aroma. On top of that, the vanilla vodka gets a beautiful amber color when you make it yourself compared to the purchased one! Gorgeous!
🍸 Variations
If you're not a fan of vanilla vodka, I recommend playing around with different vodka brands and flavors when crafting this refreshing drink.
🍽 Equipment
💭 Top tips
When preparing your vodka tonic cocktails at home, it's important that you hold your highball glasses from the bottom and avoid touching the rim. Doing this, you help keep your chilled glass nice and cool, making the cocktail taste that much better!
And are you already wondering, "How do I chill a cocktail glass properly?" The most efficient way to get a perfectly chilled glass is to put them in the freezer beforehand. I usually like to give it at least a half hour, but if you're like me and plan to have friends and family over for backyard grilling and dinner parties this summer, you could also throw your glasses in the night before.
If you don't have that kind of freezer space or that kind of time between refills for your guests, another method you could adopt is filling each cocktail glass with ice cubes while you get all your ingredients together.
In an attempt to protect our environment, one final tip is that I highly encourage you to avoid using disposable straws whenever possible. If you can, use metal or paper straws or simply forgo them altogether.
🙋🏻 FAQ
Is vodka and tonic good?
While the gin & tonic is iconic, for those of you whose drink of choice is vodka, you can rejoice in knowing vodka also goes great with tonic. It's light, crisp, and refreshing, making it a fantastic summertime drink.
Is vodka tonic healthier than vodka soda?
Interestingly, the typical vodka tonic packs more calories than a vodka soda, but calories aren't everything. My personal recommendation is to order/craft the cocktail that tastes the best to YOU!
What does vodka and tonic water taste like?
A vodka tonic is much lighter than most cocktails, but it packs in beautiful notes of bitter, sweet, and sour.
What alcohol goes good with tonic water?
The most iconic duo is the gin & tonic, but vodka tonics are also pretty darn delicious!
Which tonic water is best for vodka?
Which tonic water is best really comes down to takes and preference. If you're looking for a cheap option, I recommend Schweppes. Canada Dry is also pretty affordable and it's good all on its own. For artisanal options, Top Note Classic Tonic Water and Fever-Tree Refreshingly Light Premium Indian Tonic Water are both pretty popular.
Other Cocktail Recipes for You to Try
If you make this recipe, let me know how you liked it by ★★★★★ star rating it and leaving a comment below. This would be awesome! You can also sign up for our Newsletter or follow me on Pinterest or Instagram and share your creation with me. Just tag me @combinegoodflavors and hashtag #combinegoodflavors, so I don't miss it.
📖 Recipe
Vanilla Vodka Tonic
Shake up your usual vodka tonic with the irresistible combination of vanilla and tonic water. Discover the perfect recipe for this delightful cocktail.
Ingredients
Cubed Ice

1 ½

oz

Vanilla Vodka

Tonic

Lime wedge

and drinking straw for garnish
Instructions
Fill the glass with

Cubed Ice

.

Next, add

1 ½ oz Vanilla Vodka

Fill up with

Tonic

(one high ball glass holds 240 (1 cup) to 350 ml(1 ½ cups)).

Garnish with a

Lime wedge

and a drinking straw
Notes
The glass should be filled to the rim with ice to best chill the drink and minimize dilution.
Never miss a recipe!
Sign up and let me spoil you weekly with a delicious homemade recipe!
Nutrition values are estimates only, using online calculators. Please verify using your own data.
Serving:
1
Serving
|
Calories:
98
kcal
|
Sodium:
0.4
mg
|
Potassium:
0.4
mg
⛑️ Food Safety
Cook to a minimum temperature of 165 °F (74 °C)
Do not use the same utensils on cooked food, that previously touched raw meat
Wash hands after touching raw meat
Don't leave food sitting out at room temperature for extended periods
Never leave cooking food unattended
Use oils with high smoking point to avoid harmful compounds
Always have good ventilation when using a gas stove