Today's recipe is all about baking a delicious chocolate cake from 6 leftover egg whites.
This cake is very easy to make and contains chocolate, egg whites, butter, flour, and sugar.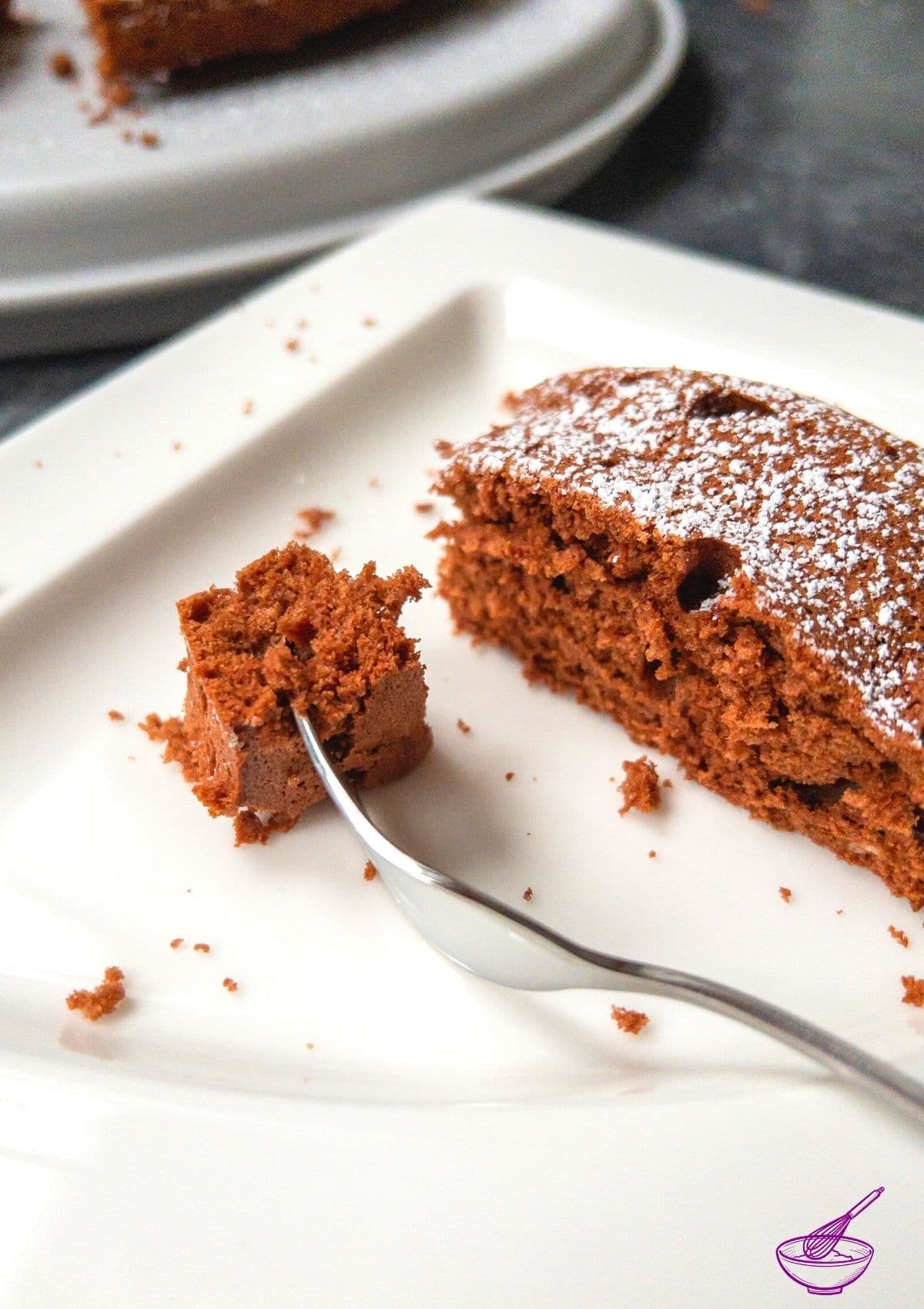 It is similar to a pound cake in that it uses equal parts butter, flour, sugar, and chocolate.
The traditional Austrian Christmas "Coconut busserl" coconut cookies and my beloved walnut meringue cookies are classic for using up egg whites.
So if you want to save some cookie recipes for Christmas to use up egg whites, you have two amazing ones at hand.
Jump to:
🥘 Ingredients
cake flour
unsalted butter
sugar
dark chocolate couverture
egg whites
butter or baking spray for coating the pan
flour or breadcrumbs for dusting the pan
powdered sugar for dusting the cake
See the recipe card for quantities.
🔪 Instructions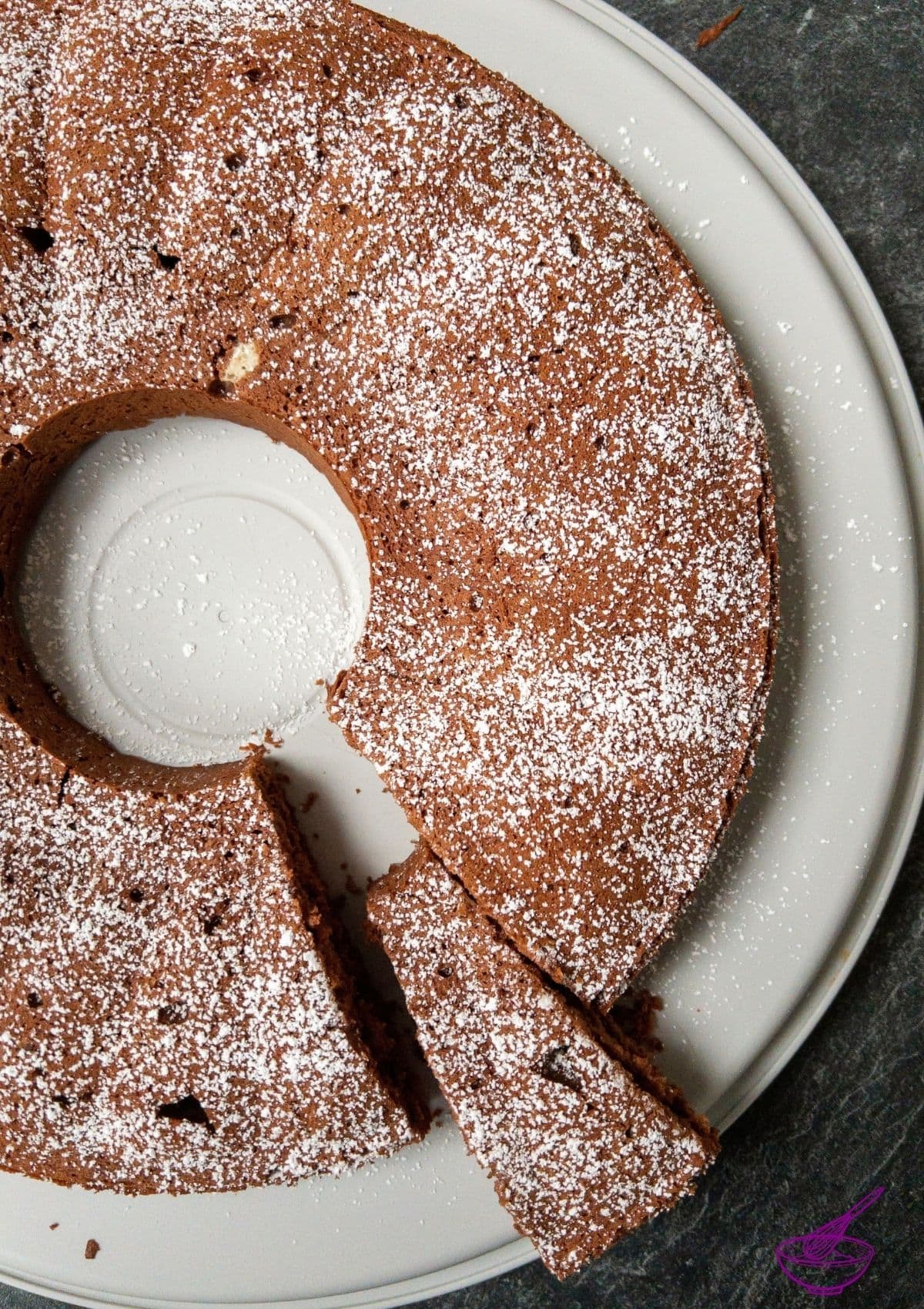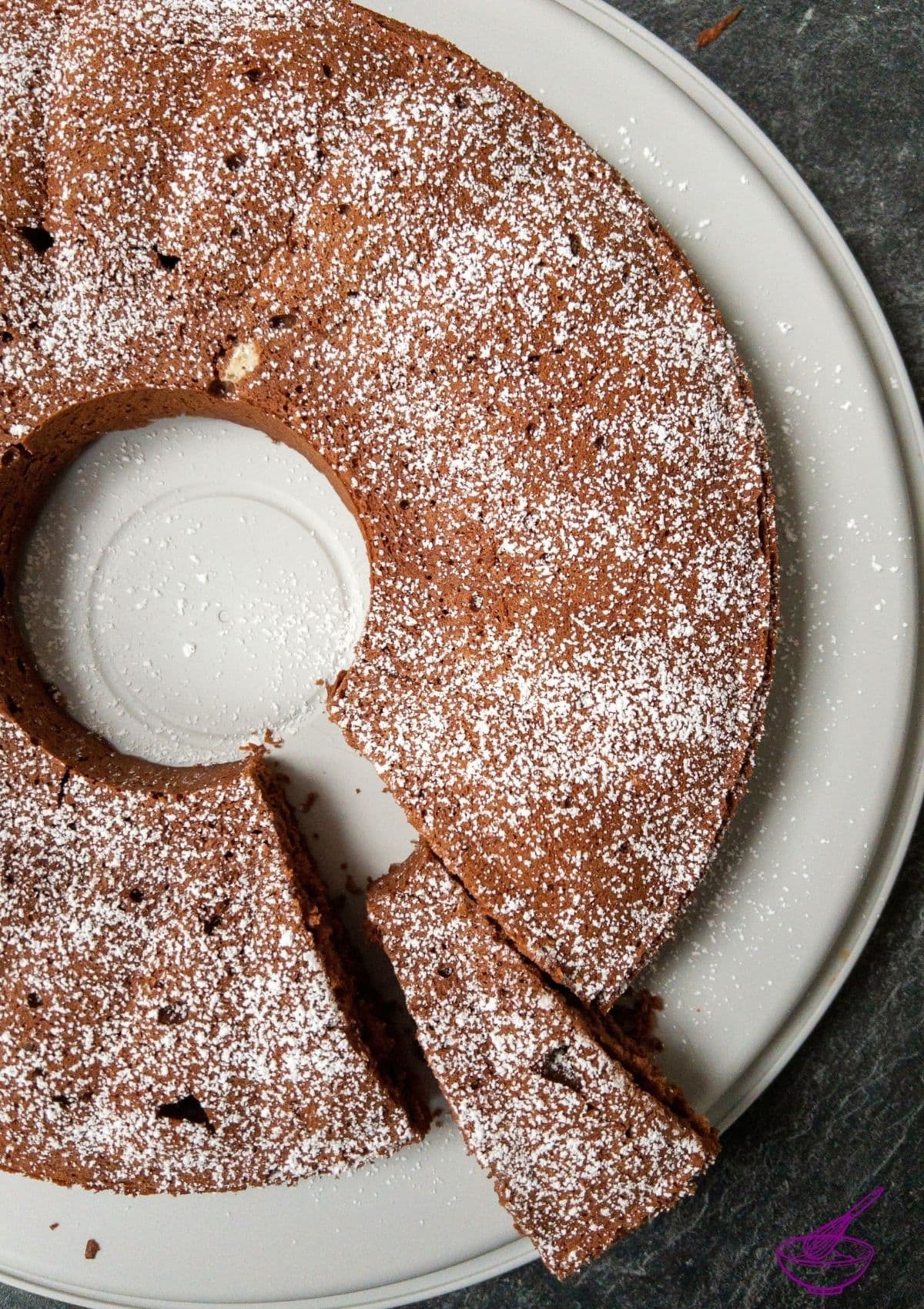 Here we go! While the oven is preheating to 180 °C // 356 °F, prepare the chocolate for your cake.
In our case of using chocolate couverture for making a cake, the tempering of the chocolate is not quite as delicate as when making pralines. It is sufficient to melt the chocolate in a water bath, and you do not need a tempering device.
Nevertheless, you must be careful not to raise the temperature of the chocolate above 176 °F (about 80 °C) so as not to destroy it.
Place the chocolate couverture and the butter together in a small pot and melt them in a water bath (double boiler).
Melting the chocolate in the Water bath: If you use a double boiler for melting, you need two pots of different sizes. Fill one pot 3-4 finger-widths with water and place the second, smaller pot in it. The second pot should not touch the water! Now put the chocolate into the upper, smaller pot and melt it over moderate heat while stirring over the rising steam.
Next, place the six egg whites and the sugar into a medium bowl and beat them until stiff. Once the mixture is nice and firm, sift the flour through a close-meshed sieve over the stiffly beaten egg whites and fold in carefully.
Finally, fold in the melted butter-chocolate mixture.
Before you pour the cake batter into the springform pan, don't forget to grease it with butter or baking spray and dust it with flour or breadcrumbs.
Now fill the dough into the springform pan. As you can see, my springform pan is a bit too big for the amount of batter.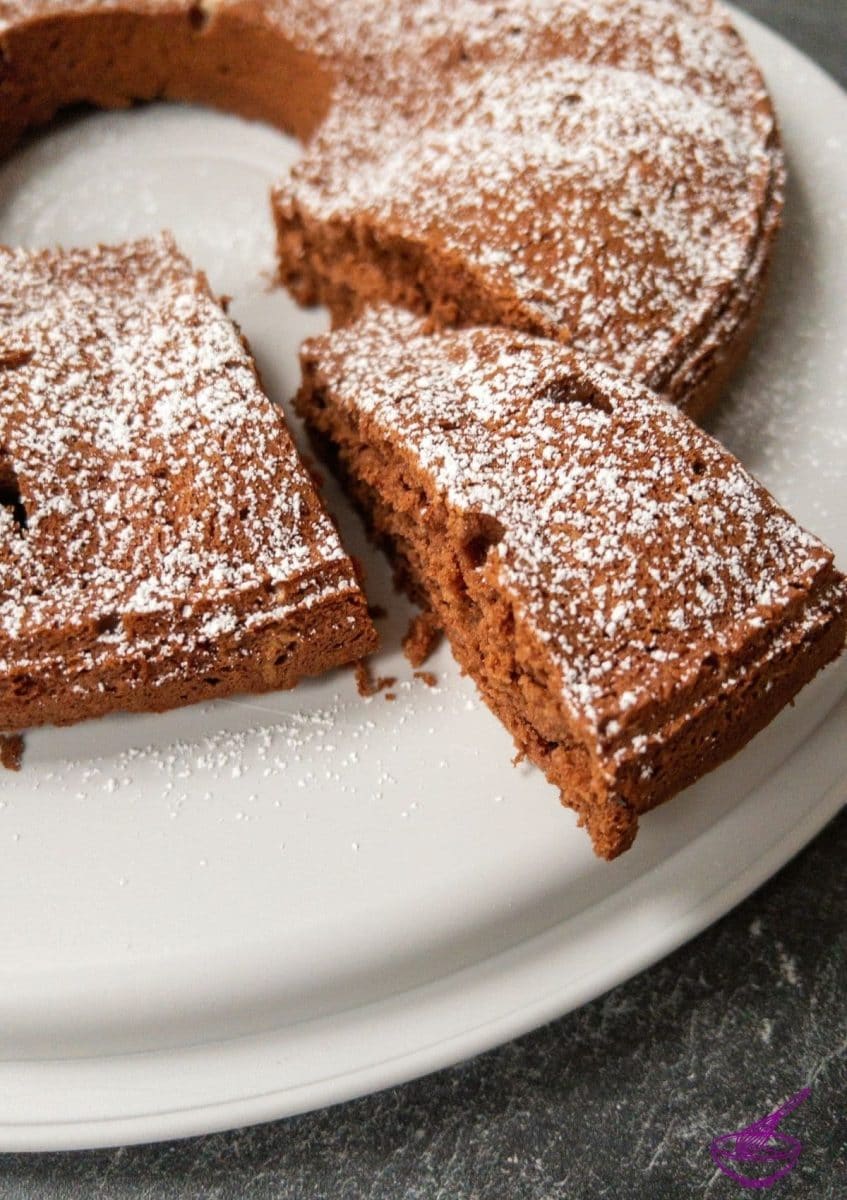 This circumstance makes the cake a little flatter than you might like. I didn't mind as far as a result is concerned.
The cake is moist and not crumbly or dry. But if you prefer a tall cake, I recommend you rather reach for a smaller pan (8-Inch Pan).
Bake the cake for 25-30 minutes in the preheated oven on the middle shelf.
Test whether the cake is thoroughly baked at the end of the baking time.
Test with a wooden pick to see if the cake is ready.
Poke the dough with the pick.
Pull out again, and if no dough sticks to it, you can take the cake out of the oven.
Let the cake cool on a cooling rack. Once cooled, open the springform pan and place the cake on a cake plate.
An eggnog coffee pairs very well with this cake!
Dust the entire cake with powdered sugar before cutting. Serve as is or with a spoonful of whipped cream, your choice.
🍫 What kind of chocolate to use?
A few more words about the chocolate used. I used my favorite chocolate from Felchlin for this cake. The Centenario Concha 70%, a blend with fine cocoa beans from Bolivia, Ecuador, and Venezuela.
I just wanted to mention which chocolates I work with because I love high-quality chocolate and would like to bring this particular brand closer to my readers. If you want to get Felchlin chocolate, I recommend primechocolate.com. With the coupon code ThankYouNora, you get 10% off. But you can use any chocolate you love the most for this cake.
🥜 Make it Gluten-Free!
Do you want to make this delicious cake gluten-free? Then replace the wheat flour with 2 parts gluten-free flour plus 1 part gluten-free starch flour and 1 binder.
Gluten-free flours: Buckwheat, amaranth, millet, quinoa, almond, soy, chickpea.
Starch flours: Potato, rice, corn, whole wheat
Binders: chia seeds, flax seeds, locust bean gum, guar flour, tapioca flour, agar-agar, eggs, gelatin.
🌡️ Storage
The chocolate cake will keep for about five days under a cake dome.
You can freeze it as well. In this case, please wrap it in cling film after it has cooled completely.
💭 Top tip
The recipe is very grateful and easy to adjust to the number of leftover egg whites. One egg white equals 20 g of the remaining ingredients.
So, for example, if you have four egg whites over, you can make a chocolate cake with 80 g of butter, flour, sugar, and chocolate.
More delicious cake recipes for you to try:
📖 Recipe
⛑️ Food Safety
Cook to a minimum temperature of 165 °F (74 °C)
Do not use the same utensils on cooked food, that previously touched raw meat
Wash hands after touching raw meat
Don't leave food sitting out at room temperature for extended periods
Never leave cooking food unattended
Use oils with high smoking point to avoid harmful compounds
Always have good ventilation when using a gas stove