Cheesecake is the king of treats. It's creamy, it's sweet, and it just might be one of the oldest desserts in existence! In this article, we'll explore the history of cheesecake and learn why everyone loves this decadent dessert so much.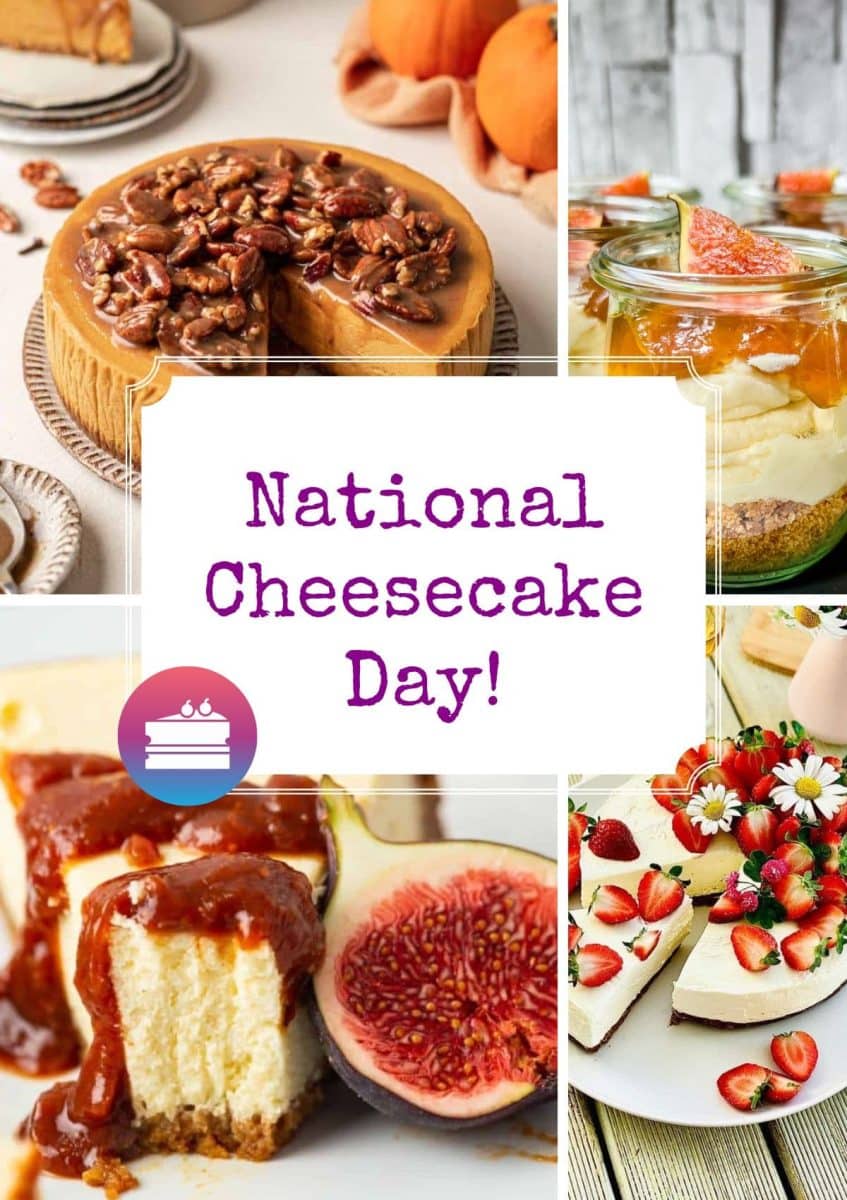 Jump to:
First, what is a cheesecake?
You probably know that cheesecake is a sweet dessert made of baked pastry, usually containing a cream cheese filling. What you may not realize is that it's also a type of cake!
According to the definition, a dessert made with creamy cheese filling baked into a pastry shell or a pressed-crumb shell is called a cheesecake.
Cheesecakes are popular desserts in the United States and Europe alike—and today is National Cheesecake Day!
Why is a cheesecake called a cheesecake?
It's because it contains cheese! But it doesn't have to be just one kind of cheese; there are several different kinds of cheesecake.
Some examples include New York Style Cheesecake (with sour cream), Italian Style Cheesecake (with mascarpone), Cherry Cheesecake (with cherries), and Pumpkin Cheesecake (with pumpkin).
Cheesecake has a long history dating back over 2,000 years.
Cheesecake is a dessert consisting of a baked pastry crust, usually with a sweet filling. It is made with cream cheese, or another type of soft white cheese such as ricotta, and may be flavored with fruit preserves or other ingredients such as chocolate.
The modern cheesecake was developed in the United States in the 1800s, though similar pastries have been traced to ancient Greece and Rome. The word "cheesecake" comes from the Greek word for cheese (τηγανιτζάκι) and cake (φούρνος).
The origins of cheesecakes are not entirely clear but it is believed that they were first baked in Ancient Greece around 300 BC by soldiers who were out fighting wars overseas.
These soldiers had limited access to food supplies while they were away, so they would make small cakes out of whatever ingredients they had at hand – which included milk curdled by added rennet – which later became known as cottage cheese or farmer's cheese (if produced locally).
The first cheesecake recipe was found in a Greek cookbook, which means that it likely originated with the Greeks. Deipnosophistae is an epic poem written by Athenaeus, and inside you'll find one of the earliest written recipes for cheesecake.
It's not just any old cheesecake though—this recipe calls for an outrageous amount of cheese! We're talking about mixing together sheep, cow or goat milk cheese with wheat flour and honey before baking it in the oven until golden brown. Yum!
Nowadays, there are many versions of this delicious dessert: from New York style to Chicago style and even vegan options if you're interested in trying something new and different!
When is National Cheesecake Day?
National Cheesecake Day is July 30 and the perfect excuse to indulge in one of America's most beloved desserts. It is the day to celebrate cheesecakes, which are delicious! They can be any flavor: chocolate, strawberry, vanilla...you name it!
So if you want to eat some cheesecake while celebrating this holiday with others who love cheesecakes too then mark your calendars for July 30th in 2023, 2024 and beyond!
How do you celebrate National Cheesecake Day?
If you're planning on making your own cheesecake for the special occasion, then make sure to check out our recipe for Fig Cheesecake in a Jar!
Different Kinds of Cheesecake
There are many different kinds of cheesecake: Eggnog Cheesecake, Strawberry Cheesecake, and Oreo Cheesecake are just a few examples. However, no matter what kind of cheesecake you like best, there's one thing that all cheesecakes have in common: they're all delicious!
It's not just Americans who love cheesecake—people around the world celebrate this delicious treat by eating it on National Cheesecake Day! According to the International Day Calendar website, there are several countries that celebrate their own versions of National Cheesecake Day:
Bulgaria (April 22nd), Israel (May 18th), Poland (November 24th), Russia (September 19th), Serbia (December 5th) and Turkey (June 6th).
And if you're wondering if there's an international cheesecake day? There is—it's September 16th.
Cheesecake in America
Cheesecake is a popular dessert in America today. In the 1920s, it was a popular basic dessert on restaurant menus, and in the 1950s it was still very popular.
Today, you can find cheesecake on many restaurant menus and in grocery stores. It's made with cream cheese or cottage cheese mixed with eggs, sugar and flour, then baked until golden brown.
Cheesecakes can be flavored with many different ingredients, such as strawberries or lemon meringue pie filling! Enjoy this tasty treat today!
Cheesecake Today, and Tomorrow
In the United States, cheesecake is a popular dessert that can be found in most grocery stores and coffee shops. It consists of a cake-like texture (made from eggs, flour and sugar) covered with a layer of cheese, usually cream cheese. The first recorded recipe for "cheese cake" dates back to 1744 in England, but it wasn't until 1872 when Joseph W. Chancellor brought this dessert over from Europe that Americans began making and enjoying cheesecakes at home.
Today there are many different types of cheesecake including New York style, French silk and ricotta to name just a few! Toppings include fruits like blueberries or strawberries; nuts like walnuts or pistachios; syrups such as caramel or chocolate syrup; and even pasta! If you're feeling creative you can mix things up by creating your own unique toppings such as whipped topping mixed with peanut butter cups or graham cracker crumbs mixed with crushed Oreo cookies!
Cheesecakes also come in many flavors including lemon meringue pie (one half lemon flavored cream cheese filling topped with fresh berries), apple pie (one half apple flavored cream cheese filling topped with cinnamon streusel), pumpkin pie (one half pumpkin flavored cream cheese filling topped).
Conclusion
Cheesecake is one of the oldest continuous foods in history. It has been around since ancient times, and will continue to be enjoyed by many people for years to come.
62 Mouthwatering Cheesecake Recipes
⛑️ Food Safety
Cook to a minimum temperature of 165 °F (74 °C)
Do not use the same utensils on cooked food, that previously touched raw meat
Wash hands after touching raw meat
Don't leave food sitting out at room temperature for extended periods
Never leave cooking food unattended
Use oils with high smoking point to avoid harmful compounds
Always have good ventilation when using a gas stove