I would like to present you today a wonderful dessert that is both perfect as a dessert for a beautiful Christmas dinner menu, as well as a small delicacy on hot summer days.
In short, a dessert that you can enjoy all year round!
What I especially love about this dessert is that it's made in 10 minutes. No long preparation! Simply and quickly mixed and served.
Absolutely perfect if you want a quick dessert for a sumptuous Christmas menu, or just a quick and easy treat any time of the year!
Well, did I whet your appetite? Then let's go!
The recipe uses homemade Egg Liqueur and store-bought Stracciatella ice cream. Of course, if you lack the time and leisure, you can also buy the eggnog in the store. 🙂
Jump to:
🥘 Ingredients
Whole Milk - cold
Heavy Cream
Cinnamon for dusting
What is Stracciatella Ice Cream?
Stracciatella is a milk-based ice cream filled with fine, irregular shavings of chocolate.
Makers produce the effect by drizzling melted chocolate into plain milk ice cream towards the end of the churning process; the chocolate solidifies immediately coming in contact with the cold ice cream and is then broken up and incorporated into the ice cream with a spatula. This process creates shreds of chocolate that give Stracciatella its name. (Stracciatella in Italian means 'little shred'.) While Stracciatella ice cream traditionally involves milk, ice cream, and milk chocolate, modern variations can also be made with vanilla and dark chocolate. (Source: Wikipedia)
Stracciatella is also a very trendy ice cream in Austria, and I have been a fan of it since childhood.
🍽 Equipment
Electric Blender or Stand Mixer
Pastry Bag with Star Tip
Mixing Bowl
small sieve for the cinnamon dusting
🔪 Instructions
How to prepare this delicious milkshake?
Add milk, Egg Liqueur, and Stracciatella ice cream into a mixing bowl. You can easily make this with a blender if you don't have a hand mixer at hand.
Mix the ice cream, eggnog, and milk for two minutes at high speed.
Now take a separate mixing bowl and whip up the heavy cream until stiff peaks form. Fill the whipped cream into a pastry bag with a star-shaped nozzle and set it aside.
Stir the milkshake again and fill the glasses with your delicious milkshake. Pipe the whipped cream on top.
Now decorate your delicious milkshake with cinnamon. I didn't even need half a teaspoon of cinnamon for this. Dust the shake with the cinnamon using a small sieve. And your Christmas dessert is ready to be served.
The egg liqueur adds a very subtle, flavorful note and can also be used as a topping instead of cinnamon if desired.
Despite my love for eggnog, I still decided to use cinnamon in this recipe because the cinnamon makes the milkshake more Christmassy than the egg liqueur.
This shake pairs very well with homemade cookies to make it even more festive for your guests.
Your dessert prepared in ten minutes is ready. Perfect as a delicious, easy-to-make finale to a busy Christmas menu!
🍦 Variations
No Stracciatella ice cream at home? No worries! You can make this delicious shake with different kinds of ice cream. Try it with our yummy vanilla bean ice cream, chocolate chip vanilla ice cream, or this delicious protein ice cream! There are no limits here!
If you make this recipe, let me know how you liked it by ★★★★★ star rating it and leaving a comment below. This would be awesome! You can also sign up for our Newsletter or follow me on Pinterest or Instagram and share your creation with me. Just tag me @combinegoodflavors and hashtag #combinegoodflavors, so I don't miss it.
📖 Recipe
Stracciatella Egg Liqueur Milkshake
A super delicious, done-in 10 minutes Milkshake recipe with Stracciatella ice cream and Egg Liqueur for an easy-to-make Christmas Dinner or Summer Dessert.
Instructions
Add

1 cup Milk

,

1 shot Egg Liqueur

, and

1 cup Stracciatella Ice Cream

to a stand mixer or blender

1 cup Milk,

1 shot Egg Liqueur,

1 cup Stracciatella Ice Cream

Mix them for two minutes at high speed.

Whip up

⅜ cup Heavy Cream

in a separate mixing bowl until stiff peaks form.

Fill the whipped cream into a pastry bag and set aside.

Stir the milkshake again and fill the glasses with your delicious milkshake

Pipe the whipped cream on top.

Decorate your delicious milkshake with

Cinnamon

and serve.
Never miss a recipe!
Sign up and let me spoil you weekly with a delicious homemade recipe!
Nutrition values are estimates only, using online calculators. Please verify using your own data.
Serving:
1
Glass
|
Calories:
406
kcal
|
Carbohydrates:
25
g
|
Protein:
8
g
|
Fat:
31
g
|
Saturated Fat:
19
g
|
Polyunsaturated Fat:
1
g
|
Monounsaturated Fat:
9
g
|
Cholesterol:
115
mg
|
Sodium:
134
mg
|
Potassium:
355
mg
|
Fiber:
1
g
|
Sugar:
22
g
|
Vitamin A:
1257
IU
|
Vitamin C:
1
mg
|
Calcium:
272
mg
|
Iron:
1
mg
📖 Variations
So, you'd rather make your own ice cream, huh? With pleasure! That will make this milkshake pretty sure unique! 🙂 I found some wonderful recipes here that you can use to find some inspiration! Try it out and tell me with which ice cream it tasted best! I'm already curious! 😉
Satisfy your craving for chocolate chip ice cream with this foolproof recipe! Learn how to create homemade, melt-in-your-mouthchocolate chip vanilla ice cream with this guide. Also a perfect way to use up leftover chocolate Easter bunnies!
Get The Recipe
Cookies and Cream No Churn Ice Cream is sweet and creamy homemade vanilla ice cream with crunchy crushed Oreos throughout.
Get The Recipe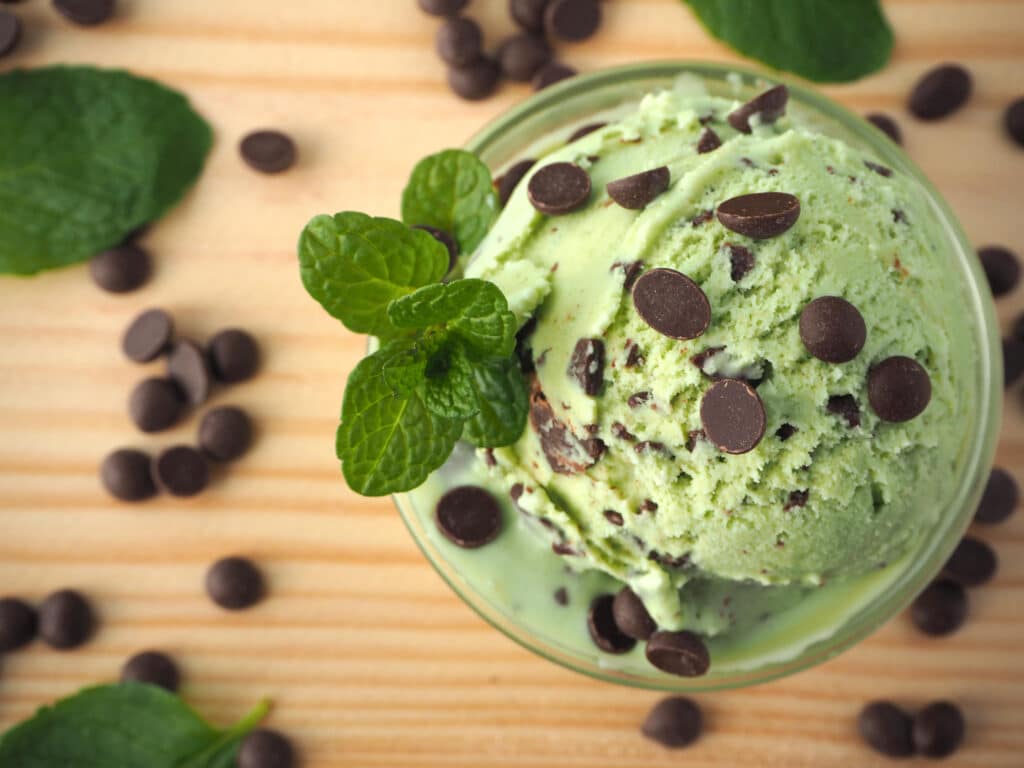 This mint choc chip ice cream uses fresh garden mint and melt in your mouth chocolate chips for a creamy, minty ice cream that's impossible resist!
Get The Recipe
Whether it's a Starbuck Mocha Frappuccino or a McDonald's Mocha Frappe, I am completely smitten with the coffee flavored chocolate frozen drinks available on the market.
Get The Recipe
⛑️ Food Safety
Cook to a minimum temperature of 165 °F (74 °C)
Do not use the same utensils on cooked food, that previously touched raw meat
Wash hands after touching raw meat
Don't leave food sitting out at room temperature for extended periods
Never leave cooking food unattended
Use oils with high smoking point to avoid harmful compounds
Always have good ventilation when using a gas stove
For further information, check Safe Food Handling - FDA.