One of the best ways to add a nice touch of zest to your cocktails and cuisine is to squeeze a bit of fresh lime juice! Whether you're looking to add a little more flavor to your tacos or a bit of zing to your pomegranate margaritas, a delicious kiss of fresh lime juice always seems to be the perfect addition!
The only thing you'll need for this recipe is limes, and when you squeeze them ahead of dinner or a cocktail party, it can be quite the time saver! I always like to squeeze a decent amount of fresh lime juice and fresh lemon juice when I know I'll be mixing cocktails for a crowd. That way, I can spend more time with my family and friends and less time behind the bar!
In addition to being delicious, fresh lime juice also packs a lot of vitamins and nutrients. It's chalked full of vitamin C and antioxidants and has been shown to improve immunity, reduce heart disease risk factors, prevent kidney stones, aid iron absorption, and even promote healthy skin.
Plus, you'll get a world of flavor to any drink or dish without any added sugars!
Jump to:
🍋 Fresh Lime Juice vs. Bottled Lime Juice
At first glance, you might assume fresh lime juice and bottled lime juice are the exact same thing, but there are a few key differences between the two juices.
The biggest difference is shelf life. While fresh lime juice can only last a day in the fridge, bottled lime juice can last months.
That's because bottled lime juice has preservatives and other additives to help keep it "fresh." Those additives can change the flavor profile slightly, making some bottled lime juices taste artificial.
There's undoubtedly a convenience that comes with bottled lime juice, and it's also more cost-efficient than buying fresh limes, but personally, I don't think it compares to the real thing!
🍋 How much juice is one lime?
On average, one lime typically holds one to two tablespoons of juice. Because your limes are going to vary slightly in size, you can expect the amount of juice you can expect the amount of juice you yield from each lime to vary slightly, too!
🍋 What are the benefits of fresh lime juice?
Fresh lime juice actually packs in a lot of key vitamins, nutrients, and antioxidants. And squeezing a little bit into your water in the mornings can help do wonders for your health.
Studies have shown that it can help rejuvenate your skin, improve digestion, and fight off infections – thanks to all that vitamin C! The citric acid also works to boost your metabolism, which can aid weight loss efforts.
Other health benefits of fresh lime juice are that it can help lower blood pressure and reduce inflammation. It may even help fight off heart disease and prevent certain types of cancers.
🥘 Ingredients
See the recipe card for quantities.
🔪 Instructions
The limes only need to be halved and then squeezed.
If you're looking for an easy way to prep lime juice in a large batch, it's best to use a funnel to help bottle it up! It's even better if the bottle you're using has a spout!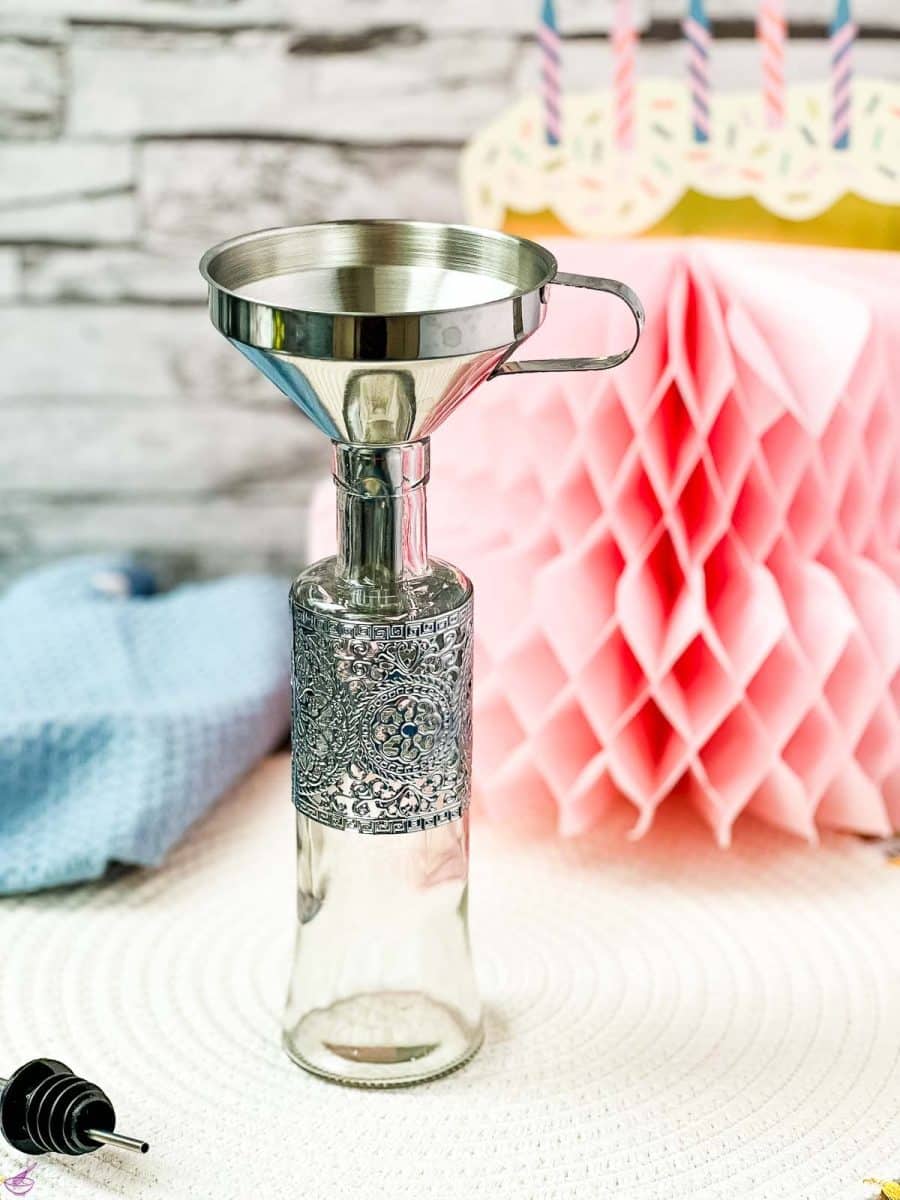 That way, when it comes time to mix cocktails behind your home bar, your job is made that much easier and quicker.
🍽 Equipment
🌡 Storage & Tips
Unfortunately, fresh lime juice will last up to a day, so you'll want to make sure you don't prep too much.
In order to get the most out of your limes – or any citrus fruits, for that matter – you'll want to roll them on the kitchen counter firmly. By pre-rolling your limes, your job of squeezing as much juice as possible out of them will be a lot easier.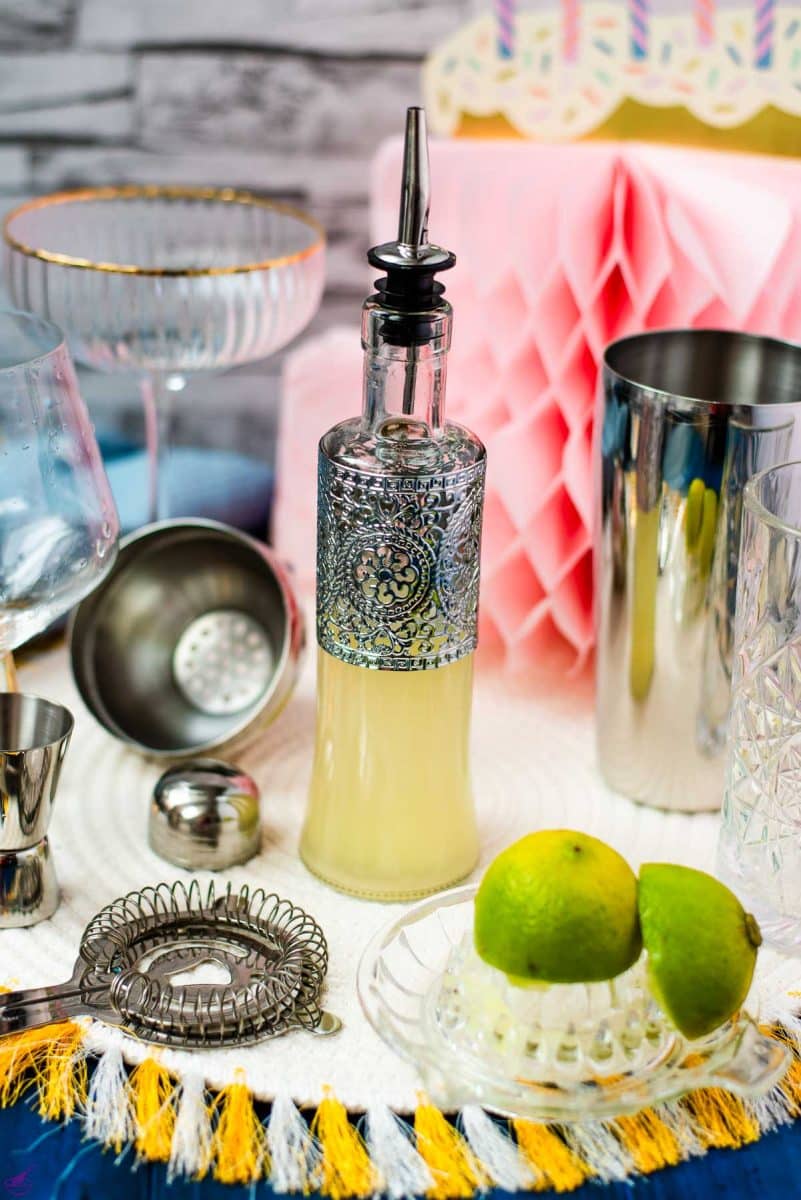 🙋🏻 FAQ
Does lime juice go bad?
Unfortunately, freshly squeezed lime juice has a pretty short shelf life. It usually loses its flavor and zest within a day.
Bottled lime juice can last up to months, thanks to preservatives, and can even be used beyond the "best by" date.
Can you freeze lime juice?
The only way you can extend fresh lime juice's shelf life is by freezing it! If you squeeze your fresh juice right into an ice cube tray, it'll last up to several months. And the best part is that when you're finally ready to use it, you can pop a lime ice cube right into your cocktail!
What can you substitute for lime juice?
If you're not a lime juice fan, it can easily be swapped for fresh lemon juice for most recipes and cocktails. Alternatively, you may also be able to swap in fresh orange juice. If you need fresh juice, most citrus fruits will work!
What cocktails use fresh lime juice?
Fresh lime juice is a staple of so many different cocktails! One of the most popular cocktails that call for fresh lime juice is the margarita. Daiquiris, mojitos, and even the classic gin and tonic – just to name a few – are also vastly improved by this zesty addition.
Other Recipes for You to Try
If you make this recipe, let me know how you liked it by ★★★★★ star rating it and leaving a comment below. This would be awesome! You can also sign up for our Newsletter or follow me on Pinterest or Instagram and share your creation with me. Just tag me @combinegoodflavors and hashtag #combinegoodflavors, so I don't miss it.
📖 Recipe
Fresh Squeezed Lime Juice
Pimp your house bar with fresh squeezed lime juice! It's a great thing to have on hand when hosting a party
Instructions
Using a funnel, pour the freshly squeezed lemon juice into a bottle.

Close the bottle and store in a cool place.

If you want, you can dilute the lemon juice with

Water

or sweeten it with

Sugar

.
Never miss a recipe!
Sign up and let me spoil you weekly with a delicious homemade recipe!
Nutrition values are estimates only, using online calculators. Please verify using your own data.
Serving:
1
quart
|
Calories:
442
kcal
|
Carbohydrates:
155
g
|
Protein:
10
g
|
Fat:
3
g
|
Saturated Fat:
0.3
g
|
Polyunsaturated Fat:
1
g
|
Monounsaturated Fat:
0.3
g
|
Sodium:
29
mg
|
Potassium:
1503
mg
|
Fiber:
41
g
|
Sugar:
25
g
|
Vitamin A:
737
IU
|
Vitamin C:
429
mg
|
Calcium:
486
mg
|
Iron:
9
mg
⛑️ Food Safety
Cook to a minimum temperature of 165 °F (74 °C)
Do not use the same utensils on cooked food, that previously touched raw meat
Wash hands after touching raw meat
Don't leave food sitting out at room temperature for extended periods
Never leave cooking food unattended
Use oils with high smoking point to avoid harmful compounds
Always have good ventilation when using a gas stove
For further information, check Safe Food Handling - FDA.