There's lots of other ways to enjoy the powerful, earthy flavor of Matcha outside of your daily caffeine fix! This simple Matcha Butter only requires two ingredients, and it's the perfect thing to help infuse your baked goods with that wonderful green coloring and rich flavor!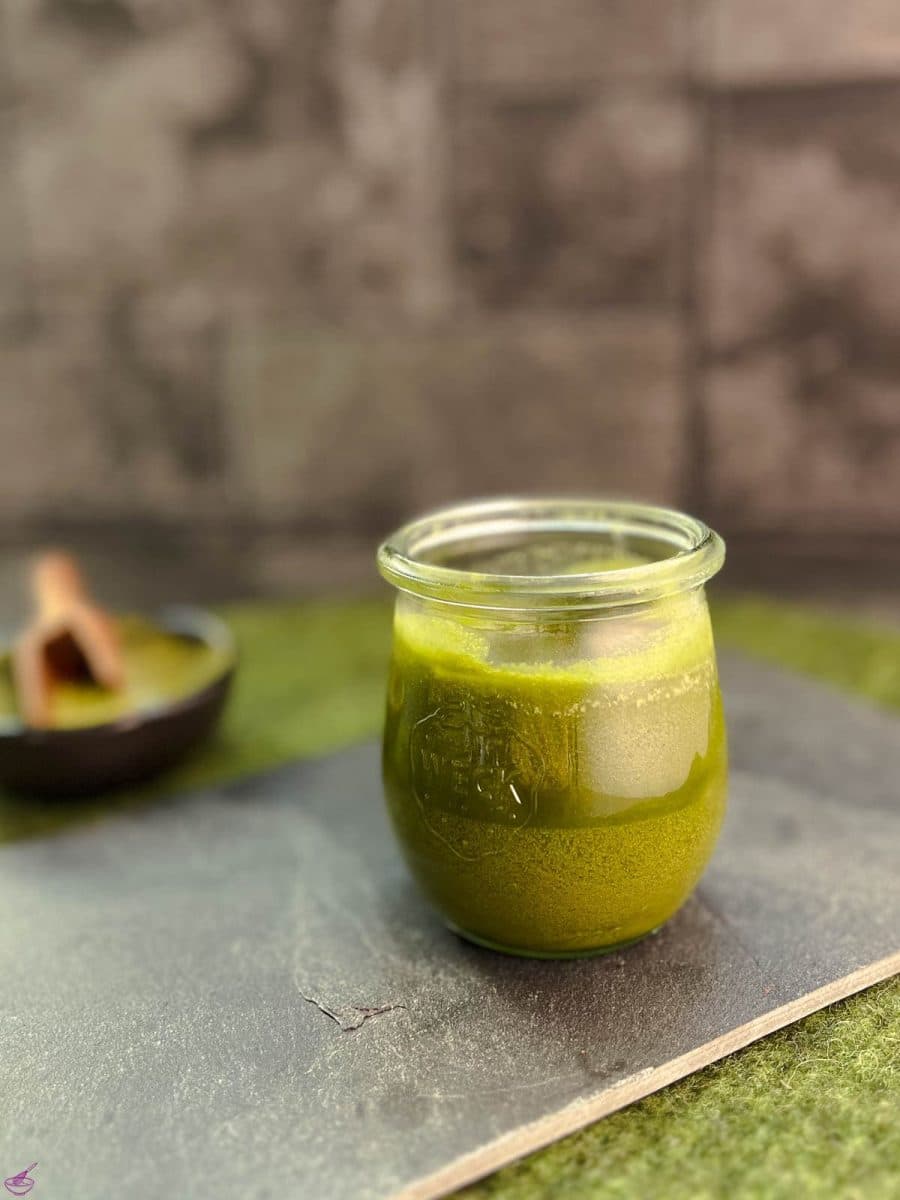 If you love Matcha as much as I do, don't forget to try out our Matcha Truffles and Matcha White Chocolate Chip Cookies! They are cute, green, and absolutely delicious!
Jump to:
🥘 Ingredients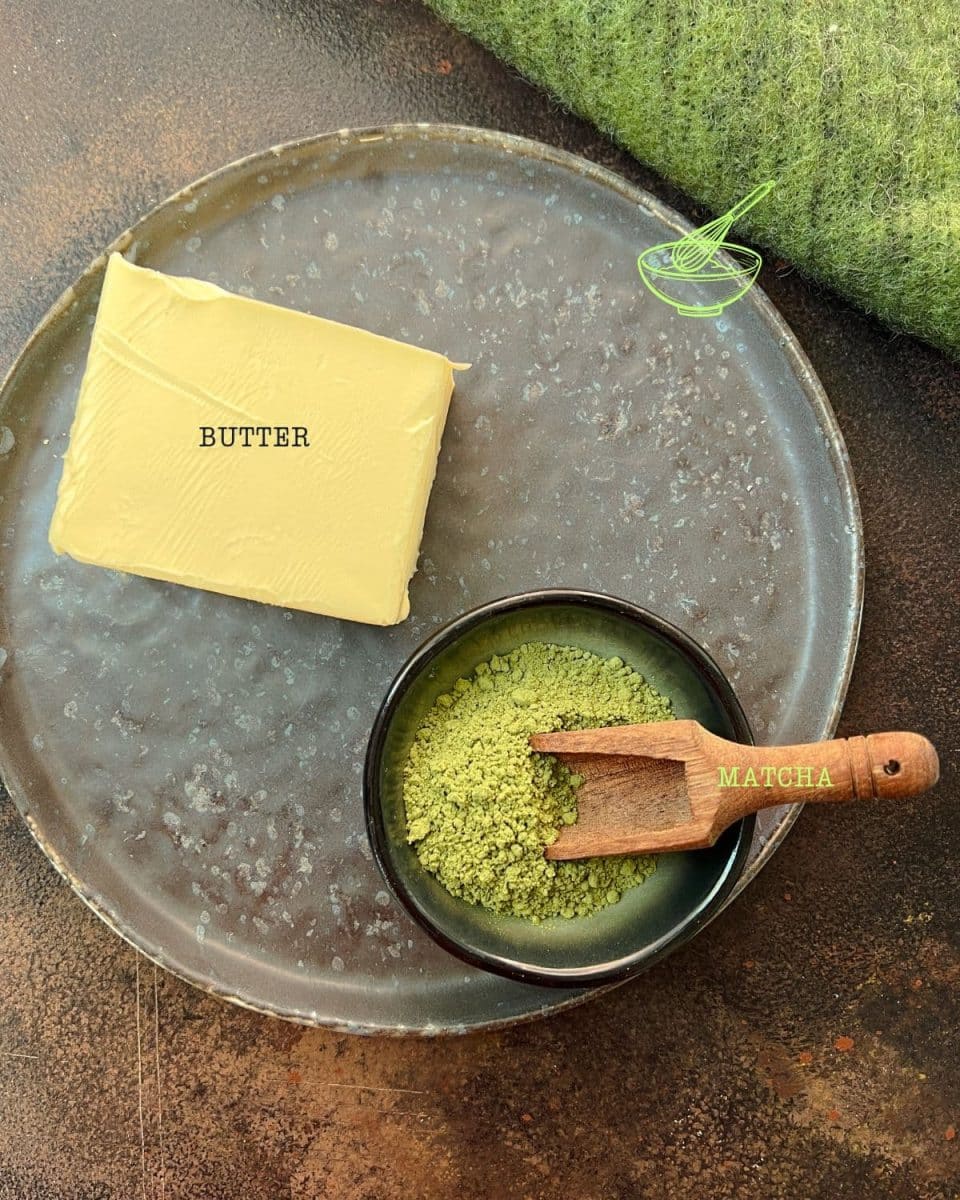 See the recipe card for quantities.
🔪 Instructions
The first thing you'll need to do is melt your unsalted butter in a small frying pan on low heat.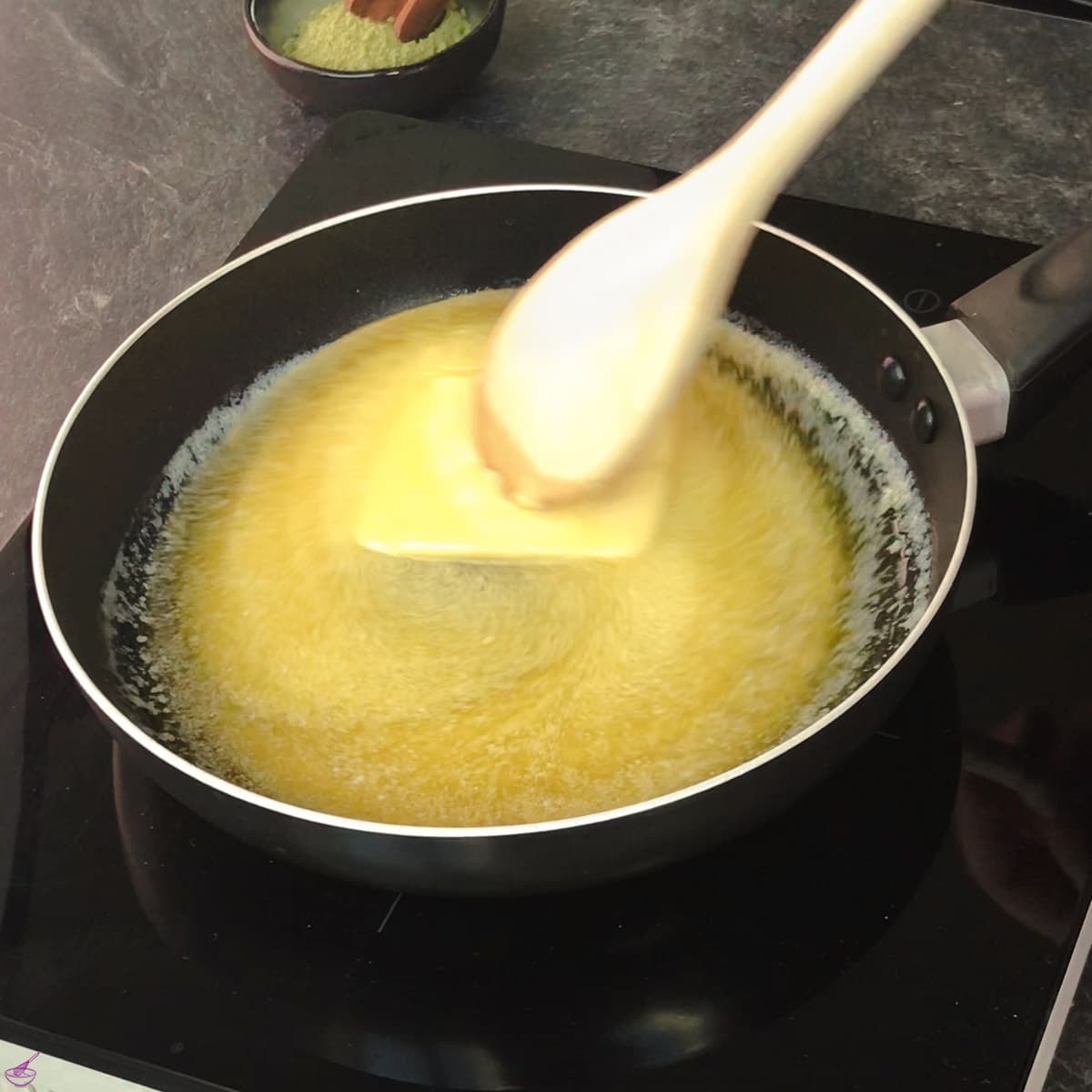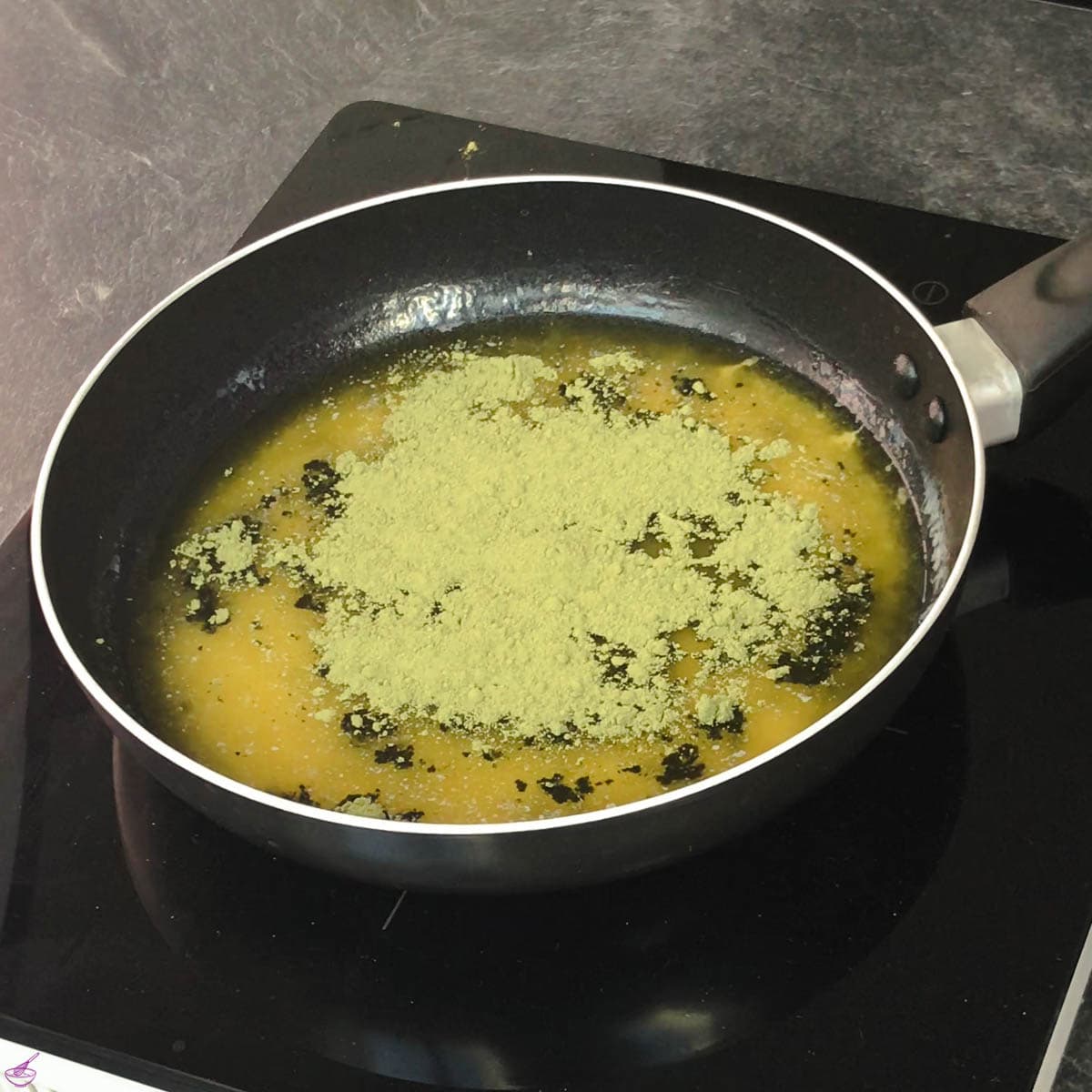 Add in your Matcha power once your butter starts to melt, and then let it simmer for about five minutes.
While it's simmering, whisk occasionally to avoid lumps! This is really important, not only the texture but also the taste.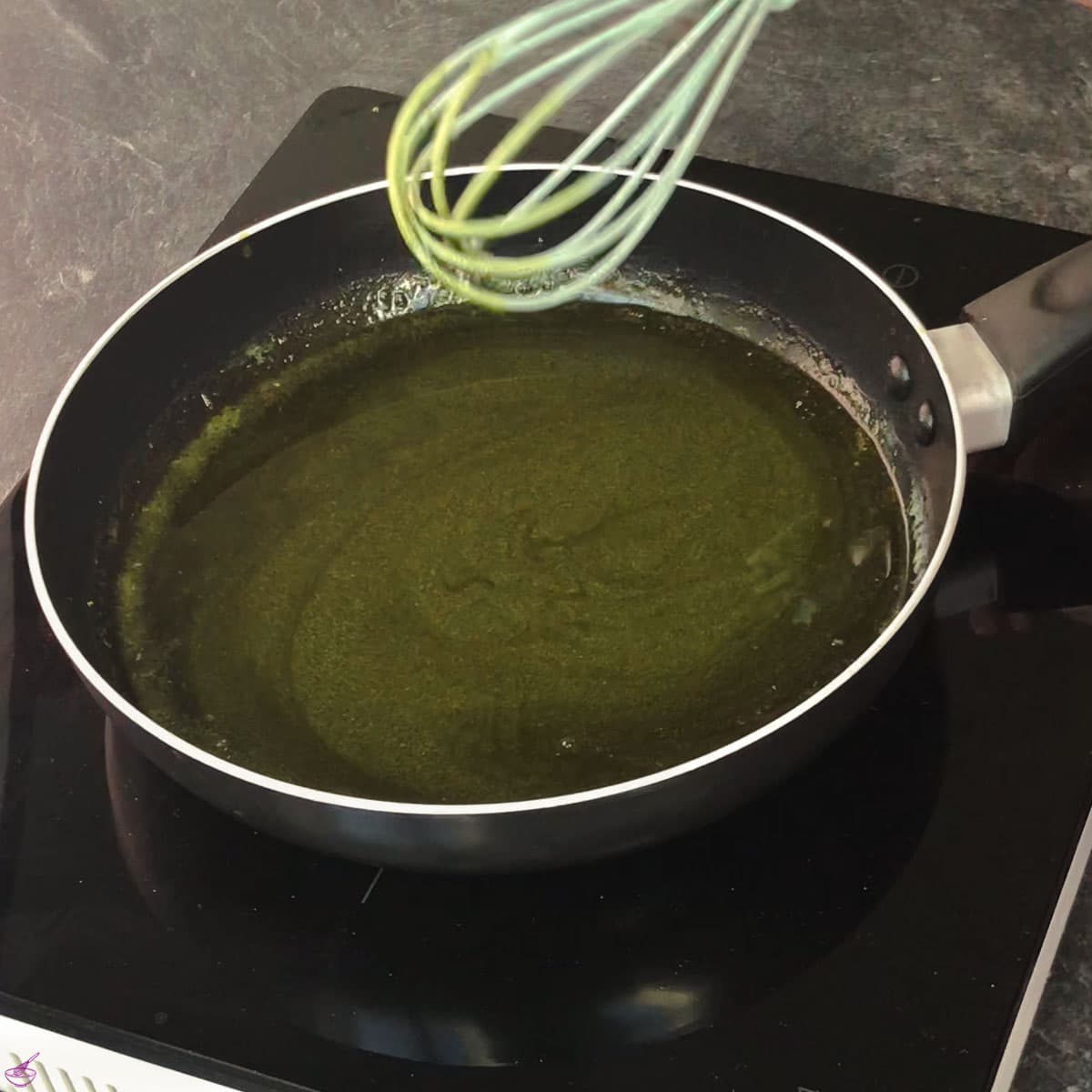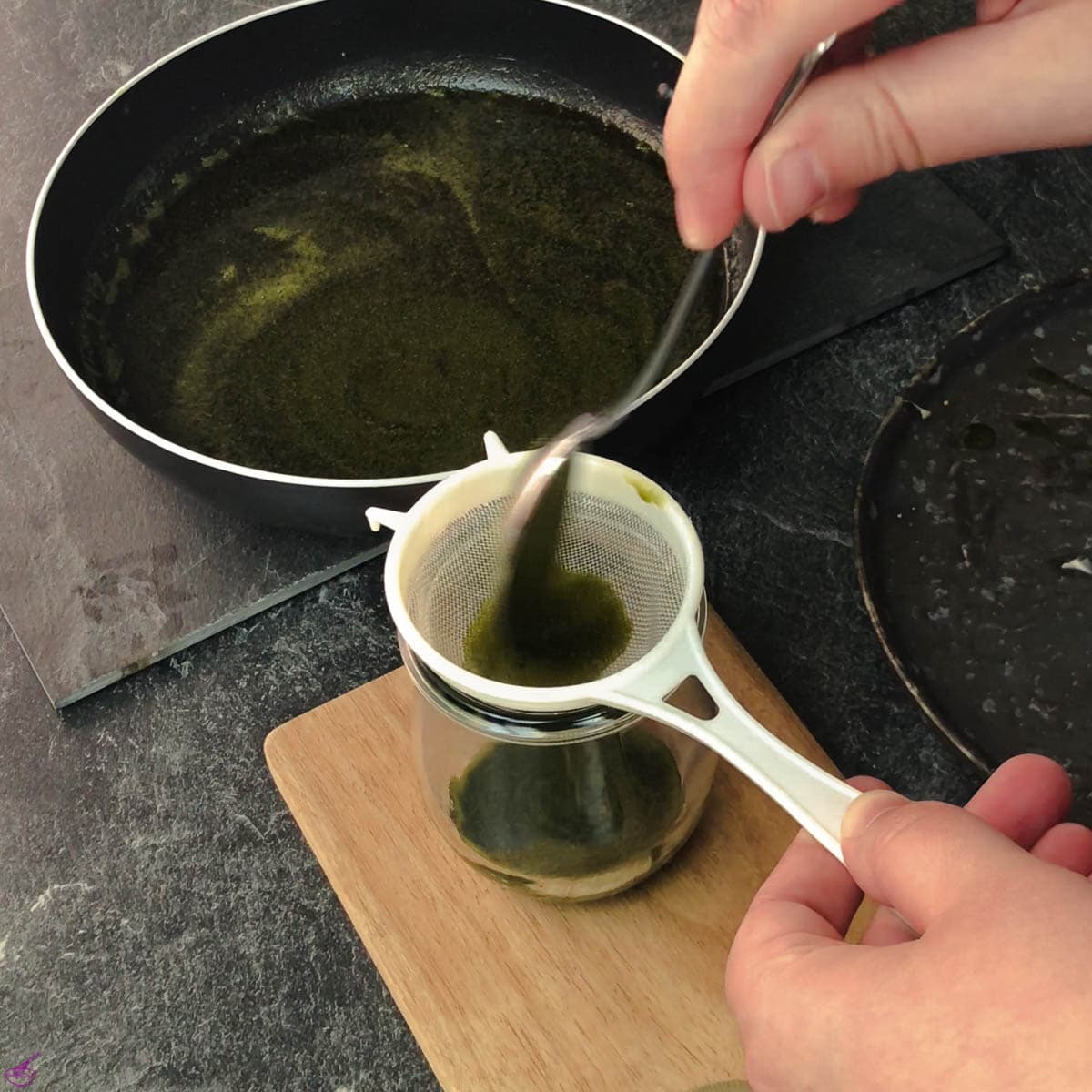 After you've allowed the mixture to simmer for five minutes, go ahead and remove it from the heat. You'll need to let it cool down slightly and then strain it through a fine sieve.
From there, you can put your Matcha butter in the refrigerator and let it firm up or leave it out on the counter overnight till it comes to room temperature.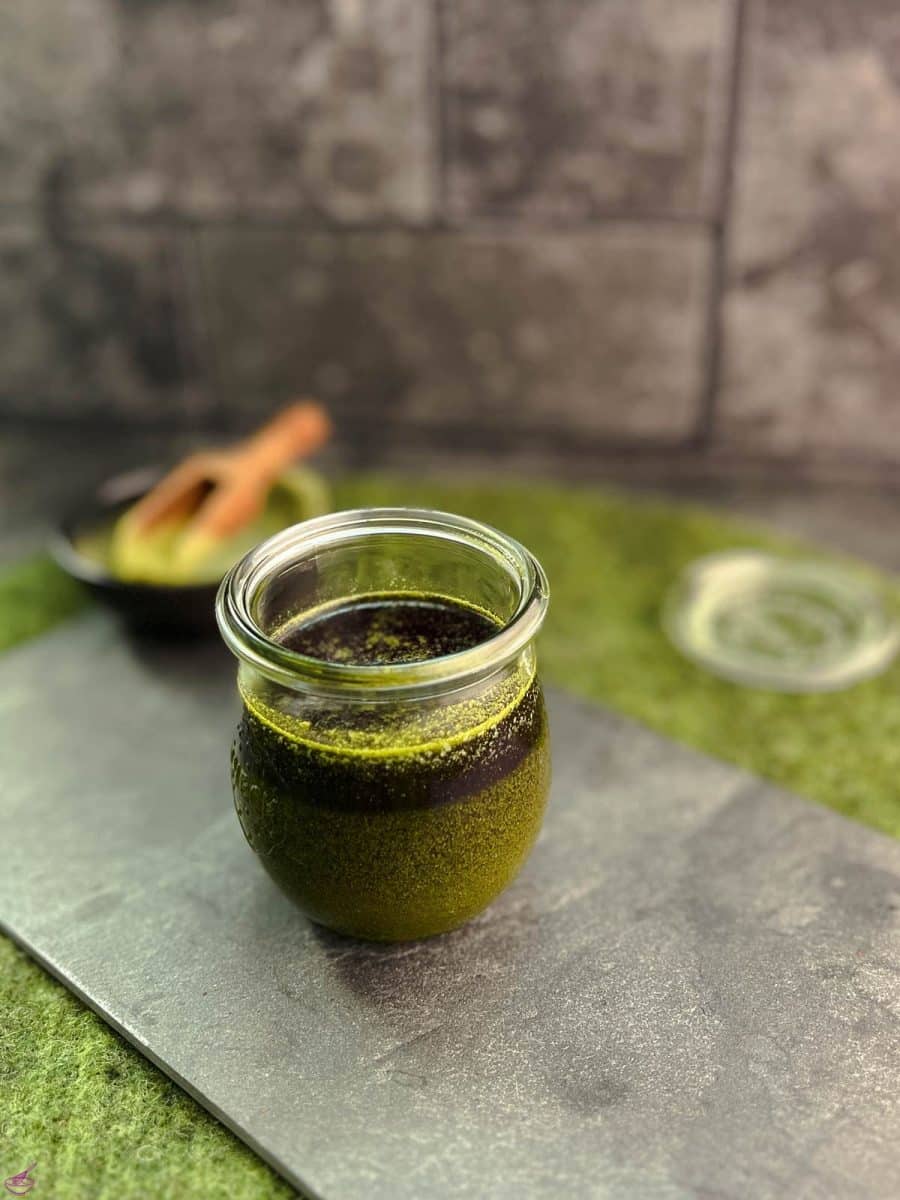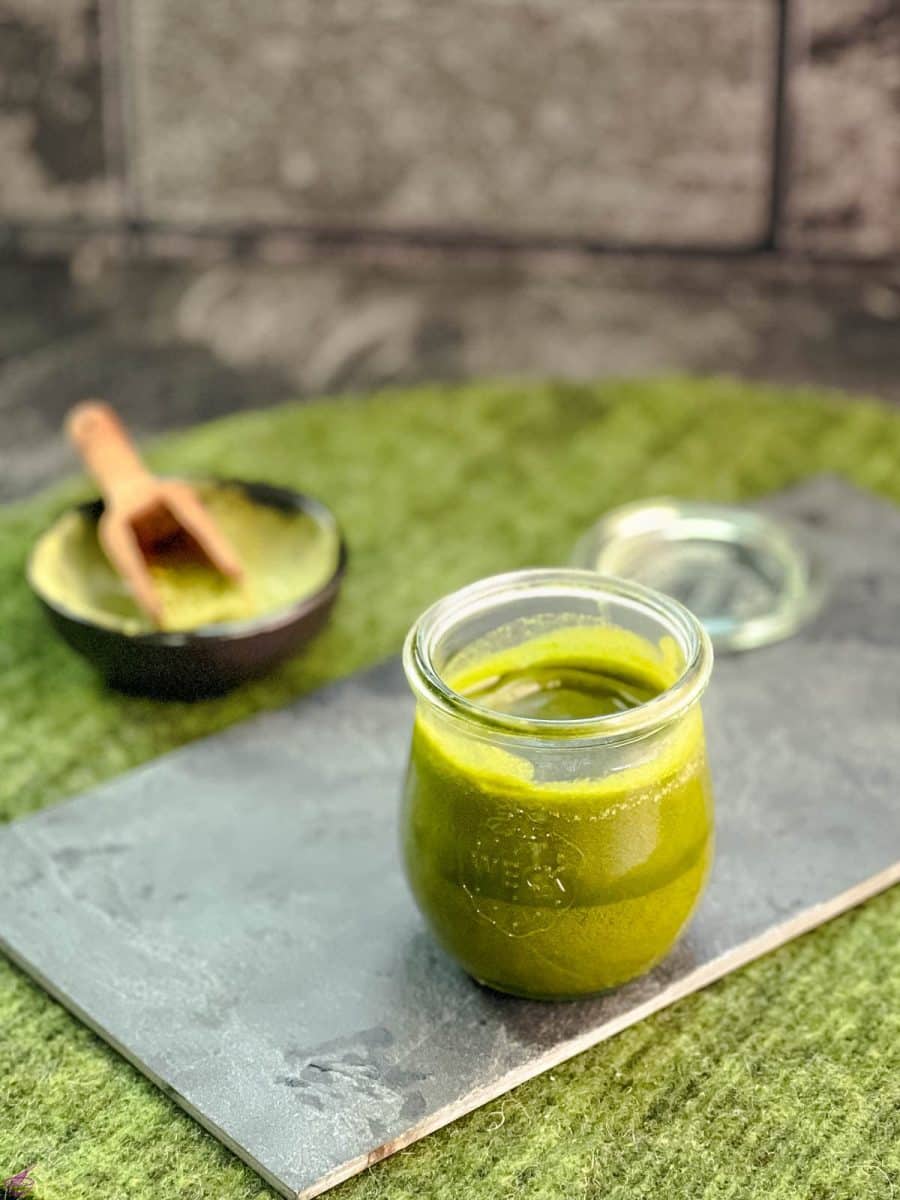 🧐 Interesting Facts about Matcha
One of the many reasons I'm so obsessed with Matcha lattes is that Matcha doesn't leave you with a caffeine crash! It's full of antioxidants and can actually help boost your metabolism.
This beverage has been around for thousands of years, but the green tea powders' growing popularity outside of Japan is a more recent phenomenon
🌡 Storage & Tips
If kept in an airtight container, this Matcha Butter can actually last up to a month!
For this recipe, I personally recommend using ceremonial-grade Matcha powder (i.e., high-quality Matcha), but if you're only planning to use this recipe to infuse your baked goods with that delicious flavor, the culinary grade is also acceptable.
Another top tip? Break out that fine mesh sieve at the beginning of this recipe, too! Running the green tea powder through a fine mesh sieve before adding it to your melted butter will be a big help when you're whisking it in and trying to avoid clumps.
🍵 Substitution
If you're not willing to shell out an arm and a leg for Matcha powder but like the idea of an infused butter, you can substitute it for regular grated green tea, black tea, or Rooibos tea. You won't get that beautiful green color, but you can test out different flavors to see which you like best! If you do decide to swap in a substation, be sure to blend it into a fine powder in your food processor before adding it to your melted butter.
🍽 Equipment
Stove
Small frying pan
Whisk
Close-meshed sieve
Preserving Jar
🙋🏻 FAQ
What is Matcha green tea butter?
The recipe is really as simple and quick as it sounds. Matcha Butter is made by combing melted butter and, you guessed it, Matcha powder – and is often used in baking! It will give your baked goods a wonderful taste and appearance.
Is Matcha stronger than caffeine?
A Matcha Latte doesn't pack as much caffeine as a cup of coffee, but it also won't leave you with a caffeine crash. It's definitely worth trying if you haven't already!
Can you add Matcha to body butter?
There are some great at-home spa recipes out there that include adding in Matcha powder to body butter and even facial treatment. Just be sure to read the directions carefully so you can fully enjoy all the wonderful benefits of this super green tea extract.
Other Recipes for You to Try
Matcha Truffles – A Delicious St. Patrick's Day Treat
Bailey's Salted Caramel Cupcakes
No Bake Mint Chocolate Chip Cheesecake
Chocolate Dipped Butter Cookies
If you make this recipe, let me know how you liked it by ★★★★★ star rating it and leaving a comment below. This would be awesome! You can also sign up for our Newsletter or follow me on Pinterest or Instagram and share your creation with me. Just tag me @combinegoodflavors and hashtag #combinegoodflavors, so I don't miss it.
📖 Recipe
Matcha butter
With only two ingredients, making homemade matcha butter is a breeze. Elevate your next batch of baked goods with this flavorful spread
Equipment
Stove

Baking pan

Preserving Jar
Instructions
In a small saucepan, melt

¾ cup Butter

on low heat and let it simmer for about 5 minutes with

2 tablespoon Matcha powder

¾ cup Butter,

2 tablespoon Matcha powder

Whisk occasionally to avoid lumps.

Remove from the heat, let it cool down slightly, and strain the infused butter through a close-meshed sieve into a preserving jar.

Put the jar in the fridge and let it firm up.
Never miss a recipe!
Sign up and let me spoil you weekly with a delicious homemade recipe!
Nutrition values are estimates only, using online calculators. Please verify using your own data.
Serving:
1
oz
|
Calories:
218
kcal
|
Carbohydrates:
0.02
g
|
Protein:
3
g
|
Fat:
23
g
|
Saturated Fat:
15
g
|
Polyunsaturated Fat:
1
g
|
Monounsaturated Fat:
6
g
|
Trans Fat:
1
g
|
Cholesterol:
61
mg
|
Sodium:
182
mg
|
Potassium:
7
mg
|
Sugar:
0.02
g
|
Vitamin A:
959
IU
|
Calcium:
7
mg
|
Iron:
1
mg
⛑️ Food Safety
Cook to a minimum temperature of 165 °F (74 °C)
Do not use the same utensils on cooked food, that previously touched raw meat
Wash hands after touching raw meat
Don't leave food sitting out at room temperature for extended periods
Never leave cooking food unattended
Use oils with high smoking point to avoid harmful compounds
Always have good ventilation when using a gas stove