If you're looking for a sweet twist on a strong, smooth spirit, vanilla vodka is one of my go-to favorites! Whether you're knocking back artificial simple syrups or you're enjoying the real thing with all natural ingredients, there's something irresistible about this indulgent flavor!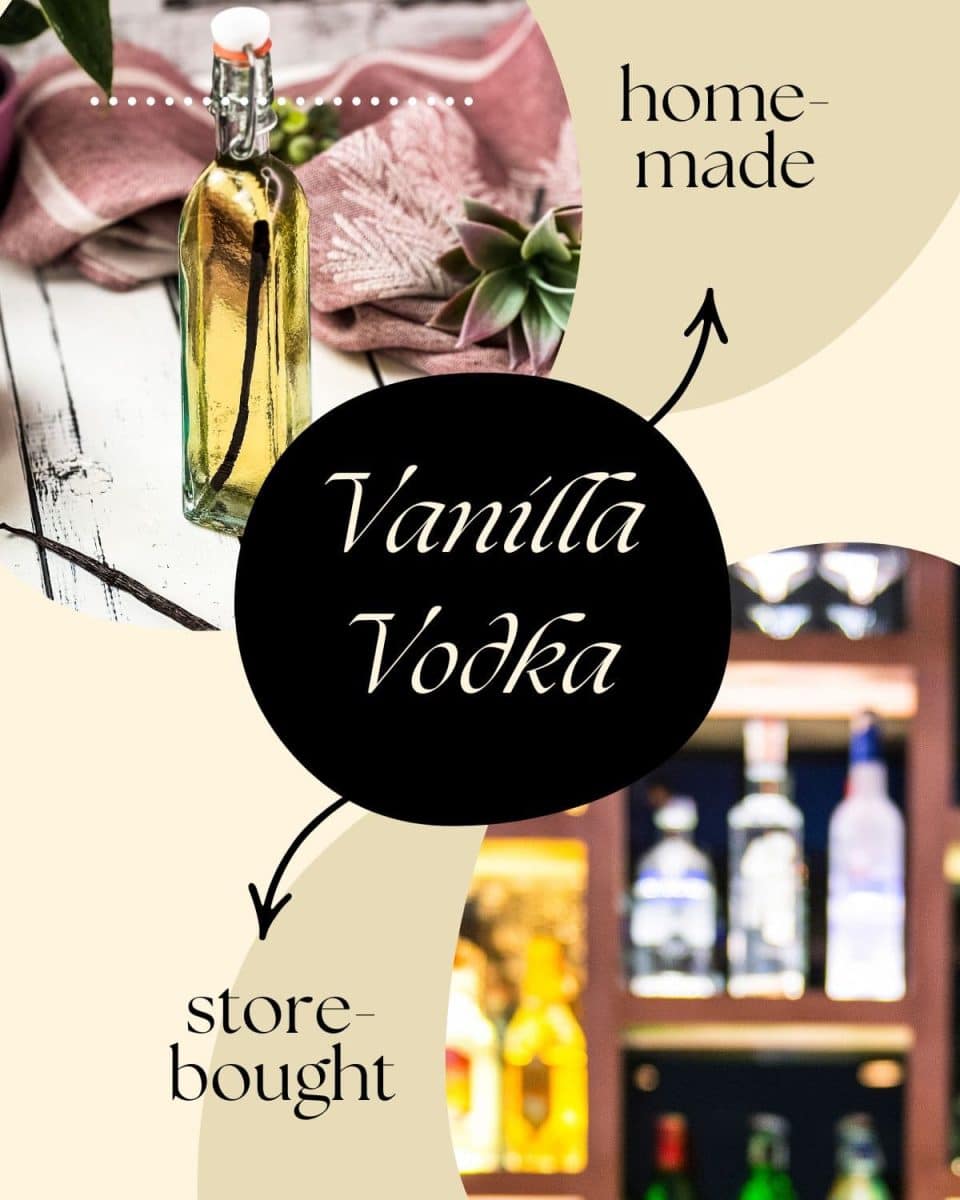 It's a nice departure from plain vodka, and it's also a great addition to so many cocktails. Those creamy flavors are a great compliment in lots of different mixed drinks, but they can be enjoyed all on their own! The sweetness of the vanilla is a striking compliment to the natural bitterness of the vodka.
If you're not someone who normally enjoys vanilla vodka, it's easy to become overwhelmed by all the choices at the liquor store or all the recipes online for homemade vanilla vodka.
This blog post includes some of my favorite brands, along with a fantastic recipe if you want to go the extra mile and soak some vanilla pods at home! I might be a little biased, but my recipe is absolutely delicious! Keep reading to hear all about the best vanilla vodka brands!
Jump to:
Belvedere Heritage 176
One of my absolute favorite vodka brands has been – and always will be – Belvedere! It's got such a nice, smooth finish, so if you're going to spend top dollar on a top-shelf option, my personal preference is to enjoy it on its own! The Heritage 176 would taste fantastic in just about any cocktail, though. This vanilla bean-infused vodka has a beautiful flavor profile and is always a good choice in my book! If you're someone who enjoys your vodka neat, you'll fall in love with a chilled shot of Heritage vanilla vodka!
This option is great all on its own, but personally, my top recommendation for how to enjoy this brand of vanilla vodka is to splash a little bit into your coffee at brunch! Coffee and vanilla is a timeless classic, but the vodka defiantly gives it a nice little kick! If you're doing brunch at home, I absolutely recommend topping it off with my delicious Irish whipped cream!
When I first started adding vanilla vodka into my cocktails back in college, I was young and broke, and the only thing that fit into my budget was Burnett's Vanilla! I slowly moved up in the world and graduated to bigger and better options, like Smirnoff! It's still a budget-friendly option for those of you not looking to spend an arm and a leg, but it doesn't skimp on the flavor!
If you're looking for a French vodka, you're in luck! Ciroc French Vanilla is has a wonderful, intense aroma thanks to a rigorous distillation process. This is a great option if you're looking for something with a creamy finish!
If the first thing you think of when you hear Van Gogh is the vodka brand instead of the painter, can we be friends?! While it might not have the same name-brand recognition as some of the other vodkas on this list, this 70-proof spirit needs to find its way to your home bar!
Veil Vanilla Vodka
Unlike most of the different types of vodka you'll find on this list, Veil Vanilla is made at an American distilling institute. The vanilla simple syrup taste goes perfectly in a mudslide cocktail or any chocolate-forward mixed drink with lots of added sugar! It's got a wonderful sweet taste that compliments any dessert-like drink!
Grey Goose La Vanille
Grey Goose is another wildly popular choice among vodka drinkers and for a good reason! This top-shelf vanilla vodka uses fresh Madagascar vanilla beans to create one of the best options on the market! It can absolutely be enjoyed all on its own, and while you're sipping, try and pick out the sweet notes. This creamy finish has notes of white chocolate and caramel! It reminds me of a little bit of cream soda.
Homemade Vanilla Vodka
If you're overwhelmed by that list of the best vanilla vodka brands, or you want to avoid the liquor store altogether and try your hand at making your own vanilla vodka, I have good news for you!
You'll only need two simple ingredients – pure vodka and whole vanilla pods. Other than that, all you need is a little bit of patience! You'll have to store your homemade concoction away in a cool, dark place for two weeks, but the natural vanilla flavor will be absolutely heavenly!
This recipe is delicious to enjoy at home, but this simple vanilla vodka recipe is also a great gift for family and friends during the holiday season. If your loved ones aren't big on alcoholic beverages, you could tweak this recipe slightly to make vanilla extract! You'd follow a very similar process, but just swap out the vodka for bourbon instead!
For my vanilla lovers who do enjoy a strong glass of spirits or want to whip up a delicious cocktail with this homemade recipe, keep reading!
🥘 Ingredients
Vodka - pure, without additional flavoring
Vanilla pods - whole
See the recipe card for quantities.
🔪 Instructions
If you're new to making your own homemade liqueurs, preserving jams, or flavoring vodka, one of the most crucial things you'll need to know when getting started is how to properly sterilize the container you'll be using. Making sure the container you'll be using is properly cleaned and sterilized should always be your very first step.
How to sterilize the liquor bottles?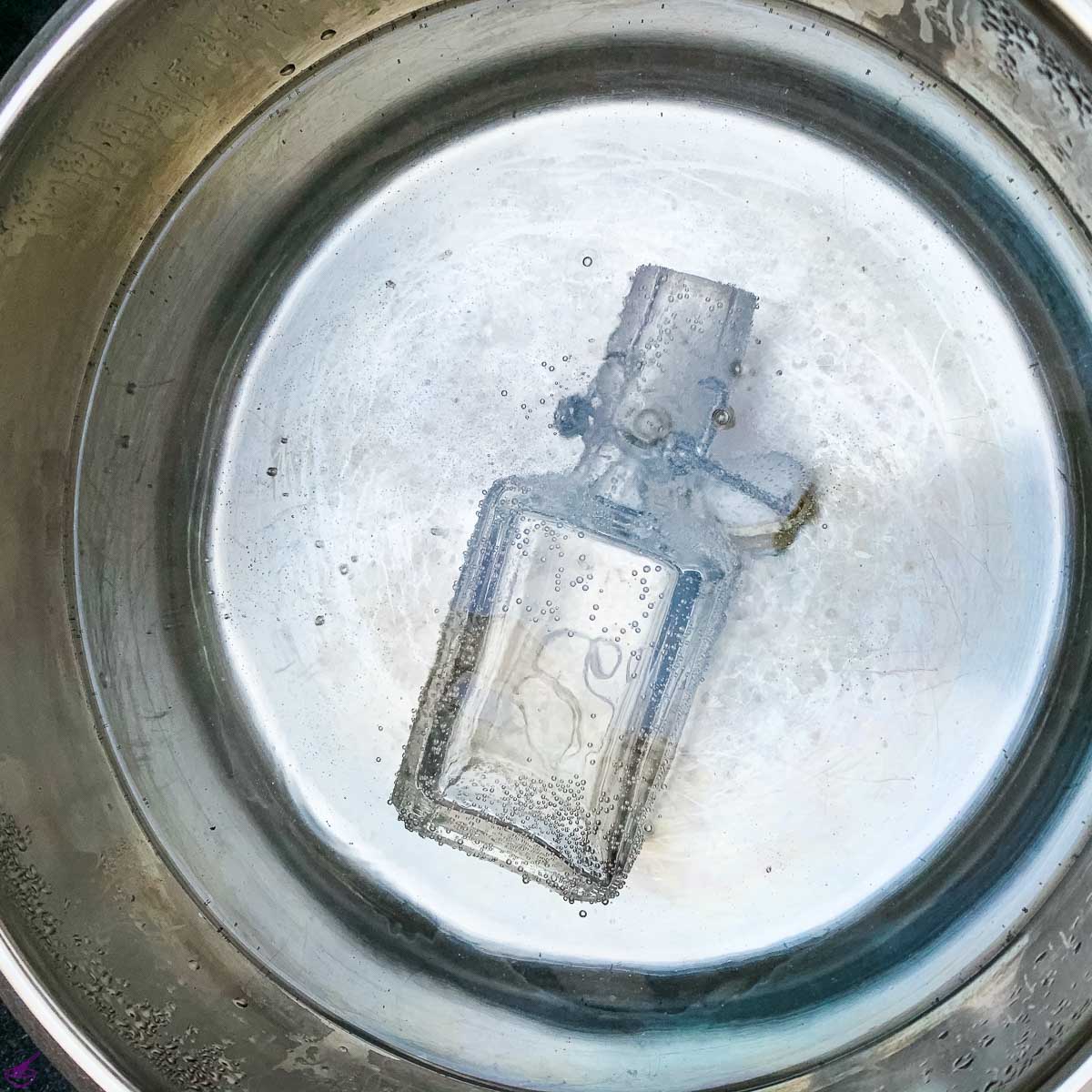 Put the liqueur bottles, including the lid, into the pot to be sterilized. Fill the pot with enough water to cover the bottles. Boil for 30 minutes until bubbling. Please take out the bottles and lids individually and place them on paper towels to let them dry.
After you've prepared your bottles, add a vanilla bean to the bottle. You can add the whole bean or cut it into parts.
Once you've added in the real vanilla beans (whole or sliced), you can then fill the bottle with pure vodka and close it tightly.
You'll want to store the bottle in a cool, dark place – like under the sink or in an upper cabinet of your kitchen that doesn't get much use – but not in the refrigerator! It will need to sit for 10-14 days. Apart from needing to swirl the bottle every third day, which helps infuse the entire bottle with that delicious natural flavoring, this recipe isn't too labor intensive. For the best results, let the vodka sit for the full two weeks. The longer the vanilla pod remains in the vodka, the more intense the subsequent aroma.
After you've let your homemade vanilla vodka sit for 10-14 days, it's finally ready to enjoy! All you need to do is remove the vanilla pod. The easiest way to do this is to pour it through a sieve into a new container!
And voila! Your homemade vanilla-infused vodka is ready!
Then fill the bottle with pure vodka and close it tightly.
Store in a dark, cool place, but not in the refrigerator for 10–14 days.
Shake occasionally so that the vanilla pod releases its aroma better and does not stick to the glass.
The longer the vanilla pod remains in the vodka, the more intense the subsequent aroma.
On top of that, the vanilla vodka gets a beautiful amber color when you make it yourself compared to the purchased one! Gorgeous!
After 10–14 days, remove the vanilla pod. The easiest way is to pour the homemade vanilla vodka through a sieve into a new container.
Voilà! Your homemade vanilla vodka is ready!
🍽 Equipment
Funnel or small jug - to make filling easier.
Liqueur bottle for filling, with a well-sealing lid.
💭 Top tip
If you want to flavor a large amount, say a whole bottle of vodka with vanilla, you can save yourself the step of decanting into another bottle and sliding the vanilla pods directly into the bottle you bought. In this case, we recommend using 2 -3 vanilla pods for flavoring due to the larger quantity of vodka.
Interested in learning how to make Mamajuana, spiced Dominican rum? It is another tremendous alcoholic beverage you can make at home as well.
🪴 Which vanilla pods to use?
Vanilla pods are classified into grades A and B.
Grade A Vanilla Pods
Have a dark brown or black color.
The ends of these pods are not split.
They are juicy and oily.
Grade B Vanilla Pods
They are reddish in color.
They are drier and thinner than Grade A vanilla pods.
The flavor is less intense.
The aroma is more easily transferred to food than Grade A.
Due to the better transferability of the vanilla flavor in grade B vanilla pods, it is preferable to grade A pods.
🍸 Which vodka to use?
We recommend taking the brand of vodka that tastes best to you. There is little point in using the cheapest vodka for flavoring you can find since it will not taste good even after flavoring.
This approach also applies to the most expensive ones. The point here is to use the vodka you like so that you can enjoy it as vanilla vodka afterward! If the vodka brand doesn't taste good to you neat, you better leave it alone.
If you are looking for more recipes using vodka, then try out these wonderful key lime pie shots!
🙋🏻 FAQ
How many Vanilla Beans for 750 ml of vodka?
We recommend 2-3 vanilla pods to flavor 750 ml of vodka.
If you make this recipe, let me know how you liked it by ★★★★★ star rating it and leaving a comment below. This would be awesome! You can also sign up for our Newsletter or follow me on Pinterest or Instagram and share your creation with me. Just tag me @combinegoodflavors and hashtag #combinegoodflavors, so I don't miss it.
📖 Recipe
Homemade Vanilla Vodka Recipe
It is super easy to make vanilla vodka yourself at home. With two ingredients and a little bit of time, you will have a yummy homemade vanilla vodka for mixing drinks and flavoring food at home!
Equipment
1 Liqueur Bottle
Ingredients
8

oz

Vodka

pure

1

Vanilla pod
Instructions
Sterilize the liquor bottle in a hot water bath.

Add

1 Vanilla pod

to the liquor bottle.

Fill the bottle up with

8 oz Vodka

.

Close the bottle and let it sit for ten days in a cool and dark place.

Shake occasionally so that the vanilla pod releases its aroma better and does not stick to the glass.
Notes
The amount given in this recipe is for a small bottle (8 oz // 237 ml). If you fancy making a large quantity (¾ US liq. qt // 750 ml), we recommend using 2-3 vanilla pods.
Never miss a recipe!
Sign up and let me spoil you weekly with a delicious homemade recipe!
Nutrition values are estimates only, using online calculators. Please verify using your own data.
Serving:
1
Bottle
|
Calories:
536
kcal
|
Carbohydrates:
1
g
|
Fat:
1
g
|
Sodium:
2
mg
|
Potassium:
2
mg
|
Iron:
0.02
mg
📚 Recipes with Vanilla Vodka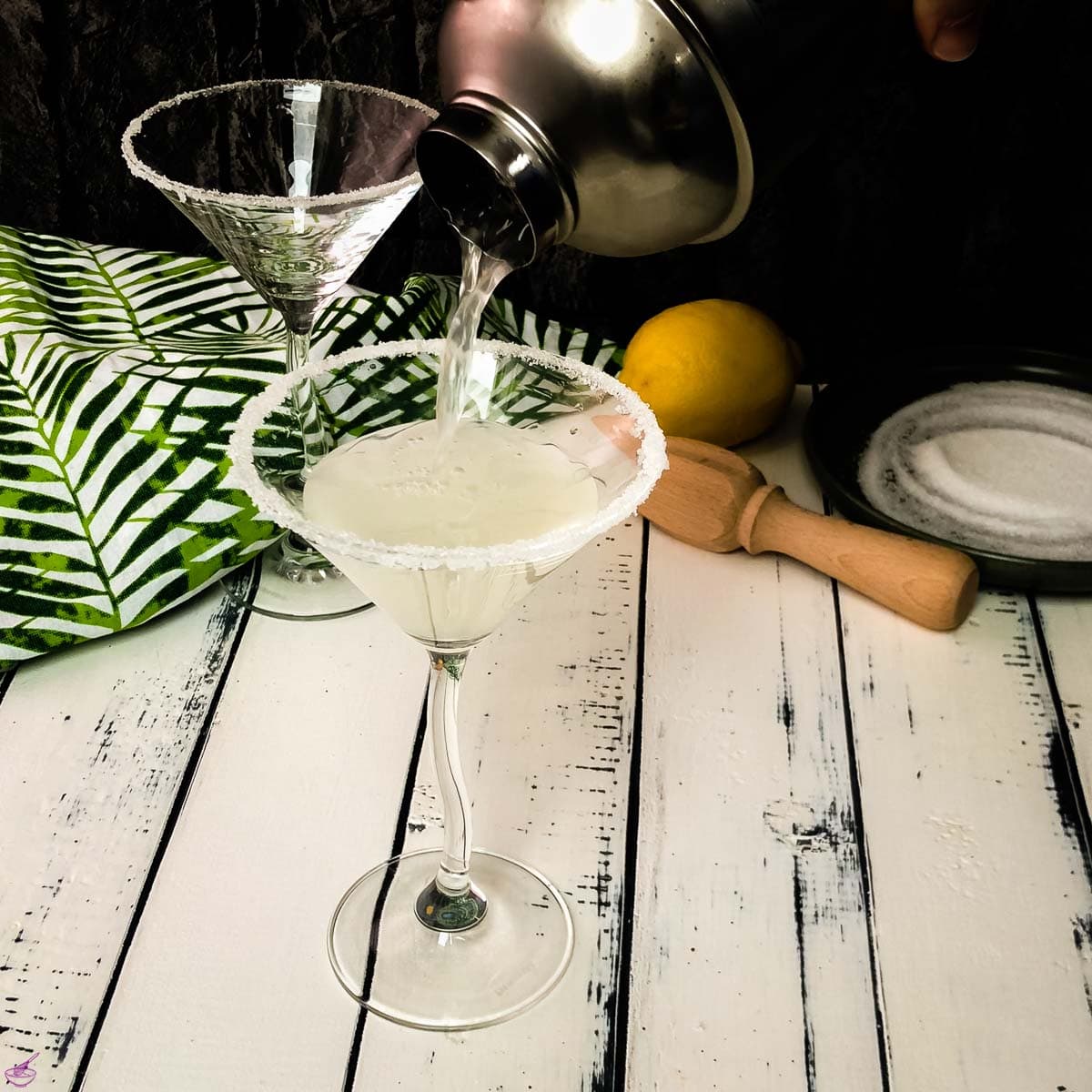 Impress your guests with this delicious homemade vodka sidecar cocktail. Made with vanilla vodka, Cointreau, and fresh lemon, it's a refreshing drink for any occasion.
Get The Recipe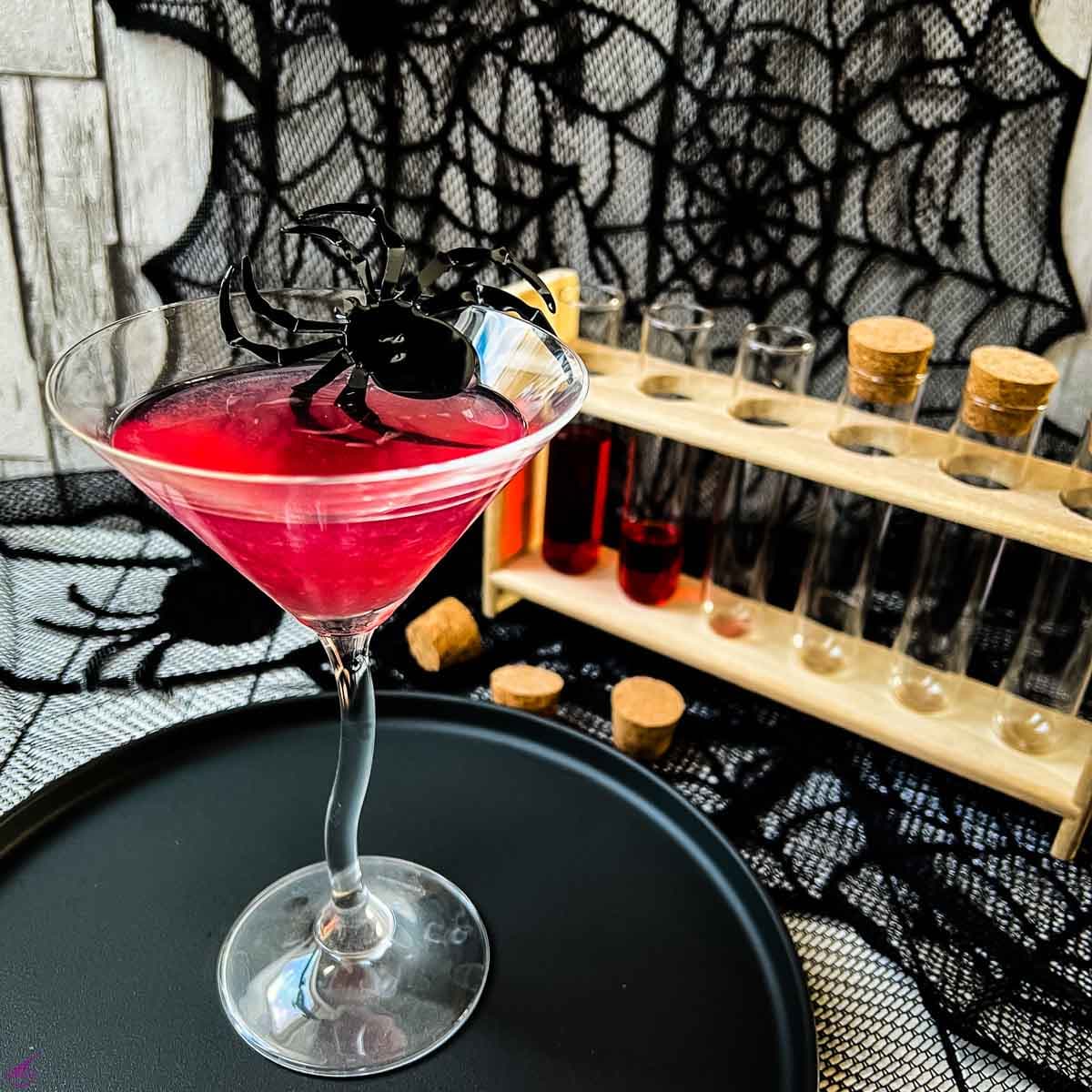 The combination of vanilla vodka, Cointreau, and cranberry juice, refined with lemon, makes this cocktail a tangy companion for your next Halloween party! Prepared in just a few minutes, it will delight and refresh you and your guests. The beautiful blood-red cocktail color highlights it perfectly!
Get The Recipe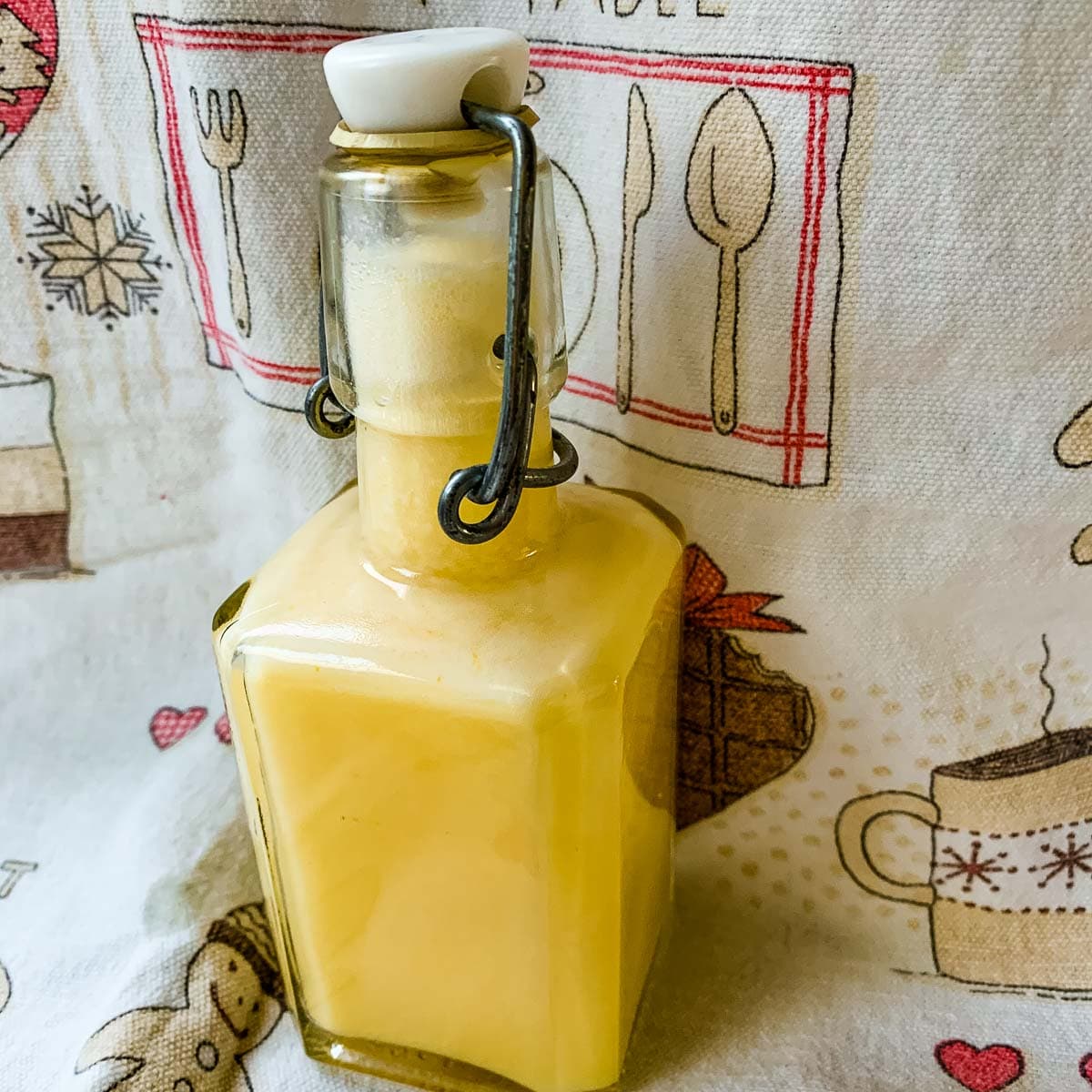 Make advocaat egg liqueur at home yourself, explained step by step. Also ideal to use up leftover egg yolks.
Get The Recipe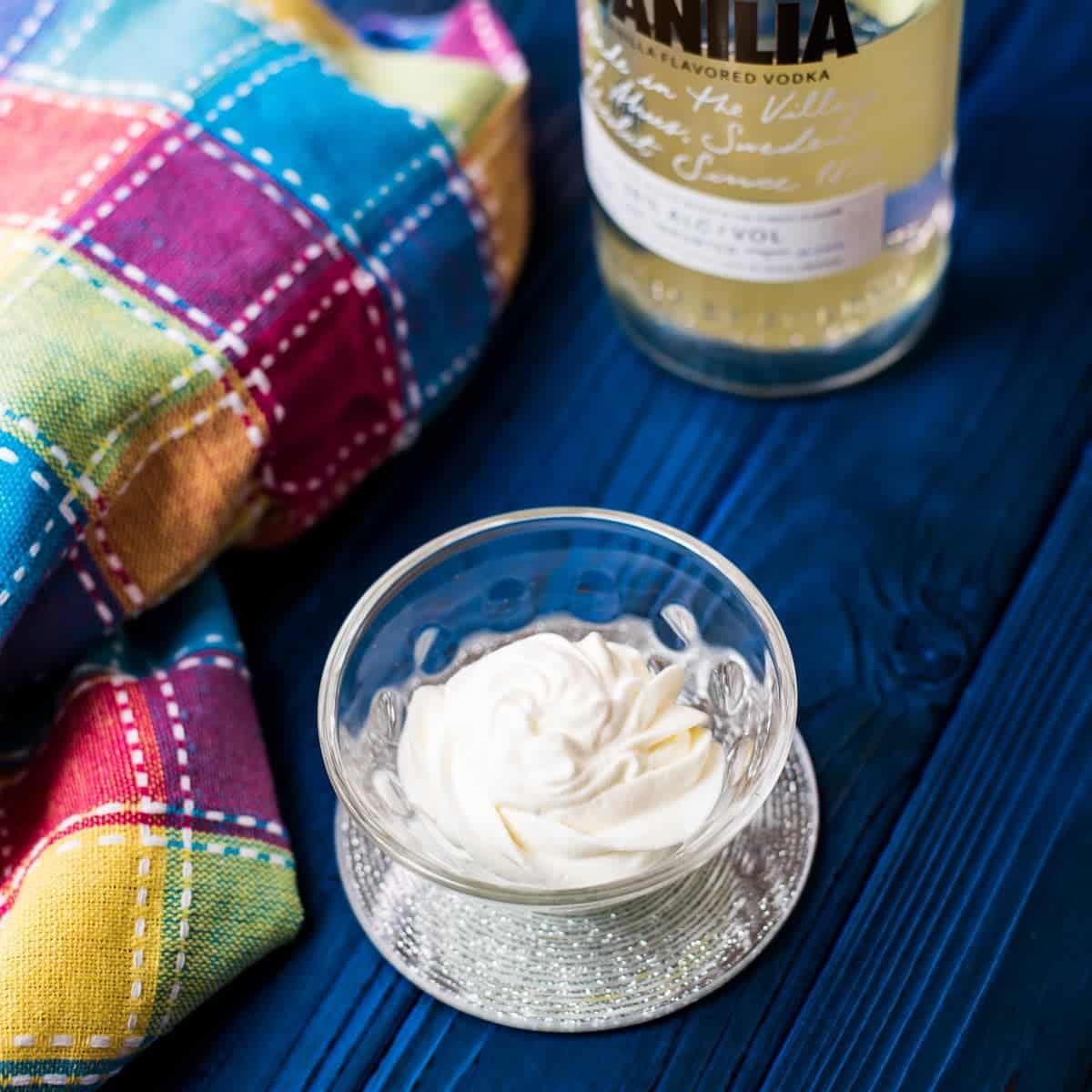 Impress your guests with this simple yet delicious vanilla vodka flavored whipped cream. Made with only three ingredients - vanilla vodka, confectioners' sugar, and heavy cream - it's the perfect addition to any dessert.
Get The Recipe
⛑️ Food Safety
Cook to a minimum temperature of 165 °F (74 °C)
Do not use the same utensils on cooked food, that previously touched raw meat
Wash hands after touching raw meat
Don't leave food sitting out at room temperature for extended periods
Never leave cooking food unattended
Use oils with high smoking point to avoid harmful compounds
Always have good ventilation when using a gas stove
For further information, check Safe Food Handling - FDA.