Yellow cocktails are one of the most popular color palettes in the world of cocktails. The yellow hue is often associated with happiness and good times, which makes it a great choice for summer drinks.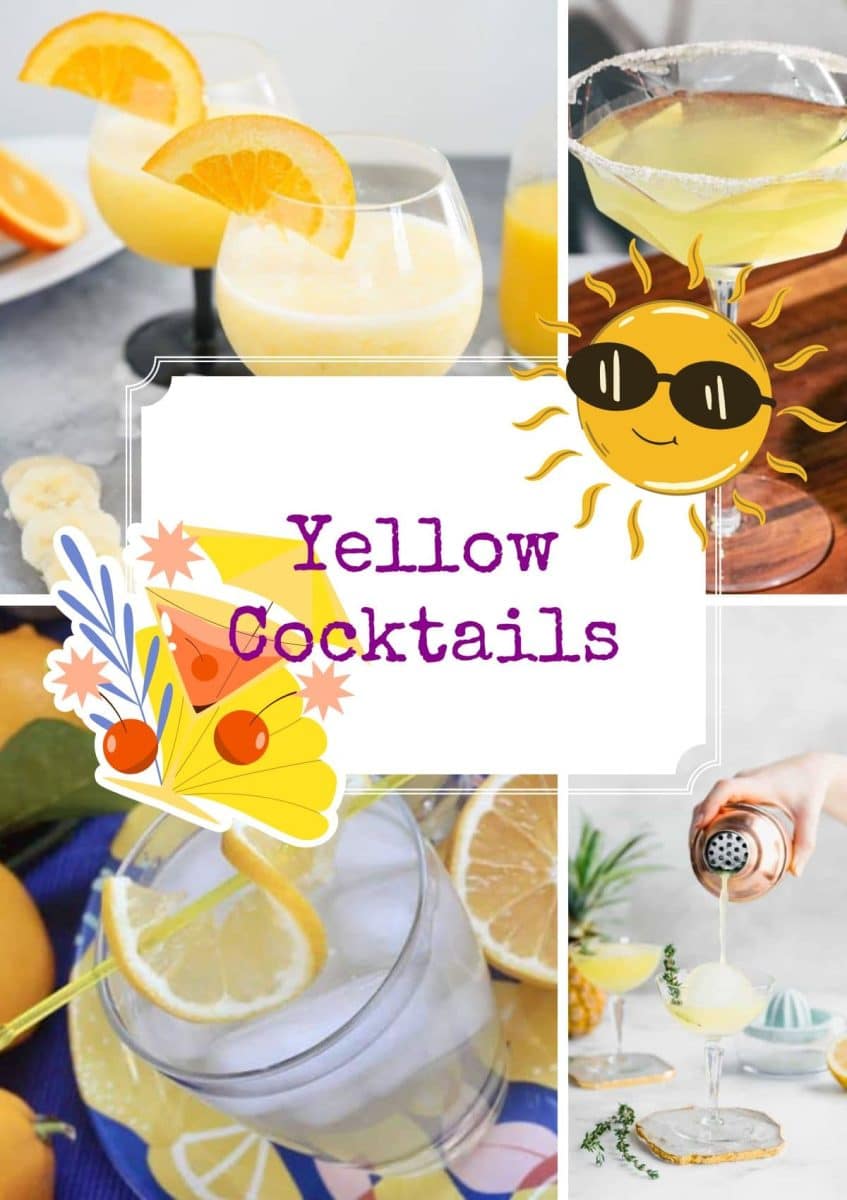 The color yellow comes from many different sources, including orange juice, lemon juice, and even egg white.
However, some of the best yellow cocktails don't use any of these ingredients at all!
Enjoy this collection of 40 outstanding yellow cocktail recipes!
Jump to:
💛 What turns cocktails yellow?
Fresh ingredients like lime and lemon add a nice tartness to a cocktail, but they also turn the drink a bright shade of yellow-orange. The same is true for other fruit juices like pineapple, mango, and papaya, which can be used to flavor a cocktail and color it as well.
Coconut milk or coconut cream gives your beverage a creamy texture without adding additional calories or fat from cream or milk — plus, it adds some great tropical flavor and lightens up any color.
🥂 Which alcohol is yellow in color?
The most common culprits behind yellow cocktails are rum and brandy. These liquors are technically clear (and therefore should not be turning your drink yellow!).
But rum and brandy often contain caramel coloring agents that make them appear slightly golden or amber-colored when mixed with other clear liquors like vodka or gin. This is especially true if you're using aged rums instead of white rums, which don't contain any additives beyond sugarcane juice — just pure rum!
Liqueurs, such as egg liqueur, for example, already have a yellow color. These are very suitable for preparing yellow-colored drinks, such as the Snowball Cocktail.
🍹 The Foundation of Cocktails
Martinis - Gin as a base
Manhattans & Old Fashioned - whiskey as a base
Daiquiri - rum as a base (it doesn't hurt to have white and brown rum at home)
Side Cars - need cognac
Apple Jacks - apple brandy or Calvados
Cream Liqueurs - are good to have on hand, but don't last as long.
Clear liqueurs like Cassis, Cointreau (orange liqueur), herbal liqueurs and bitter liqueurs, on the other hand, have a long shelf life and are easy to add to the bar.
You can always have soda water at home; as long as it is not open, it does not lose its bubbles.
Fresh fruit juices, on the other hand, should always be bought fresh and kept refrigerated after opening.
Tonic water and bitter lemon can also be stored in small or large bottles and have a long shelf life unopened.
With this list, you have a good foundation for your house bar to shop for the right alcoholic base. Let your bar grow slowly, and get additional drinks little by little.
🔪 Useful Equipment for your House Bar
All-purpose opener - for opening bottles and cans
Bar spoon - used to stir the cocktail ingredients in the mixing glass. A couple of long-handled and short-handled plastic spoons serve the same purpose as silver ones.
Bar strainer - The bar strainer must fit snugly into the shaker. When pouring the cocktails, it holds back ingredients like seeds and ice.
Cutlery: sharp knives, fruit knives, peelers, silver forks, and a two-pronged kitchen fork
Cocktail picks - plastic or metal skewers to spear cocktail fruit
Bucket - medium plastic bucket for waste.
Lots of Ice - ice is always needed when mixing
Ice scraper - to make scraped ice
Ice pick - to crush chunks of ice
Ice cloth - keeps the ice from slipping away when scraping or crushing it
Ice tongs
Electric mixer
Glasses - you should have at least 6 of each kind. Liquor and shot glasses, swizzle glasses, champagne glasses, highball glasses, tumblers and old-fashioned mug glasses, punch and grog glasses, beer glasses, punch glasses, water glasses, wine glasses
Cooktop - for heating punch or grog
Corks and bottle spouts - sealing corks and caps, tipping spouts with tubes (for more accurate pouring), splash spouts (which allow only a few drops to flow out of the bottle), champagne corks with clips
Corkscrew
Refrigerator
Measuring glasses, jiggers - with several scales. Depending on where you are from and in which country you live, you will find jiggers in different sizes. USA: 1 oz / 2 oz, UK: 25 ml / 50 ml, EU: 20 ml / 40 ml.
Mixing glass - for cocktails that are not shaken. It is essential here to have thick-walled glass.
Grater - for grating spices, nuts, and lemon peel.
Whisk - for whipped egg whites and creams
Cutting boards - to cut fruits
Bowls - to quickly rinse the accessories
Cocktail shaker - to prepare shaken cocktails.
Champagne cooler - made of metal
Straws - in various designs
Funnels - in multiple sizes
Sugar sprinkler - for powdered sugar, semolina sugar, orange sugar, lemon sugar, or vanilla sugar
💛 Yellow Cocktails with Egg Liqueur
💛 Yellow cocktails with Vodka
Yellow Cocktails with Sparkling Wine
💛 Yellow Cocktails with Bourbon
💛 Yellow Cocktails with Whiskey
💛 Yellow Cocktails with Rum
💛 Yellow Cocktails with Brandy
💛 Yellow Cocktails with Tequila
💛 Yellow Cocktails with Gin
💛 Yellow Non-alcoholic Cocktails
⛑️ Food Safety
Cook to a minimum temperature of 165 °F (74 °C)
Do not use the same utensils on cooked food, that previously touched raw meat
Wash hands after touching raw meat
Don't leave food sitting out at room temperature for extended periods
Never leave cooking food unattended
Use oils with high smoking point to avoid harmful compounds
Always have good ventilation when using a gas stove
For further information, check Safe Food Handling - FDA.