In Winter, the air gets colder, the skies get grayer, and you deserve a pick-me-up! Try this effortless Peppermint Bark with White and Dark Chocolate, my favorite joyful holiday treat!
The fireplace is raging, there's cocoa in your hands, and a feast is imminent; these things all add up to one conclusion: it's Christmas! And nothing makes the holidays brighter or more festive than peppermint bark! It is an incredible Christmas confection with so much sweet, chocolatey flavor!
This fantastic recipe makes crafting the perfect Christmas bark easy, down to the simple tempering tricks! So break out your holiday apron, and let's get cracking on this delicious Peppermint Bark!
🥘 Ingredients
Dark Chocolate Couverture: Dark chocolate has the robust and pleasantly bitter flavor we all know and love. When paired with the bracing taste of mint and the sweetness of white chocolate, it makes for the perfect cocoa treat! Couverture is a type of chocolate with extra cocoa butter for easy melting; it can sometimes be labeled as 'melting chocolate.'
White Chocolate Couverture: White chocolate contains only cocoa butter and no cocoa solids. It has a syrupy, sweet flavor that melds well with the other bolder flavors in this dessert.
Peppermint Extract: This fresh flavoring adds just enough minty goodness to make this treat shine!
Candy Canes: Use fresh peppermint candy canes to make the finishing touch for this treat!
See the recipe card for quantities.
🔪 Instructions
Step 1
Line the baking pan.
Chop the candy canes and set them aside.
Step 2
Melt the dark chocolate and then add the peppermint extract.
Dark Chocolate Layer: Smooth the dark chocolate onto the prepared pan.
Chill the chocolate for half an hour or until set.
Step 3
Melt the white chocolate.
White Chocolate Layer: Pour the white chocolate over the solid dark chocolate and smooth it out. Immediately sprinkle the candy cane pieces on top.
Chill to set.
Step 4
Break the fully set bark into pieces.
Store in a cool place and enjoy!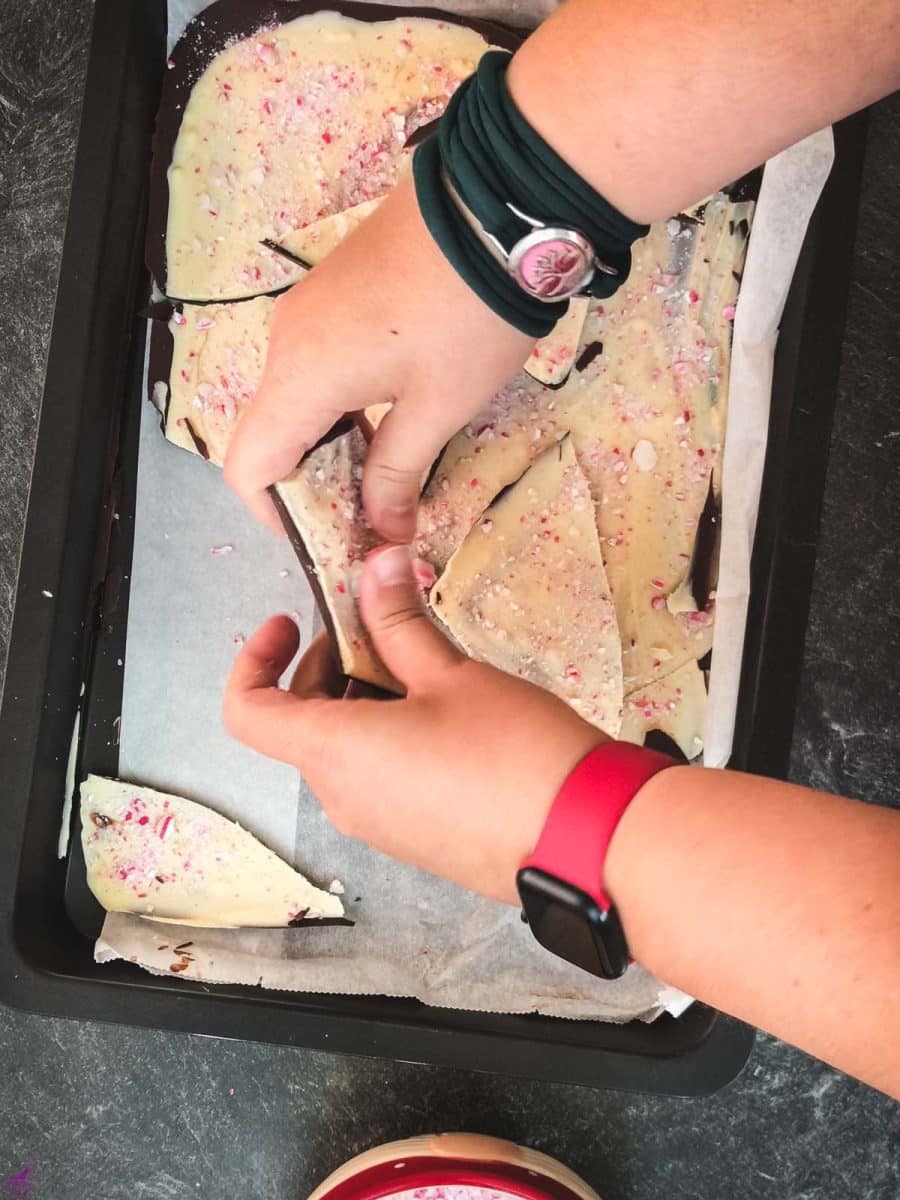 🍵 Substitutions
Bring a bracing peppermint taste to this treat by increasing the amount of peppermint extractor you add to the dark chocolate.
🍫 Variations
If you want a striking look to your bark, layer it in the opposite order so the dark chocolate is on top.
Another decorative choice is to use a spoon or skewer to swirl the two chocolates into a marble pattern. Pour them as directed, then slowly drag your tool through to create the swirls. Sprinkle it with peppermints, and voila! A wonderful-looking holiday treat is yours!
🍽 Equipment
Double Boiler or Temper Device: If you don't have a double-boiler, just place a large metal bowl over the top of a pan to make your own.
Tablespoon: This is the only measuring tool you will need!
Electric Chopper or Grinder: For chopping up peppermint sticks; a food processor works very well for this task.
Lined Baking Pan: Line a baking sheet with parchment or a silicone mat to make space for the bark to set up.
🌡 Storage
Peppermint bark will keep for up to three weeks if stored in a cool place.
💭 Top tip
I add the peppermint extract only to the dark chocolate, and that keeps the minty flavor light and not overpowering!
Do not stress over the size of the pieces of bark. Peppermint bark is meant to have a rustic look and feel so variations in the size of the final pieces are just fine!
🌡️ Tempering (Melting) Chocolate
Water bath: If you use a water bath for melting, you need two pots of different sizes. Fill one pot 3-4 finger-widths with water and place the second, smaller pot in it. The second pot should not touch the water! Now put the chocolate to be melted into the upper, smaller pot and melt it over moderate heat while stirring over the rising steam.
Tempering unit: Add the chocolate to be melted to the tempering unit and set it to the appropriate melting temperature. White and milk chocolate: 40 °C // 104 °F, dark chocolate 50 °C // 122 °F.
🙋🏻 FAQ
What Can I Do with Peppermint Bark?
This double-chocolate peppermint bark is great for any instance. It makes an incredible addition to cookie assortments and a great gift, but there are practically endless uses for this sweet treat! Break it into stir sticks for your cocoa, or use chunks as an ice cream garnish. Whether you use it as decor, a gift, or a sweet snack you will absolutely adore this chocolate mint flavor!
Is This Bark Nut-Free?
Yes! This treat is naturally nut-free, gluten-free, and egg-free, so it's great for mixed diets.
How to Store Peppermint Bark?
Store this bark in an airtight container. It can be kept in a cold spot in ambient conditions or in the fridge. The fridge will extend its shelf life slightly. This bark will stay fresh for about 2 -3 weeks at room temperature or a month in the fridge.
If you make this recipe, let me know how you liked it by ★★★★★ star rating it and leaving a comment below. This would be awesome! You can also sign up for our Newsletter or follow me on Pinterest or Instagram and share your creation with me. Just tag me @combinegoodflavors and hashtag #combinegoodflavors, so I don't miss it.
📖 Recipe
How to make Peppermint Bark?
With a combination of white and dark chocolate and a sprinkle of candy cane pieces, it's an easy, sweet and minty treat for the holidays!
Equipment
Double boiler

or tempering device

Tablespoon

Electric chopper
Ingredients
2 - 3

Candy canes

regular-sized

11

oz

Dark chocolate couverture

2 - 3

drips

Peppermint extract

11

oz

White chocolate couverture
Instructions
Line a 9x11 inch sheet pan with wrapping paper and set aside.

Crush

2 - 3 Candy canes

an electric chopper and set aside.

Melt

11 oz Dark chocolate couverture

using a double boiler, tempering device, or microwave.

11 oz Dark chocolate couverture

Add

2 - 3 drips Peppermint extract

to the melted chocolate and mix well.

2 - 3 drips Peppermint extract

Pour the melted dark chocolate into the baking pan lined with baking paper and smooth it out with a spoon.

Place in the refrigerator for half an hour to set.

Meanwhile, melt

11 oz White chocolate couverture

.

11 oz White chocolate couverture

Once the white chocolate is melted, pour it over the solid dark chocolate and smooth it out. Immediately after, sprinkle the crushed candy canes on top.

Then place in the refrigerator for another half hour and let it set.

Once the chocolate has set, break it apart and store it in a cool place.
Never miss a recipe!
Sign up and let me spoil you weekly with a delicious homemade recipe!
Nutrition values are estimates only, using online calculators. Please verify using your own data.
Serving:
1
Piece
|
Calories:
104
kcal
|
Carbohydrates:
11
g
|
Protein:
1
g
|
Fat:
7
g
|
Saturated Fat:
4
g
|
Polyunsaturated Fat:
0.2
g
|
Monounsaturated Fat:
2
g
|
Cholesterol:
2
mg
|
Sodium:
9
mg
|
Potassium:
28
mg
|
Fiber:
1
g
|
Sugar:
9
g
|
Vitamin A:
3
IU
|
Vitamin C:
0.05
mg
|
Calcium:
19
mg
|
Iron:
0.02
mg
⛑️ Food Safety
Cook to a minimum temperature of 165 °F (74 °C)
Do not use the same utensils on cooked food, that previously touched raw meat
Wash hands after touching raw meat
Don't leave food sitting out at room temperature for extended periods
Never leave cooking food unattended
Use oils with high smoking point to avoid harmful compounds
Always have good ventilation when using a gas stove
For further information, check Safe Food Handling - FDA.