It is pretty common that chocolate is leftover after baking or making chocolates. Now it would be a shame to leave it and throw it away.
Chocolate, especially if you work with high-quality chocolate, is an expensive commodity that you do not simply toss away but continue to use for other delicacies.
I want to give you some ideas to repurpose chocolate in today's post.
The great advantage of already having melted chocolate on hand is that you can quickly and easily conjure up something new from it.
You don't have to temper and melt the chocolate anymore, so you don't have to wait.
Basically, all you have to do is look around your kitchen and ask yourself: "What do I have at home, that can use a tad of chocolate?"
Jump to:
I've got fresh fruit at home!
The first and easiest way to use up leftover chocolate is to create chocolate-covered fruits.
Fresh strawberries, bananas, pineapple, golden berries, and blueberries are the first fruits that immediately come to mind and taste fantastic when covered in chocolate.
Here you can (depending on the amount of melted chocolate left), either
dip the fruit and then let it dry on a baking paper,
skewer the fruit on small skewers and drizzle the melted chocolate over it,
or drizzle the chocolate over the individual pieces of fruit.
So already three tasty and gorgeous ways to cover fruits with chocolate.
I've got dried fruits at home!
I always have them at home, too. Mostly I use dried fruits to spice up my daughter's porridge.
For example, I have a bunch of dried fruits leftover from making my Biscoff Granola (Raisins, goji berries, and cranberries).
Since I recently had dark melted chocolate leftover as well, I added the dried fruit to the melted chocolate (not all dried fruit at once, but little by little). I did this until a "spoonable" mass had formed.
I placed small heaps of dried fruit with chocolate on a baking paper, decorated it with chocolate hearts and balls, and let it dry. In a jiffy, a delicious snack for the whole family was ready.
Those heaps have a beautiful texture and taste incredible!
Make chocolate bars out of it!
Some have silicone or plastic sheet molds at home. I currently have two at home - one for mini chocolate bars and one for the standard chocolate bar size.
You can quickly and easily make lovely nibbles with these bars and give free rein to your imagination! In my opinion, it is incredibly convenient to have something like this at home. Maybe you'll get one of those?
The following picture is an example of the mini chocolate bar version. You spread the silicone mold with the melted chocolate and sprinkle it with whatever you like. I had that day caramel crunch and chocolate lentils on hand.
But you can also use dried fruit, pretzels, or various spices. Actually, everything that you just so tastes. After decorating, let the mini chocolate bars solidify in the fridge.
Break them apart afterward and store them in an airtight container.
Roasted almond slivers coated with chocolate, aka Haystack Cookies!
Roasted almond slivers with chocolate are a particularly delicious treat. They taste perfect with white chocolate, milk chocolate, as well as dark chocolate. You do not need an oven for this recipe, but roast the almond slivers in the pan and add them to the melted chocolate.
Also, as with the dried fruits, you can use a teaspoon to form tiny heaps and let them dry on baking paper. Super simple and delicious!
Line wafer cups with chocolate
Two Christmases ago, I served waffle blossoms with chestnut purée for dessert.
They tasted wonderful! But I was left with a lot of waffle cups as well as melted chocolate afterward. To avoid discarding the melted chocolate, I lined the waffle cups, the inside, with chocolate.
Once the chocolate was solid, serving ice cream in those chocolate wafer cups was terrific because the wafer didn't get soggy right away. Furthermore, the chocolate-lined wafer cups were simply delicious for solely munching.
Puffed rice with chocolate
Puffed rice with chocolate is also an easy way to reuse leftover melted chocolate. In this case, you take puffed rice (spelt, amaranth, or wheat) or Rice Krispie, and mix it with the melted chocolate.
Stir well and pour into silicone molds or a loaf pan. Press it out of the silicone mold after the chocolate-puffed rice mixture is solid.
If you opted for a loaf pan, you could cut off slices after the mixture has set, and you'll have delicious puffed-rice chocolate bars!
Drizzle or Dip Cookies with/in it!
Especially when baking cookies, it's great if you have melted chocolate leftover! You can wonderfully decorate and refine the finished baked cookies! Either dip in chocolate or drizzle them with it! Simply wonderful!
As you can see, you can create several delicious things with melted chocolate and don't have to be wasteful with this delicious resource!
Below are two amazing recipe ideas for using leftover melted chocolate.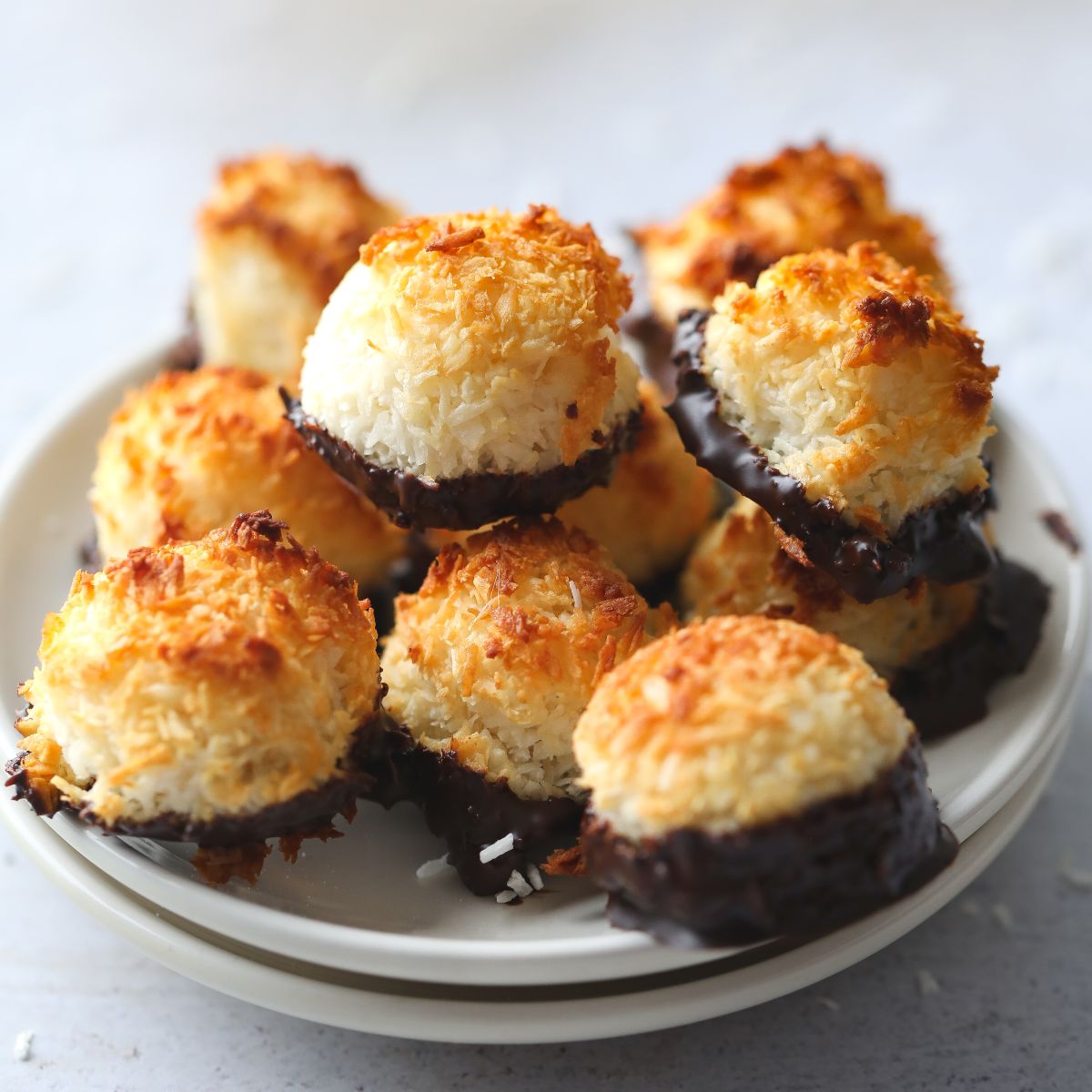 These healthy gluten-free coconut macaroons with chocolate are the perfect sweet healthy snack to help you fight cravings between meals.
Get The Recipe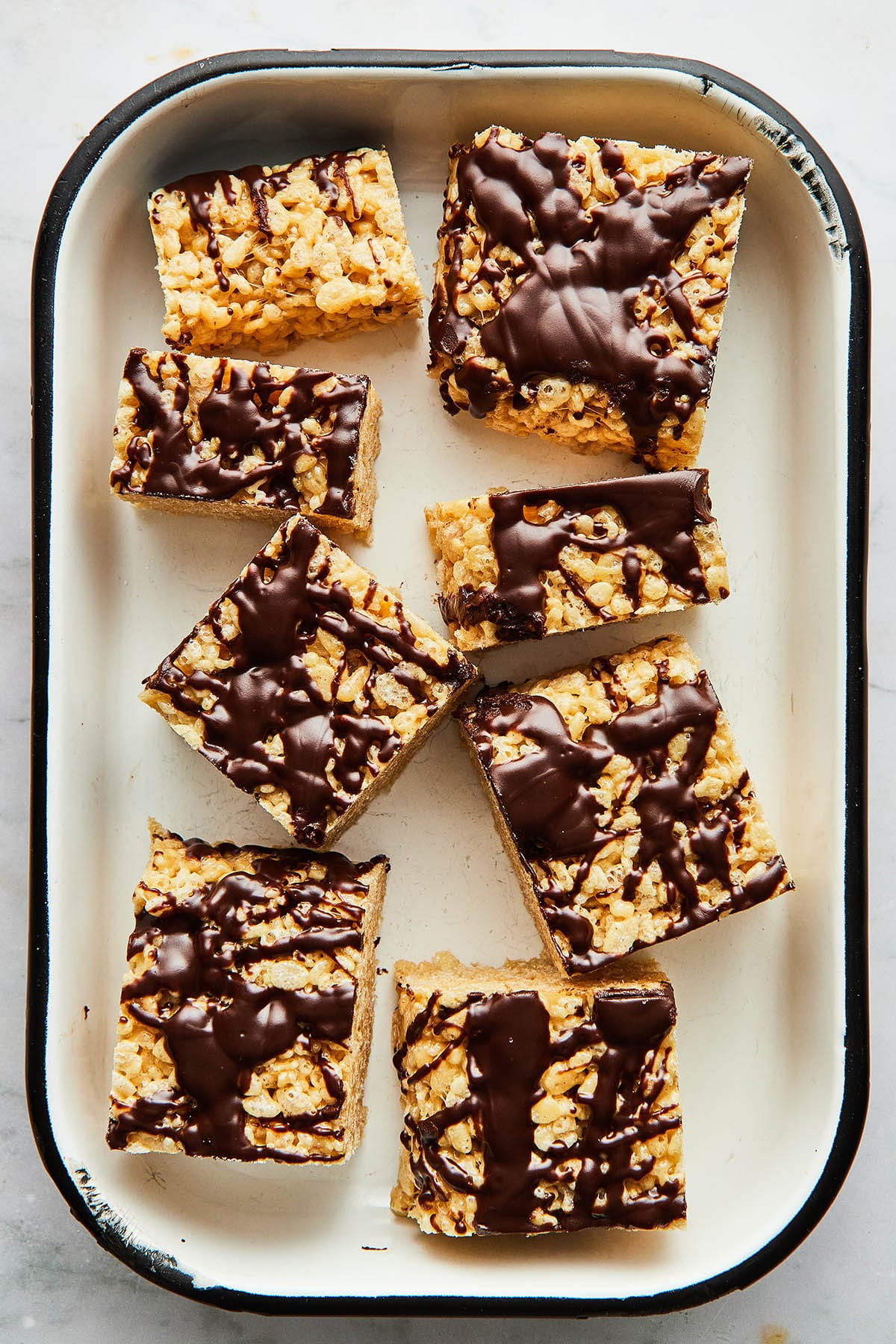 Peanut butter Rice Krispie treats are a no-bake family favourite! We like to take them up a notch with a shiny, rich chocolate glaze.
Get The Recipe
⛑️ Food Safety
Cook to a minimum temperature of 165 °F (74 °C)
Do not use the same utensils on cooked food, that previously touched raw meat
Wash hands after touching raw meat
Don't leave food sitting out at room temperature for extended periods
Never leave cooking food unattended
Use oils with high smoking point to avoid harmful compounds
Always have good ventilation when using a gas stove
For further information, check Safe Food Handling - FDA.