When it comes to equipping your home bar, few tools are as important as the glassware. The right glasses not only look great, but they make your beverages shine even brighter. Discover the ins and outs of everything glassware with this thorough guide to choosing the best tall glasses!
Jump to:
Why Glassware Matters
Using a great glass is like wearing an eye-catching jacket or stylish hat. It has form and function; plus, it gets people talking! The right glassware can make or break your drink because it affects the flow of the liquid as you drink, which can directly affect the flavor of your drink.
Tall glasses are used for classic cocktails, like Mojitos, Long Island Iced Teas, or the classic Gin and Tonic. Stemmed wine glasses are also considered tall glasses. If any of these are your drink of choice, you need the best tall vessel to make you sip complete.
Take a look at a few of the best tall glasses to stock your bar with and how to take care of them!
Types of Tall Glassware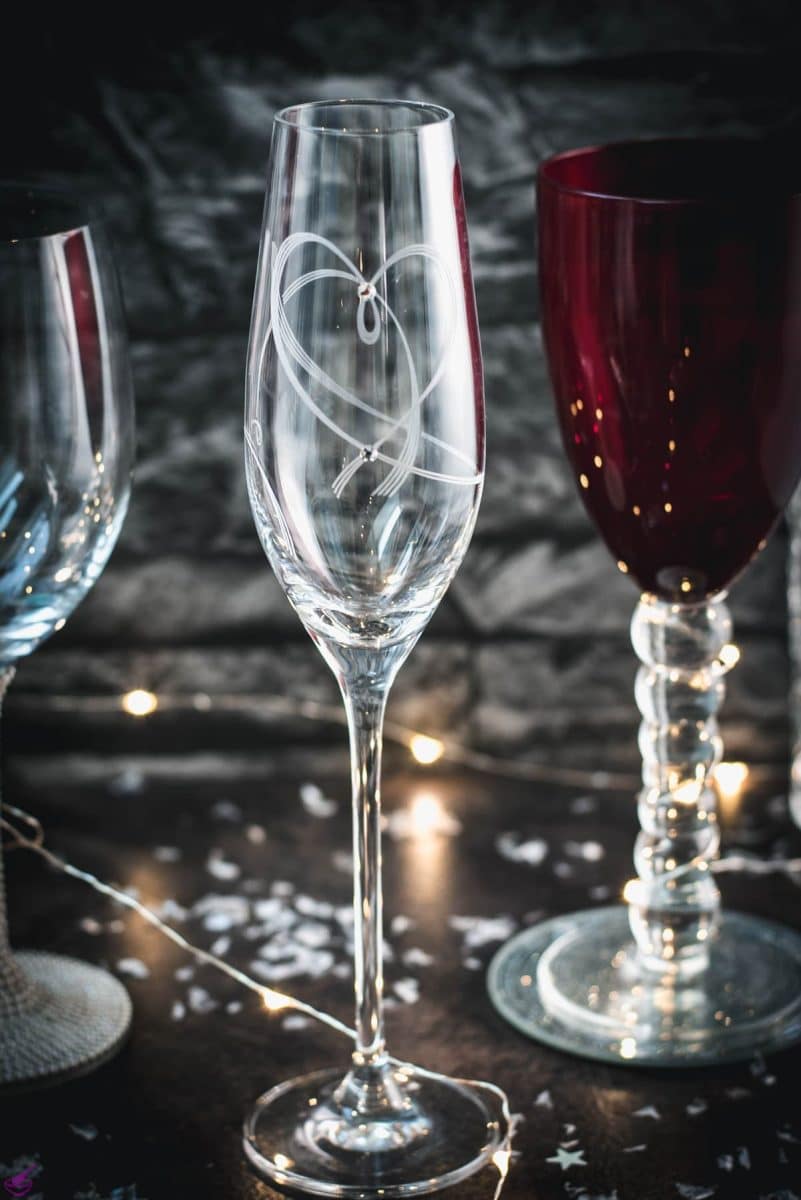 Highball Glasses
The highball glass is one of the most basic and recognizable bar glasses around. As the name implies, these glasses have heavy bottoms and high sides. Highball glasses are sometimes mistaken for Collins glasses, but this glass is slightly shorter and wider than your traditional Collins cup.
This glassware is tall enough to make it perfect for mixed drinks and fizzy concoctions. That is why they are the classic choice for drinks mixed with lots of ice and mixers, like a Gin and Tonic or a Bloody Mary.
These glasses are real workhorses in most home bars, so you want to choose a sturdy yet stylish set.
Collins Glasses
Collins glasses get their name from the iconic cocktail, the Tom Collins. This is a fizzy gin and citrus drink served with plenty of ice. A Collins glass is tall and narrow, which directs all the fizzy citrus aroma right toward your nose to make your mouth water with every sip!
A typical Collins glass is a hair taller and slightly more narrow than a highball glass. This skinny height makes it ideal for anything with a little fizz. Drinks like Mojitos, Spritzes, and Collins cocktails are perfect when served in this tall glass.
A simple yet stylish Collins glass can sparkle your favorite effervescent drink!
Wine Glasses
The era of stemless glasses is over! Traditional stemmed wine glasses are back in fashion and are here to stay! This classic cup has a luxurious look and tremendous function because good wine glasses help to aerate your beverage so you get the best flavor out of every sip.
Tall wine glasses come in three main varieties: white wine, red wine, and sparkling wine glasses.
Sparkling wine glasses are tall and narrow to direct the bubbles toward your nose and palate. White wine glasses are more rounded than sparkling, yet their small shape helps keep the wine cold. Finally, red wine glasses are more bulbous to bring out aromatic notes in the wine while introducing air.
If you stick to one type of wine in your home, you can get away with one style of tall wine glasses, but if you like a little adventure and options, you may need to invest in a set of each type.
Factors to Consider When Choosing Tall Glassware
Purpose
As you have seen, different shapes and styles of glassware can highlight special qualities in your drink, like a tall glass directing aromatic fizz toward your nose or a round wine glass introducing air to your sip.
When stocking your bar, consider what you drink the most and what your guests will drink. Fill your bar with about two to four of each style so you have enough glasses for get-togethers!
Wine glasses are a little different. Having two to four of each style is a good idea for these tall glasses. That means at least one pair for white, red, and sparkling.
Size and Capacity
As the old adage goes, size matters. When it comes to fizzy and icy drinks you need a little wiggle room for mixers and ice, so think about what you will be mixing. If you take all your drinks with extra ice, you may be able to skip the Collins and serve all your tall drinks in a highball and vice versa.
Material
Not all glass is created equal! To build a better bar, it is important to start from the bottom, and that means picking the right type of glass!
The choices for highball and Collins glasses are generally thick glass or lead-free crystal. Both are excellent options, but thick glass offers slightly more durability and easier care. Some thick glasses can even be dishwashed.
With wine glasses, crystal is the best. It is thin, lightweight, easy to handle, and oh-so-elegant. Crystal stemmed glasses are fragile, so if you're clumsy, maybe stick with traditional glass wineware.
Design and Style
Design and style are all about you! The world of glassware is full of fun colors, etched glasses, and beautiful inlay designs, so you can have fun choosing sets that suit your style. However, a classic set of plain glassware is always elegant when filled with the right cocktails!
Care and Maintenance of Tall Glassware
Handwashing vs. Dishwasher
In general, good glassware is not designed for the dishwasher. Some are made with fragile glass and can break in the wash, while others have crystal walls, which and crystal should never be dish-washed.
Use your standard dish soap and soft rag, brush, or sponge to scrub the glasses. Rinse them well with warm water and allow them to air dry on a dish drying rack. When drying, be sure that there is a gap under the glass for air to get in; this ensures the interior dries at the same rate as the exterior of the glass.
You can also carefully hand-dry your glasses using a clean microfiber cloth.
Storing Tall Glassware
Storing glassware is almost as important as using it. The best storage location has enough height for your glasses, keeps them secure from bumps and shakes, and shows them off.
You might not be able to find a place in your bar that checks all these boxes, and that's okay!
Focus on storing your tall glassware on a stable shelf with enough clearance. Give each glass about a centimeter of space between it and the next glass to avoid bumping and other accidents.
Both highball and Collins glasses can be stored upside down; whereas, stemmed wineware should be stored upright.
If you have a china or curio cabinet, that is a great place to keep your elegant glasses behind a secure door yet still on display!
Removing Stains and Odors
One key factor in removing odors and stains is to avoid them before they occur. That means dump and rinse your glasses after using them. If it's too late to do dishes, at least give them a rinse because the longer smelly or colorful liquids sit in your glass, the more likely a stain becomes.
If the party went really late and the glasses got forgotten, don't fret. Rinse them well and wipe them down with a soapy sponge. Allow the soap to sit in the glass for up to a half hour before wiping it clean. The stain should lift out easily after soaking.
For particularly pungent odors in your glass, rinse the glass and then sprinkle a little baking soda in it. Let it sit before washing thoroughly with warm, soapy water. The baking soda helps absorb odors and remove stains.
Conclusion
A cocktail is only as good as its glass, so stock up on some stylish tall glassware to instantly elevate your home bar. Having a versatile group of glasses at your disposal will inspire you to let your cocktail imagination run wild! So grab a drink, and cheers to the perfect tall glass!